Old World Heritage and Values
50 years ago, all dairy farms used to have cows and chickens. As farms grew over the past 50 years however, they specialized one way or the other. What makes Kreider Farms/Noah's Pride unique is our old world heritage and commitment to dairy and egg farming. We continue to follow the heritage of the past and stay true to our roots.
We are recognized leaders in both the dairy industry and the egg industry. When you buy any of our egg or dairy products, you are getting a special kind of heritage and dedication to dairy and egg farming and growing crops that you just can't get most anywhere else.
Dedication to Quality
Noah's Pride has the highest quality standards and facilities in the United States. Our new state of the art facilities offer the highest levels of food safety, animal welfare and employee welfare of any egg farm in the United States.
Certifications:
We were the second egg farm in the United States to become SQF Certified (Safe Quality Food).
Sustainability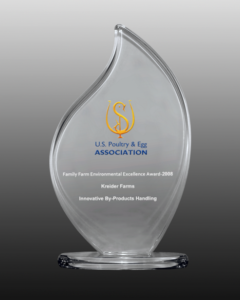 In 2008, Kreider Farms was awarded the Family Farm Environmental Excellence award, presented by the US Poultry and Egg Association
We've installed solar panels on our chicken houses and processing center to produce clean energy
Our Bion waste treatment facility enables us to recycle chicken and cow manure into retail home gardening products
We have built Riparian buffers along the streams running though our farms to reduce the waste that enters waterways and ultimately the Chesapeake Bay
We utilize no-till farming to reduce soil erosion and save fuel
We own and farm over 3,000 acres of farmland in the Lancaster County area which otherwise would be turning into track homes, business parks and shopping centers