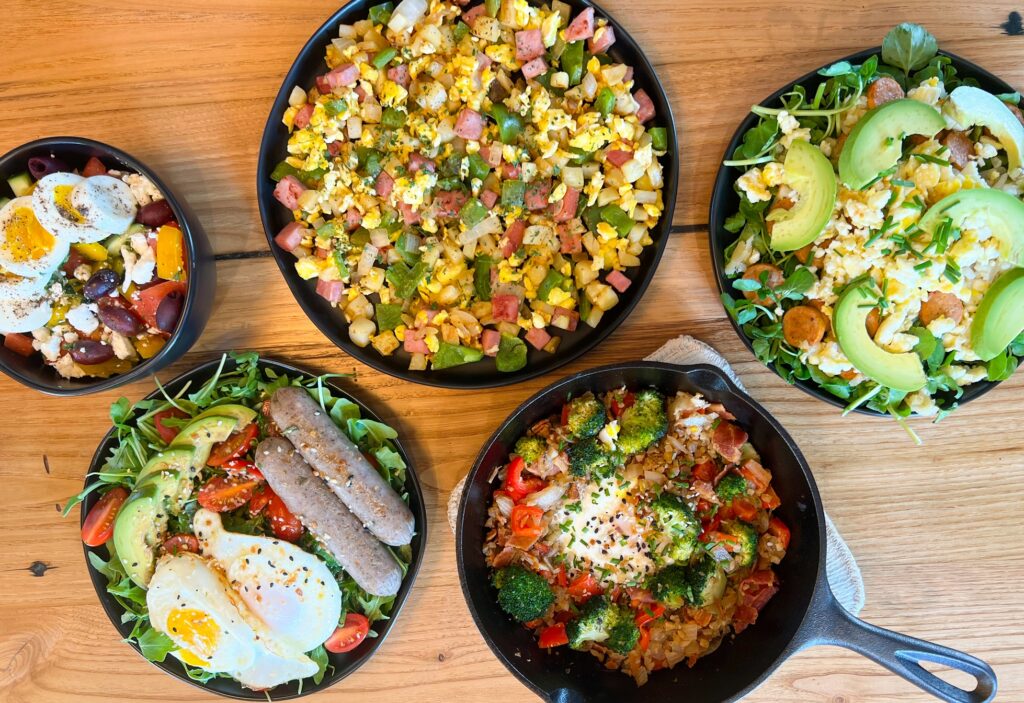 Happy New Year! While the food and the fun of the holiday season is behind us, it's time to get back on track. Next stop? Breakfast! Set the tone of 2022 with a healthy start to the day with these Breakfast Bowls packed with veggies and protein to keep you full and focused. Plus, what's not to love about bowl food, you can eat with one hand, scroll with the other, and just one bowl means dishes are a breeze! Plus, there are so many opportunities for mixing and matching and trying new combinations to find your favorite, the perfect blend of convenience and versatility. If you're looking for a place to start, we gathered six recipes that all have a different flare for some inspiration.
Greek Style Breakfast Bowl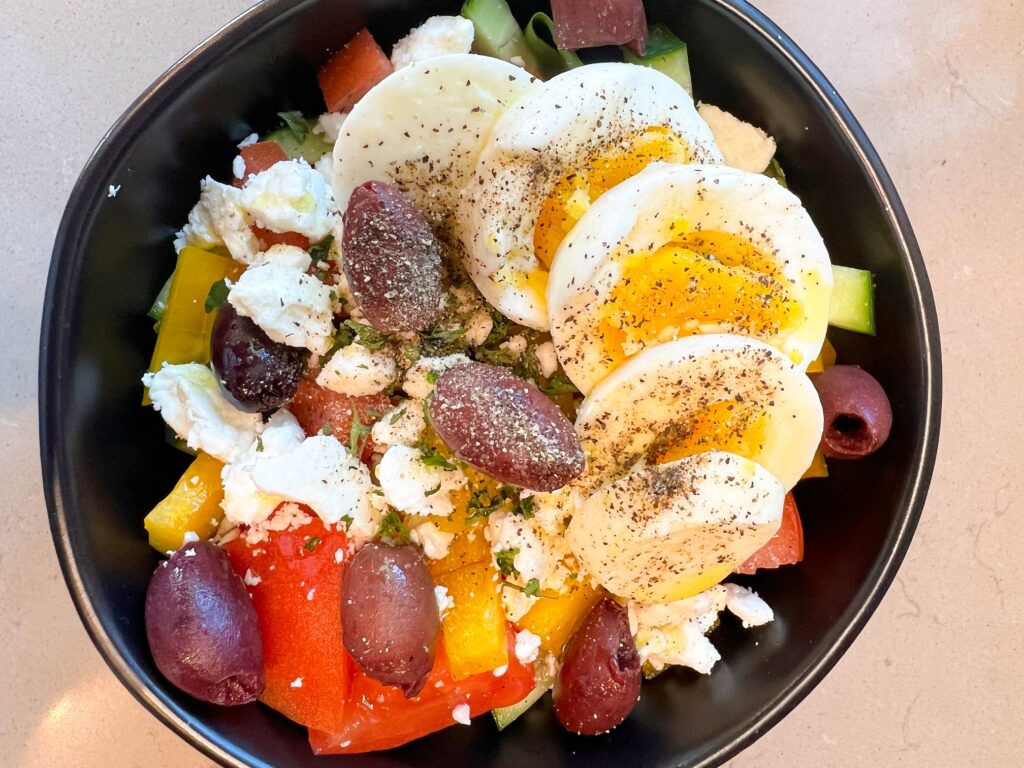 Kick off the new year with this fresh, colorful and easy to make Greek Style Breakfast Bowl. With eggs, cucumber, tomato, capsicum, feta and olives, this bowl is packed with nutrition to help you conquer the day. Plus, you can meal prep these bowls ahead of time for a convenient and simple lunch to go: just leave the shell on your hard boiled eggs and save the olive oil until it's time to enjoy.
Ingredients (makes 1)
2 Noah's Pride Eggs
½ small cucumber
½ tomato
¼ small capsicum
1 handful spinach
2 tbsp feta cheese
3-4 kalamata olives
1 tbsp olive oil
1 tsp dried parsley
salt and pepper, to taste
Instructions
Hard boil your eggs as desired. Set aside and let cool.
Slice up vegetables into bite sized pieces and add to a bowl.
Crumble feta and dried herbs overtop.
Add sliced hard boiled eggs, drizzle with olive oil and season with salt and pepper as desired.
Fried Rice Breakfast Bowls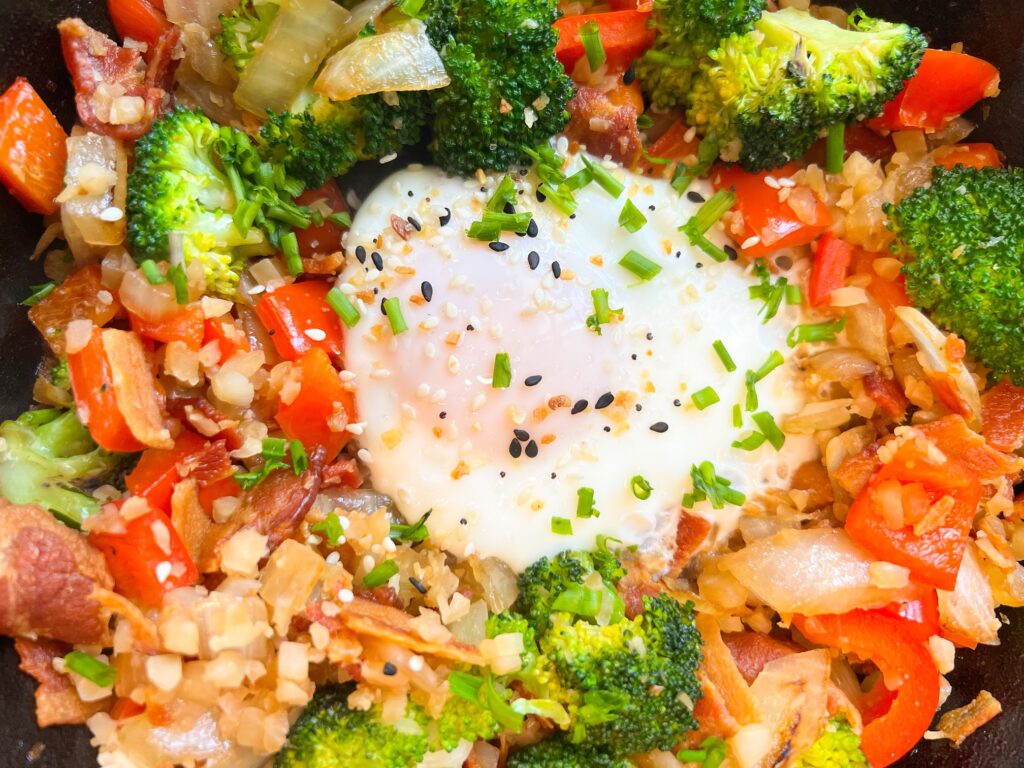 Using cauliflower as the "rice," these low carb Fried Rice Breakfast Bowls are savory, filling and deliciously tasty. Packed with veggies and bacon, and topped with some fresh Noah's Pride eggs, it's almost like eating takeout for breakfast (but even better!)
Ingredients (makes 1)
1 Noah's Pride egg
2 slices bacon, cut into bite sized pieces
1 tbsp olive oil
4oz riced cauliflower
½ small onion, diced
½ small red bell papper, diced
3oz broccoli, cut into bite sized pieces
1 tsp coconut aminos
everything bagel seasoning
salt and pepper, to taste
green onion, for garnish
Instructions
In a skillet over medium heat, add bacon and cook until crisp and evenly brown. Remove and set aside.
Discard grease, add 1 tbsp olive oil and return to medium heat. Add onions and cook until softened.
Stir in peppers and broccoli and season with salt and pepper. Cover and allow vegetables to soften.
When ready, add in cooked bacon, cauliflower rice and coconut aminos, stirring to fully coat and incorporate.
Reduce heat to low and create space for the egg. Crack egg directly into the skillet and sprinkle with salt, pepper and everything bagel seasoning. Cover and cook until eggs are cooked to your preference.
Sprinkle with chopped green onion for garnish and enjoy directly in the skillet.
Salad Breakfast Bowl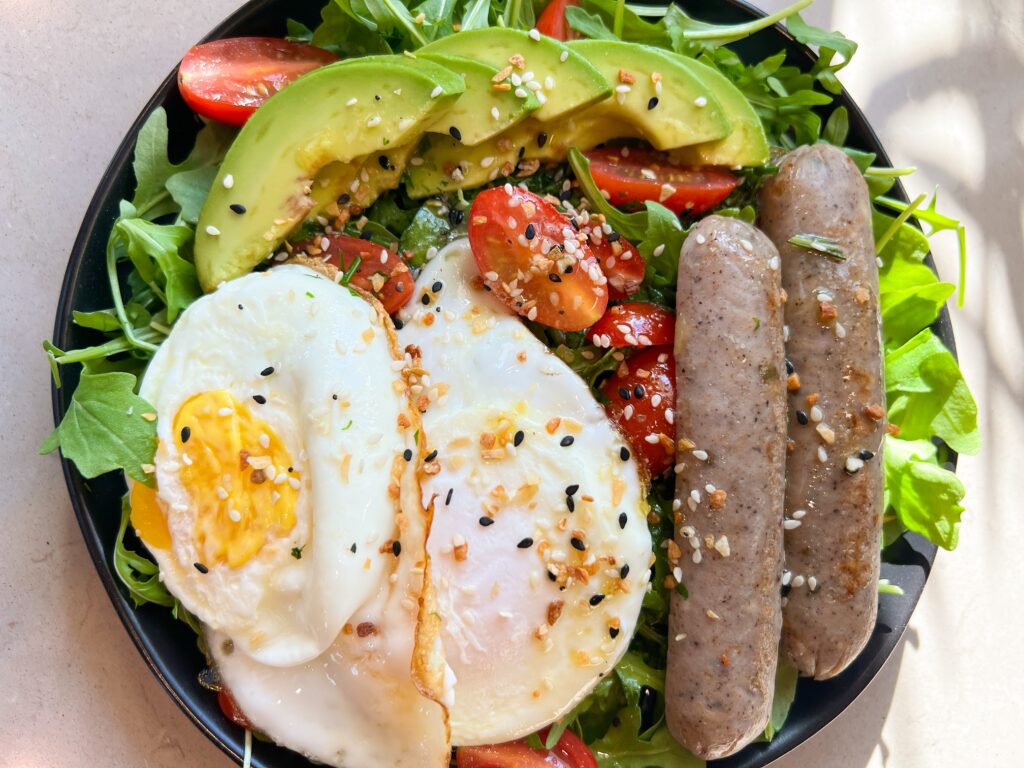 Start your day on the savory side in this Salad Breakfast Bowl layered with greens and proteins. It's the perfect way to get your morning dose of veggies in without compromising on taste. The best part about this salad may just be the everything bagel dressing!
Ingredients (makes 1)
For Dressing:
1/8 cup white wine vinegar
1 tsp Dijon mustard
1 tbsp everything bagel seasoning
¼ tsp salt
1/8 tsp pepper
½ clove garlic, minced
¼ cup olive oil
For Bowl:
2 cups mixed greens
1/8 cup thinly sliced green onions
1/8 cup fresh chopped herbs
½ cup cherry tomatoes, halved
½ ripe avocado, thinly sliced
4 small breakfast sausages, cooked
2 Noah's Pride eggs, over-easy
Instructions
Combine all the ingredients for the dressing into a mason jar and shake to emulsify. The flavor tends to get better as it sits, so make ahead of time and keep in the refrigerator.
In a bowl, layer greens, green onion, chopped herbs, tomatoes and avocado.
Top off the salad with cooked sausages, fried eggs and a sprinkle of everything bagel seasoning before drizzling with dressing.
Farmer's Breakfast Bowls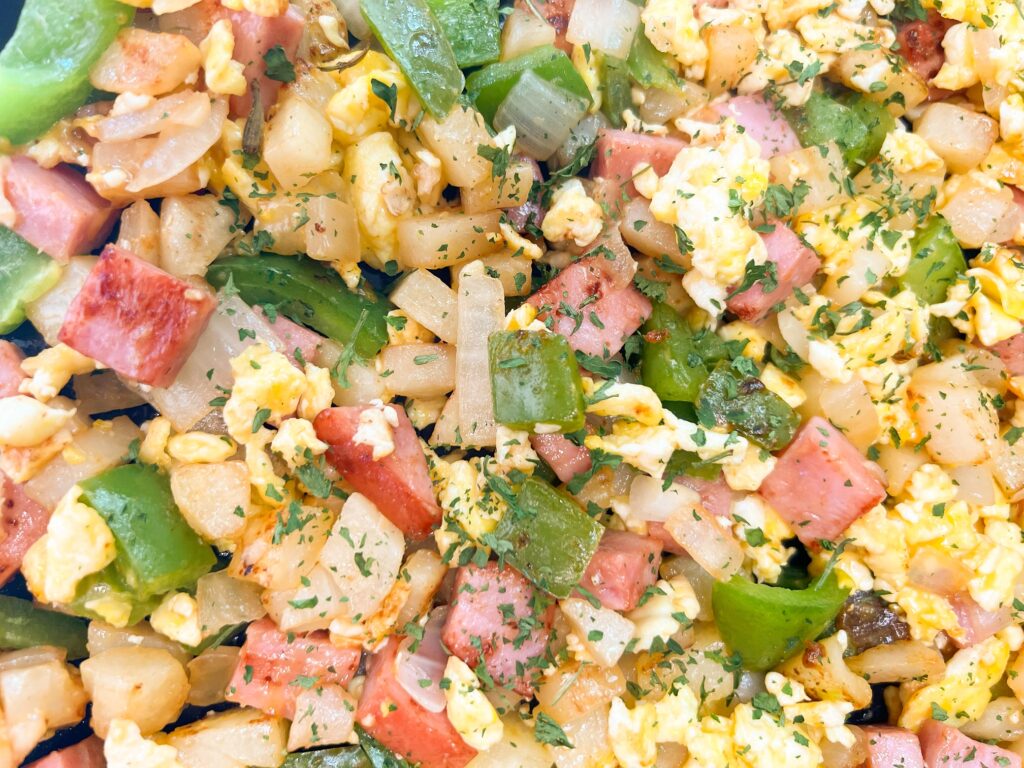 This hearty bowl is a breakfast classic and incorporates all your favorite breakfast fix-ins into one bowl. Maybe that's why it's called "Farmer's Breakfast," since it's sure to give you the fuel and nutrition you need to get the job done!
Ingredients (makes 1)
1 cup diced breakfast potatoes
¼ green pepper, chopped
¼ small onion, chopped
½ cup diced ham
2 Noah's Pride eggs
¼ cup cheddar cheese
salt and pepper to taste
chives, for garnish
Instructions
In a large skillet over medium high heat, add 2 tbsp oil, potatoes, peppers, onions, and ham. Cook until crispy and tender.
In a separate pan, scramble eggs to your liking before adding into the larger skillet and tossing to combine.
Stir in cheese until just melted, season with salt and pepper, and garnish with chives.
Tex Mex Breakfast Bowls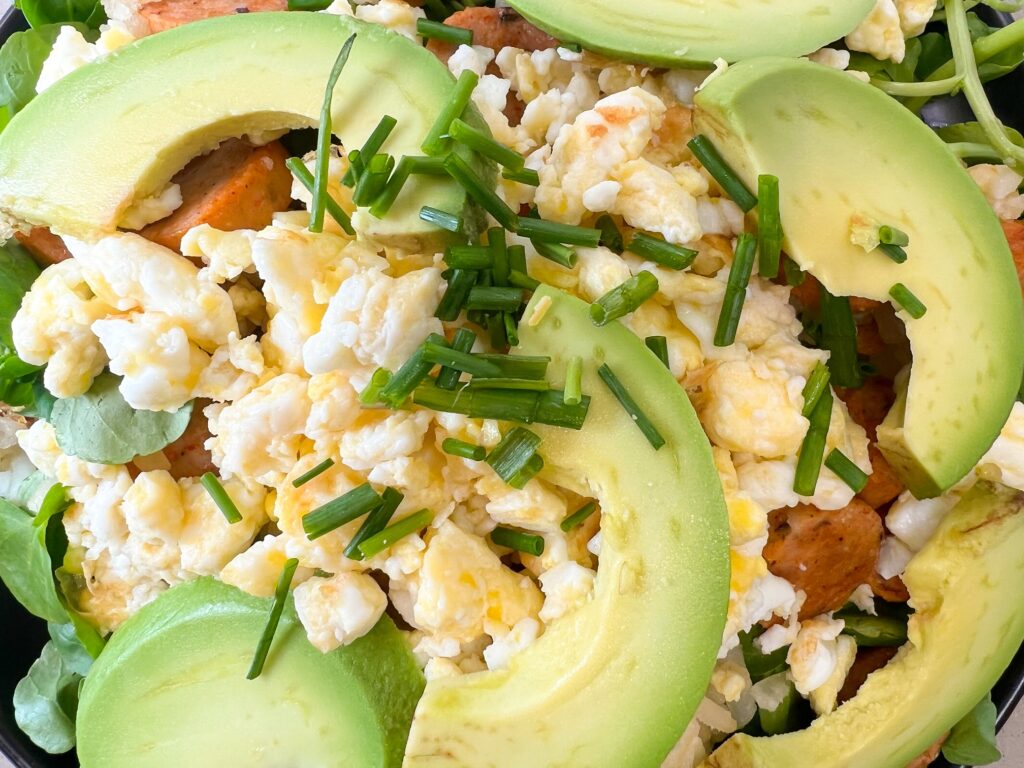 Put some pep in your step with this spicy and flavorful Tex Mex Breakfast Bowl. Hash browns, chorizo, scrambled eggs, avocado and pico de gallo all served over a bed of watercress sneaks in that morning serving of greens without even noticing!
Ingredients (makes 1)
2 Noah's Pride Eggs
1 cup Watercress
2 cup frozen shredded hash browns
¼ lb Chorizo
½ avocado
pico de gallo salsa
scallions, thinly sliced
red pepper flakes
Instructions
Fry hash browns over medium high heat until golden and crispy.
Meanwhile, cook chorizo in a separate skillet, set aside.
Once hash browns and chorizo are cooked, scramble and cook eggs to your liking.
Add watercress to a bowl and layer with hash browns, chorizo and scrambled eggs. Top with thinly sliced avocado and garnish with pico de gallo, scallions and red pepper flakes.
Sweet Potato Avocado Breakfast Bowl
Packed with protein and healthy fats, this Sweet Potato Avocado Breakfast Bowl adds just a bit of sweet to the savory. Sweet potatoes are loaded with nutrients to keep you filled and fueled all morning. And if you want to make this bowl even easier to assemble, roast your sweet potatoes ahead of time and just reheat to assemble.
Ingredients (makes 1)
½ large sweet potato, cubed
1 tsp olive oil
½ tsp salt
¼ small white onion, diced
½ yellow bell pepper, diced
2 Noah's Pride eggs
2 Noah's Pride egg whites
½ tsp garlic powder
¼ tsp pepper
¼ cup cherry tomatoes, halved
½ avocado, diced
scallions, chopped
¼ tsp paprika
Instructions
Line a baking pan with parchment paper and toss potatoes with olive oil and season with salt and pepper. Bake at 400°F for 15 minutes, stir and roast an additional 10 minutes until browned.
While the potatoes are roasting, add some olive oil and onion to a nonstick skillet over medium heat. Sauté until soft and translucent then add in bell pepper and cook until tender.
Add in eggs and egg whites and mix to combine with the onion and pepper. Stir in garlic powder, salt and pepper to taste.
Once the eggs are beginning to set, add in tomatoes and heat until the skins are softened, and eggs are fully cooked through. Then add in the roasted sweet potatoes and toss to combine.
Add to a bowl and top with diced avocado, chopped scallion and dusting of paprika.
So, whether your New Year's resolution is to eat better, think healthier or just create new morning routines, we hope these Breakfast Bowl recipes offered some inspiration. Looking for more delicious recipes featuring eggs? Be sure to check out our entire blog filled with delicious ideas. Tag us in your yummy creations on Facebook and Instagram @noahspride for a chance to be featured. We're always looking for new and creative ways to cook with eggs, so if you have a favorite recipe you'd like to share with us, let us know!