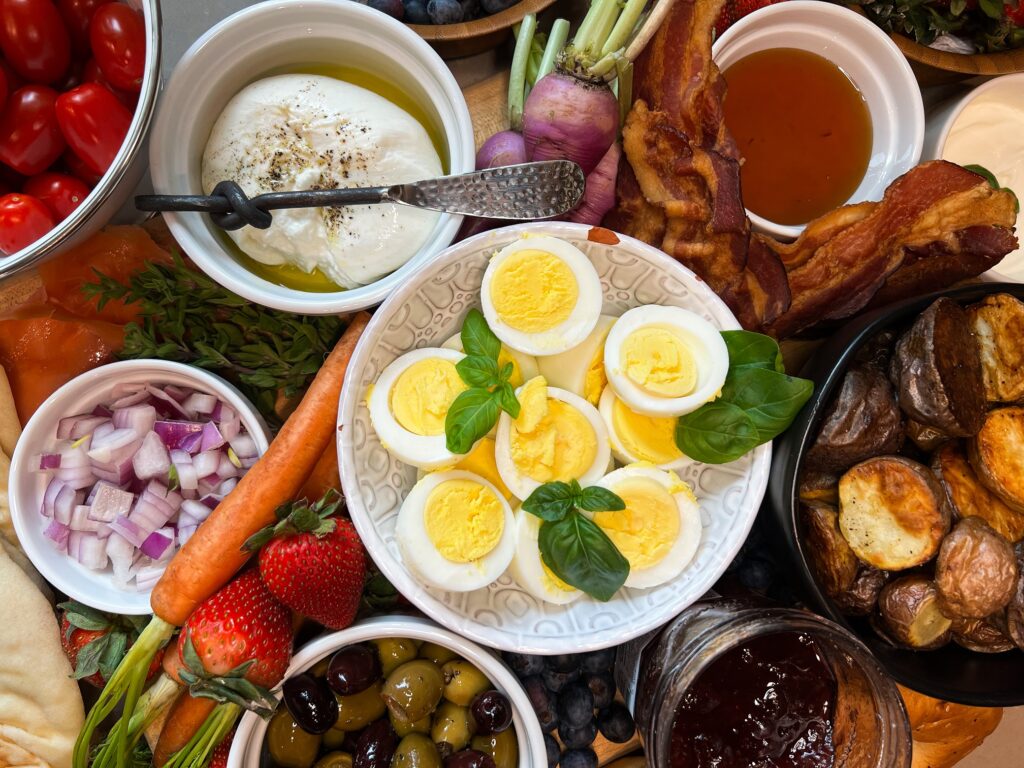 April: it's the month of Easter, but did you also know it's National Brunch Month? We couldn't think of a better way to kick-off spring that with some fresh, delicious and nutritious brunch recipes in celebration of the season! Any of these recipes would make great additions to your Easter brunch or lunch celebrations, but make sure you save and pin them to enjoy all spring and summer long.
Chicken Caesar Salad with Eggs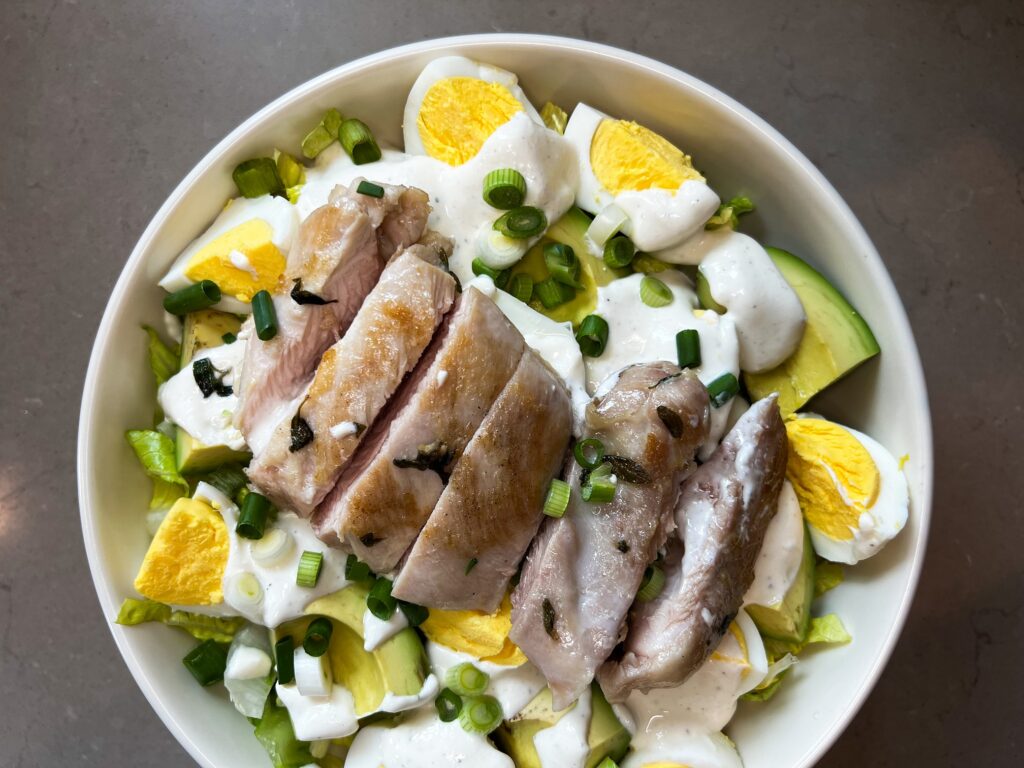 Usually when you think brunch, you think casseroles, pastries and maybe a good stack of pancakes, but we wanted to find some lighter options for spring as well. This salad is a great brunch option that includes healthy fats and protein plus a full serving of greens!
Ingredients
For Chicken:
2 tbsp olive oil
1 tbsp fresh oregano
1 tsp salt
4 chicken breasts
For Dressing:
1 cup plain Greek yogurt
juice of 1 lemon
½ tsp Dijon mustard
½ tsp garlic powder
½ tsp onion powder
½ tsp salt
¼ tsp pepper
For Salad:
4 hard-boiled eggs, peeled and quartered
1 large romaine lettuce, chopped
2 avocados, pitted and chopped
¼ cup parmesan cheese
2 tbsp chives, chopped
Instructions
For the chicken marinade, whisk together olive oil, oregano and salt. Add chicken to a ziplock bag and pour over the oil mixture, seal and let marinate in the refrigerator for at least 1 hour up to overnight.
To make the dressing, combine Greek yogurt, lemon juice, mustard, garlic powder, onion powder, salt and pepper. Cover and refrigerate until ready to use.
Once the chicken has marinated, allow to sit out for 15 minutes to come to room temperature. Then heat a large skillet over medium-high heat and cook for 6-8 minutes on each side until golden brown and cooked throughout.
Hard boil your eggs using a hard boiled egg cooker or this tried and true method. Once your eggs are cooked, transfer to an ice bath to stop the cooking and allow to cool before peeling. Tip: using older eggs when you hard boil makes for easier peeling eggs.
Peel and slice your eggs into quarters. Peel, pit and slice avocados and chop lettuce into large pieces.
Once your chicken is cooked, allow it sit for a few minutes before slicing into pieces.
To assemble, place chopped lettuce and avocado into a large salad bowl. Top with eggs and sliced chicken, drizzle with prepared dressing and sprinkle with parmesan cheese. Top with chives, salt and pepper.
Tea Sandwich Cake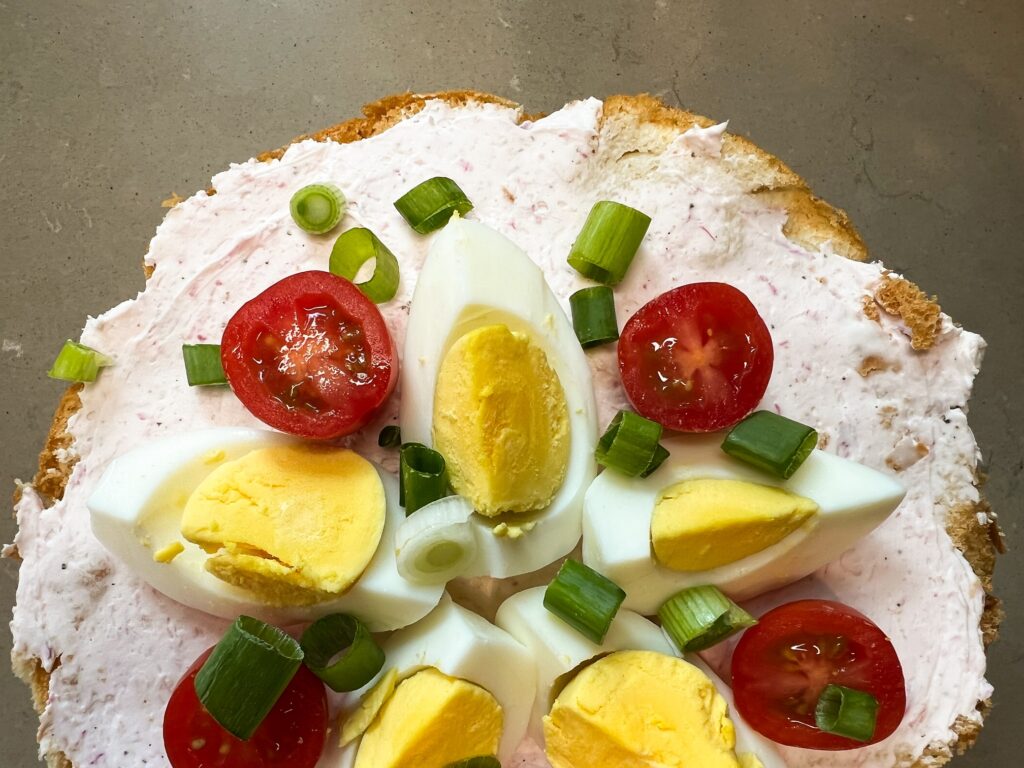 What a better way to serve sandwiches to a group than in the form of a cake! This beautifully stacked and layered sandwich cake is a great brunch month option for an afternoon tea or mid-day get-together with the girls! The key in keeping all the beautiful layers intact is to use a springform pan for easy serving.
Ingredients
1 bunch radishes
3 ½ cups cream cheese
salt
pepper
arugula
1 tomato, sliced
1 small cucumber, sliced
1 loaf sandwich bread
smoked salmon
2 hard-boiled eggs
¼ cup cherry tomatoes
chives
Instructions
Wash and clean radishes. Finely grate clean radishes into a bowl with cream cheese, salt and pepper. Wash and slice tomato and cucumber, set aside.
Line a springform pan with parchment paper. Cover the bottom of the pan in a layer of bread, using your fingers to mold to shape as needed. Spread the bread with a layer of cream cheese and top with a layer of arugula. Repeat this layering process with bread, cream cheese mixture and alternate layers with tomato, cucumber and salmon. You should have 4 layers total, with a small amount of cream cheese mixture remaining.
Top off the cake with a final layer of sandwich bread, cover and refrigerate for 1 hour.
Hard boil your eggs using a hard boiled egg cooker or this tried and true method. Once your eggs are cooked, transfer to an ice bath to stop the cooking and allow to cool before peeling. Tip: using older eggs when you hard boil makes for easier peeling eggs.
Peel and slice your eggs into wedges, slice your cherry tomatoes into halves and chop your chives. Remove the cake from the refrigerator and spread with the remining layer of cream cheese mixture.
Garnish the cake with eggs, tomatoes and chives. Remove the springform, slice and serve.
Chicken Bacon Ranch Layered Salad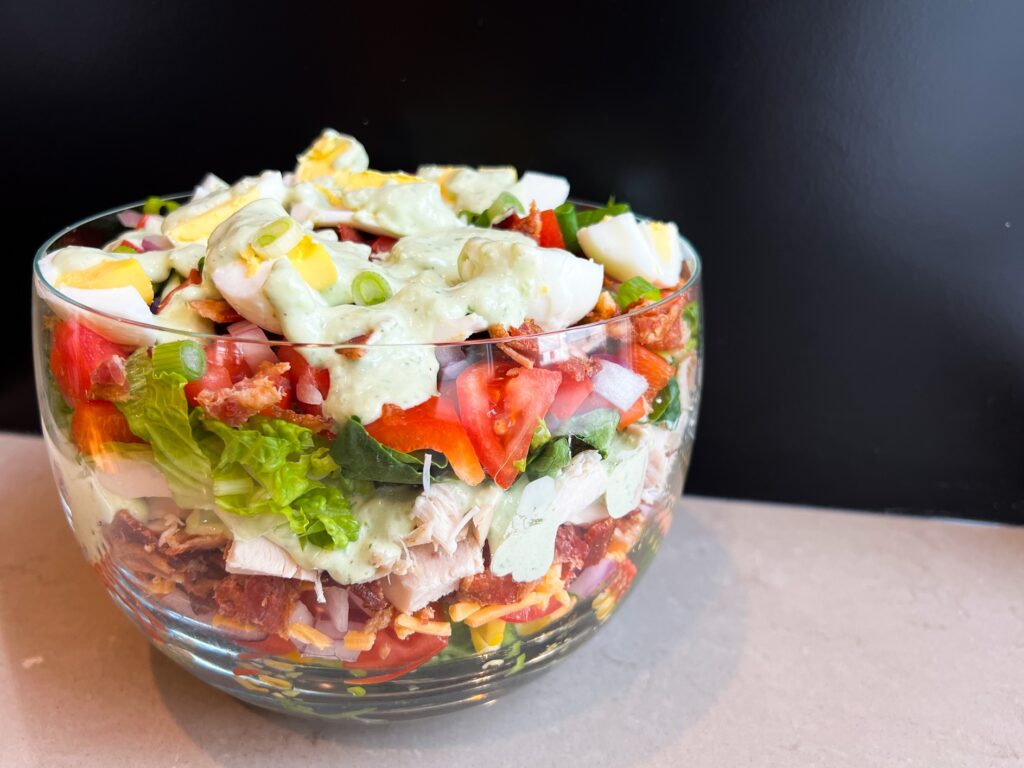 This colorful layered salad is another great option to feed a group or to serve as a side at Easter brunch. Complete with a creamy, homemade dressing, serve this salad in a clear, glass or plastic trifle dish to get the full visual of all the layers. Plus, what's better than a salad that has chicken, bacon, eggs and ranch?!
Ingredients
For Dressing:
¼ cup sweet onion, diced
1 serrano pepper, seeded and chopped
3 garlic cloves
3 tbsp lime juice
2 tbsp fresh cilantro, chopped
1 cup buttermilk
1 cup mayonnaise
½ cup sour cream
1 avocado, peeled
1 ½ tsp salt
1 ½ tsp ground cumin
1 tsp oregano
1 tsp sugar
½ tsp chili powder
½ tsp pepper
For Salad:
9 cups roughly chopped romaine lettuce
1 large red bell pepper, diced
1 large green bell pepper, diced
12oz frozen corn, steamed and cooled
6 tomatoes
1 red onion, thinly sliced
2 ½ cups shredded cheddar cheese
1lb cooked bacon, crumbled
4 cups roasted chicken, chopped
3 green onions, thinly sliced
2 large hard-boiled eggs
Instructions
For dressing, add onion, serrano pepper, garlic, lime juice and cilantro to a blender. Pulse until chopped, then add remaining ingredients and blend until smooth.
Hard boil your eggs using a hard boiled egg cooker or this tried and true method. Once your eggs are cooked, transfer to an ice bath to stop the cooking and allow to cool before peeling. Tip: using older eggs when you hard boil makes for easier peeling eggs.
Peel and slice eggs into wedges. Clean and chop romaine, dice bell peppers, cook and cool corn, chop 5 tomatoes, slice 1 tomato into wedges, slice red onion and cook and prepare chicken and bacon.
To assemble the salad, layer lettuce, red pepper, green pepper, corn, tomatoes, red onion, cheese, bacon and chicken. Drizzle with prepared dressing. Repeat these layers 1 more time and top the salad of with sliced eggs, tomatoes and chives. Cover and refrigerate until ready to serve.
Spring Brunch Board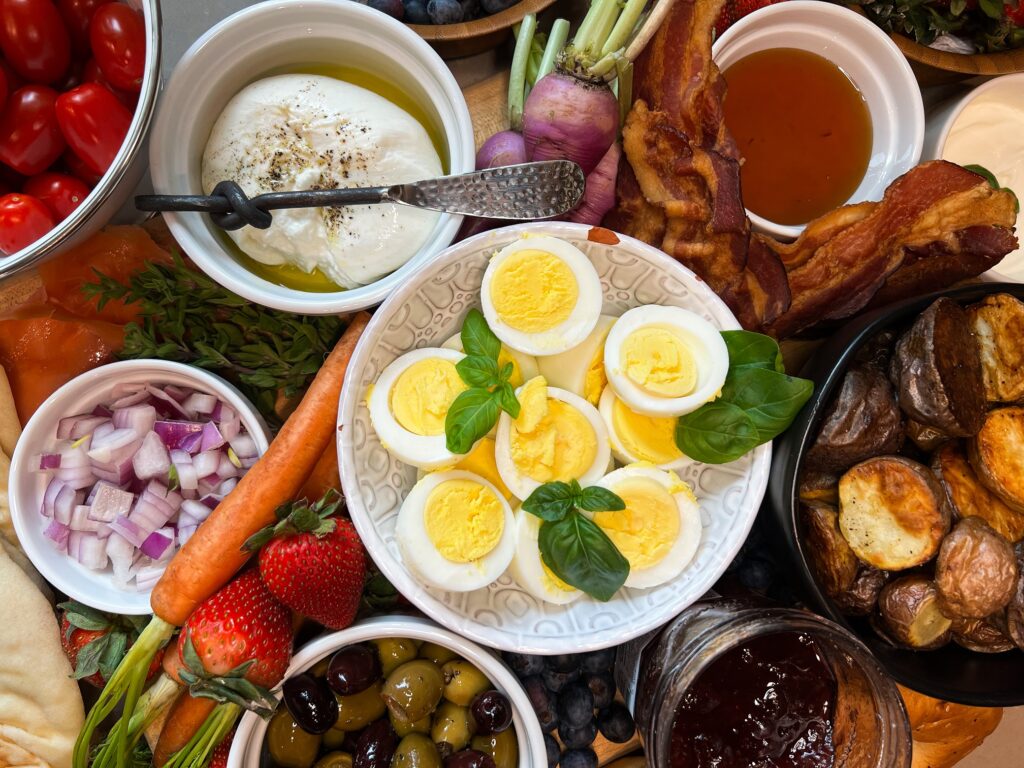 Everyone always has different preferences when it comes to brunch, which is why this spring brunch board is the perfect way to celebrate brunch month while keeping everyone happy. Gather together some fresh bagels and your favorite brunch toppings and assemble a beautiful and delicious board that allows everyone to pick and choose their favorites!
Ingredients
roasted potatoes
cooked bacon
hard-boiled eggs
cherry tomatoes
burrata
smoked salmon
bagels
naan
fresh herbs
avocado
fruit jam
honey
fresh berries
cucumbers
radishes
red onion
olives
cream cheese
Instructions
Wash, prep and slice all your toppings and sides as desired.
Get a large board or spread parchment paper over a table and assemble your board with all your components.
Baked Egg Boats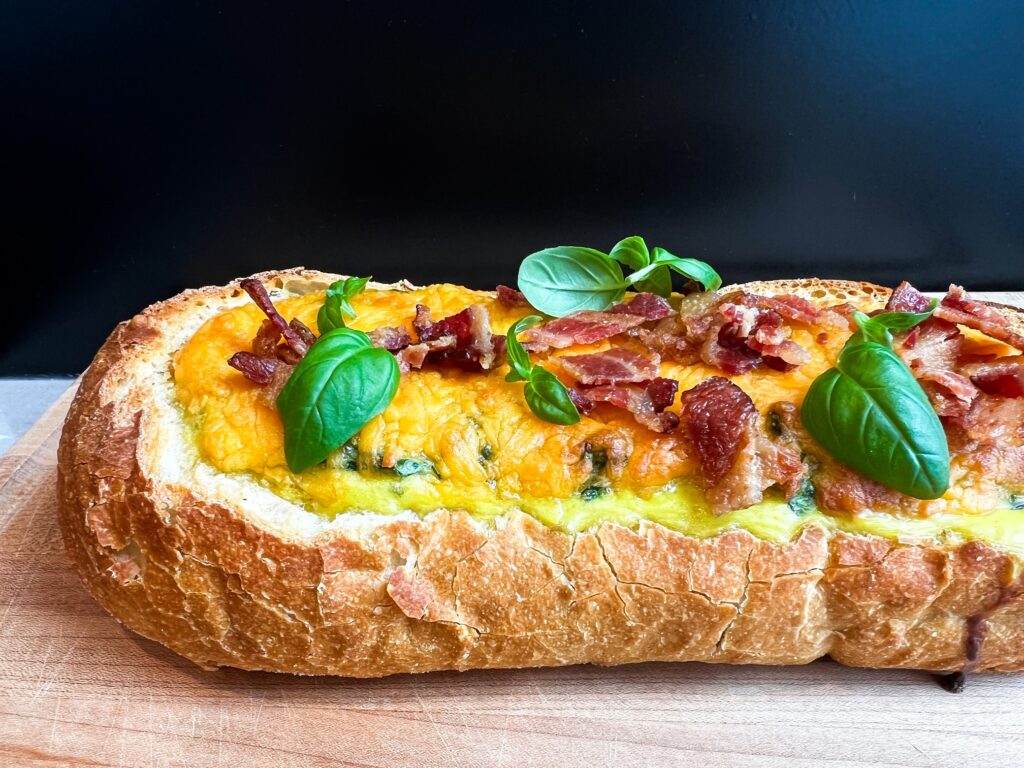 Trade-in your boring old breakfast sandwich for this egg boat baked inside a loaf of ciabatta! The eggs get perfectly cooked and the bread perfectly crisp in the oven for and easy but elevated take on breakfast sandwiches for a group. But, if you wanted to make these more customizable, you could easily swap out the large loaf for smaller, individual rolls so that each person gets their own boat!
Ingredients
1 ciabatta loaf
1 tbsp olive oil
2 tbsp everything bagel seasoning
6 large eggs
¼ cup milk
1 tbsp chives, chopped
1 cup baby spinach, chopped
½ cup shredded Havarti cheese
salt
pepper
red pepper flakes
1 cup shredded cheddar cheese
1/3 cup pesto
cooked bacon, for serving
Instructions
Remove the top 1/3 of the ciabatta load and hollow out some of the inside with a spoon to create room for the eggs. Rub the inside of the loaf with olive oil and everything bagel seasoning, and bake at 350°F for 8-10 minutes or until the bread is toasted.
While the bread is toasting, whisk together eggs, milk, salt, pepper and red pepper flakes until well mixed. Stir in chives, spinach and Havarti to combine.
Once the bread is toasted, remove from the oven and sprinkle ½ cup cheddar cheese into the bottom and drizzle with pesto. Slowly pour the egg mixture into the boat and top with remaining cheddar cheese.
Bake for an additional 30-35 minutes until the eggs are set in the center.
Top with cooked bacon, basil and extra pesto if desired. Slice and serve immediately.
Breakfast Caprese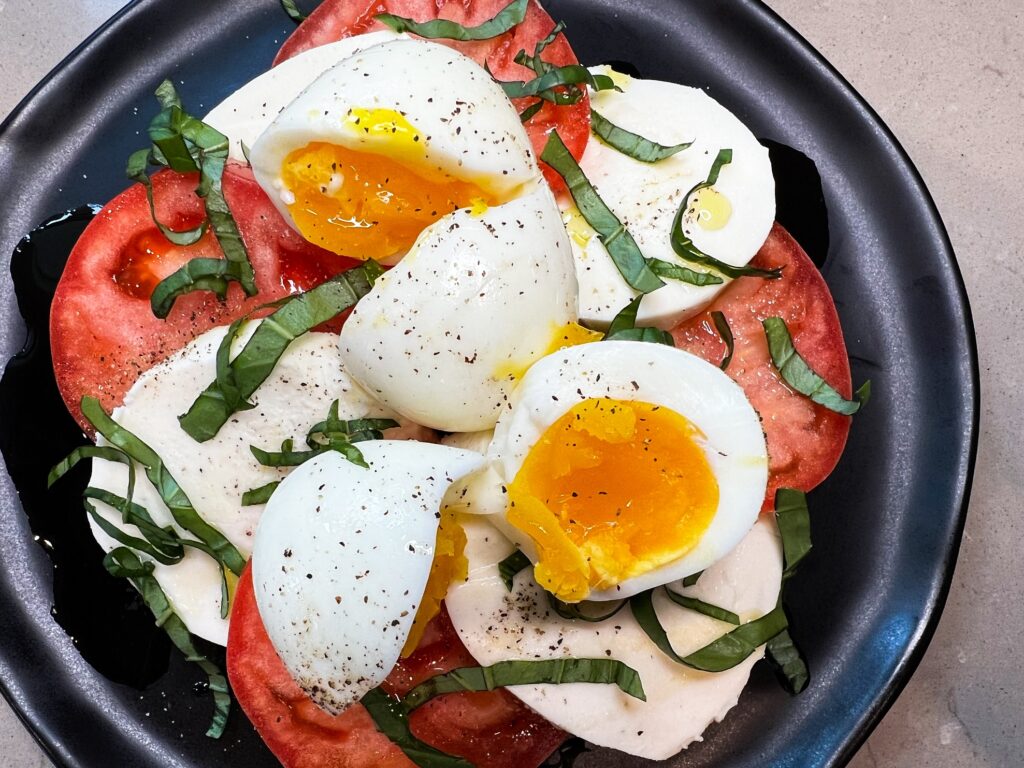 Add some perfectly cooked soft-boiled eggs to this classic Italian combo for a unique and one-of-a-kind brunch dish. When you slice into the egg, the soft, runny yolk acts like a sauce and makes for the perfect light, brunch month option.
Ingredients
2 large eggs
3 thin slices fresh mozzarella
1 small tomato, thinly sliced
1 tsp olive oil
fresh basil
salt
pepper
Instructions
Bring a pot of water to a boil and gently add your eggs, turning heat down to a simmer. Allow to cook for about 6 minutes and then remove the eggs and place into an ice bath to stop the cooking process. Allow eggs to cool before gently peeling.
Arrange mozzarella ad tomato slices onto a plate and top with soft-boiled eggs. Drizzle with olive oil, basil, salt and pepper.
We hope these brunch month recipes have inspired you this Easter season and will offer some inspiration throughout the spring and summer seasons. Be sure to check out our entire blog filled with delicious recipes for even more egg inspiration. Tag us in your yummy creations on Facebook and Instagram @noahspride for a chance to be featured. We're always looking for new and creative ways to cook with eggs, so if you have a favorite recipe you'd like to share with us, let us know!