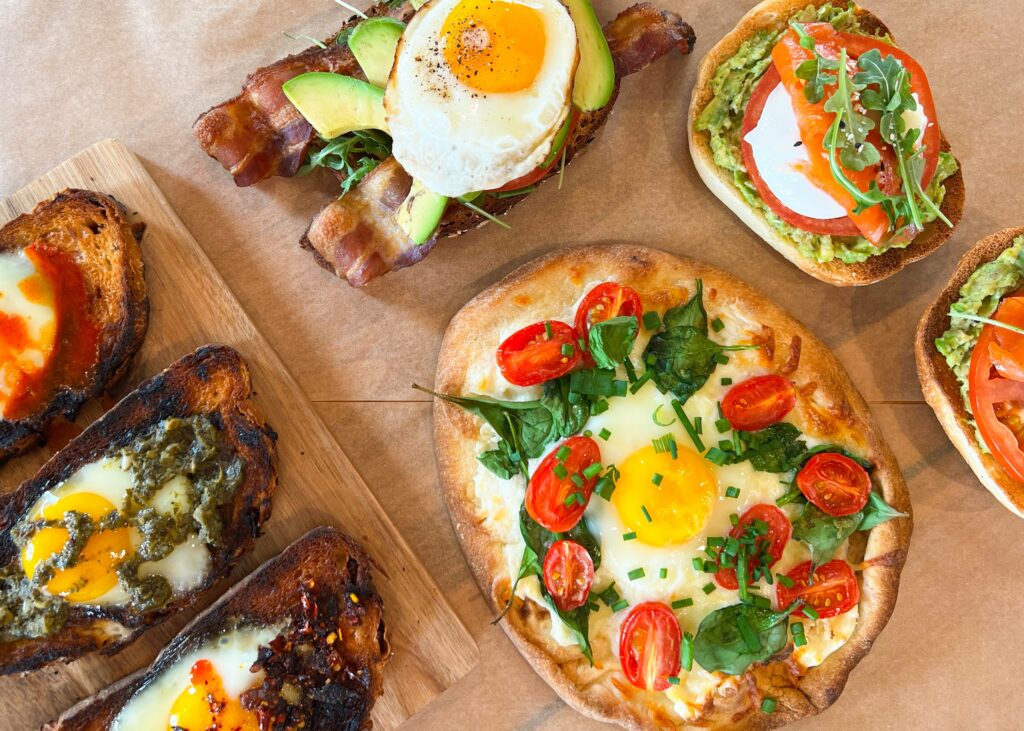 Eggs & toast: a classic combination. We love the simplicity of this perfect pair, but sometimes breakfast can get boring, and nobody likes a boring breakfast. Last month, we gave you six flavor packed Breakfast Bowls to start off the New Year on the right track and we want to keep the momentum going! This month we have seven ways to make your eggs & toast a little more exciting. So, grab a dozen (or two) of Noah's Pride eggs and re-invigorate your mornings with a breakfast you look forward to.
Smoked Salmon & Eggs on Toast
Instantly elevate your eggs & toast by adding some avocado and smoked salmon.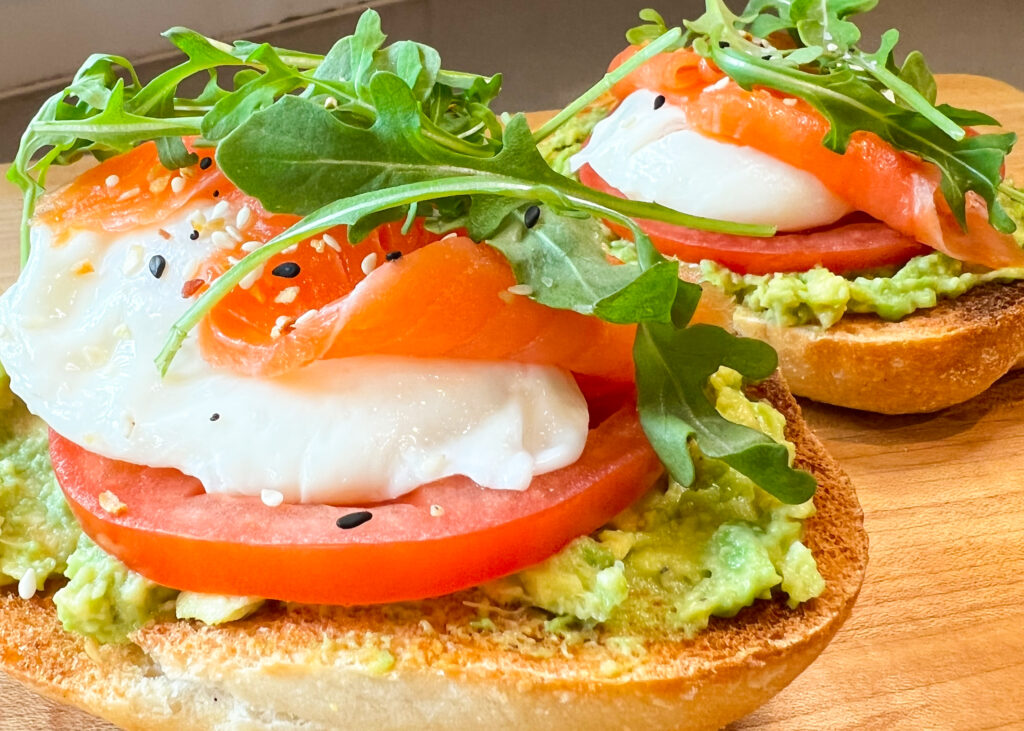 Ingredients (makes 1)
salt & pepper, to taste
smoked salmon
2 Noah's Pride eggs, poached
2 thin slices tomato
everything bagel seasoning
microgreens
Instructions
Smash avocado in a small bowl with lemon juice, salt and pepper.
Poach eggs and toast bread.
Spread smashed avocado onto toasted bread and layer with sliced tomato.
Carefully transfer poached eggs to toast and top with smoked salmon.
Garnish with microgreens and everything bagel seasoning.
Mini Breakfast Pizza
Ok, so technically not a toast, but same concept…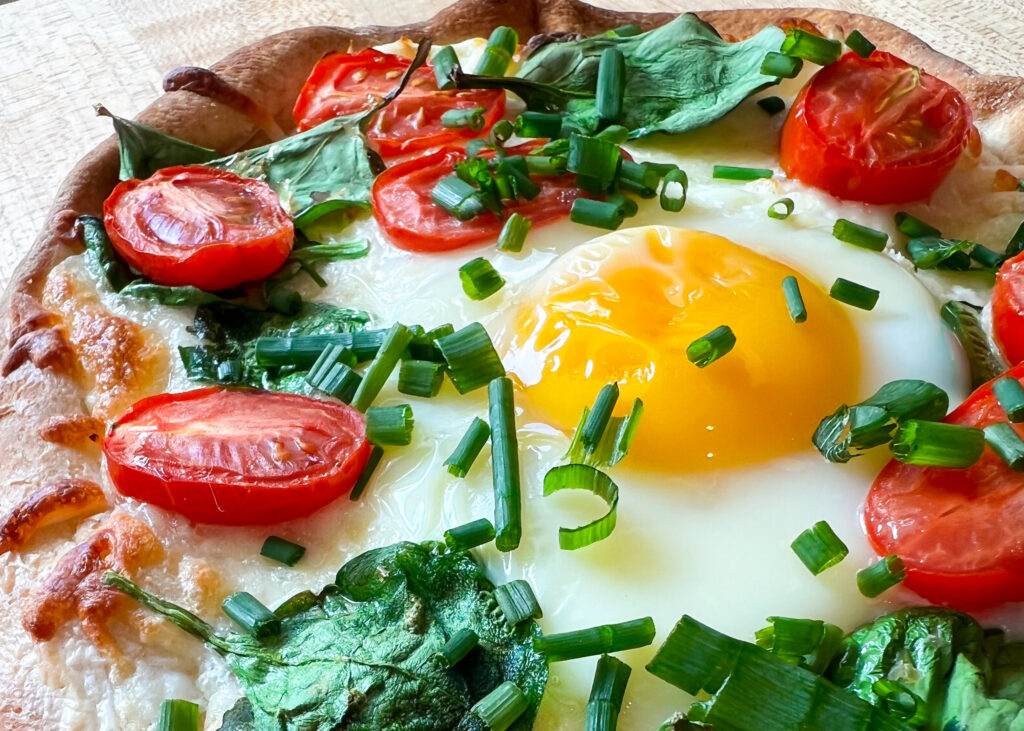 Ingredients (makes 1)
naan bread
2 tbsp cream cheese
¼ cup mozzarella cheese
cherry tomatoes, sliced
spinach
1 Noah's Pride egg
chives
Instructions
Spread cream cheese onto naan and sprinkle with mozzarella. Add sliced tomatoes and spinach around the outside, leaving a space in the middle of the pizza.
Crack egg into the center and bake at 400°F for 10-12 minutes until egg is set and cheese is melted.
Garnish with chives, slice and enjoy.
BLT Toast
An open-faced BLT topped with an egg.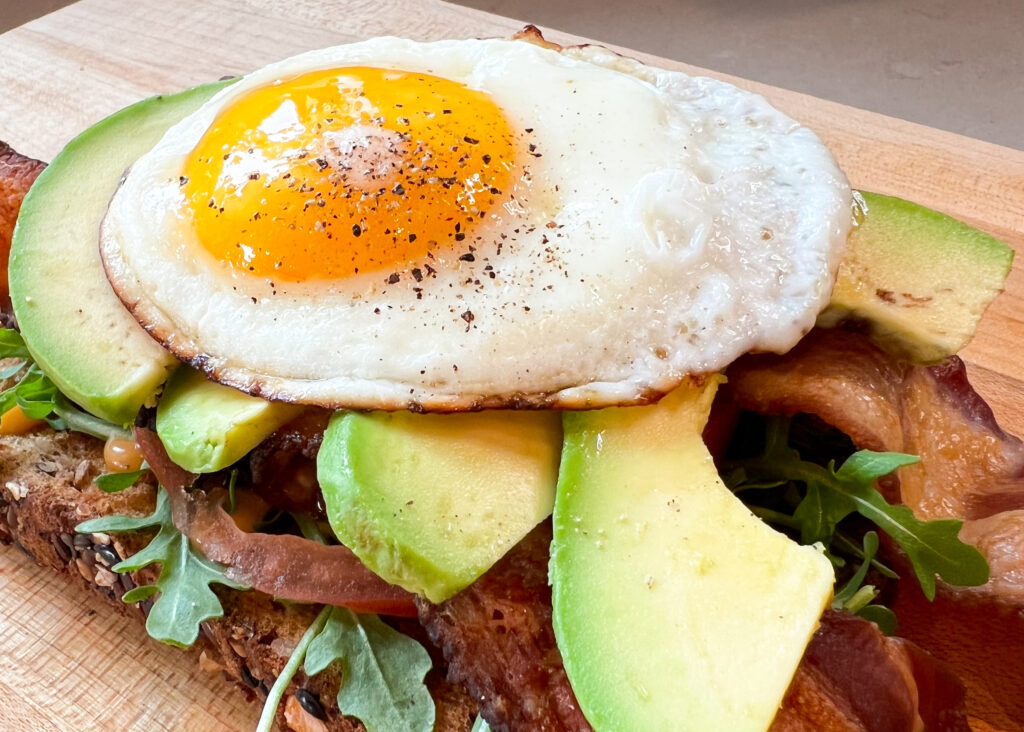 Ingredients (makes 1)
1 slice bread, toasted
sriracha mayo
baby arugula
1 slice tomato
2 slices bacon, cooked
1 Noah's Pride egg, sunny-side up
avocado
salt & pepper, to taste
Instructions
Layer sriracha mayo onto toasted bread and stack with arugula, tomato, bacon, egg and avocado.
Season with salt & pepper and enjoy.
Twice Baked Breakfast Potatoes
Also, not a toast but it looks like a toast, that counts right?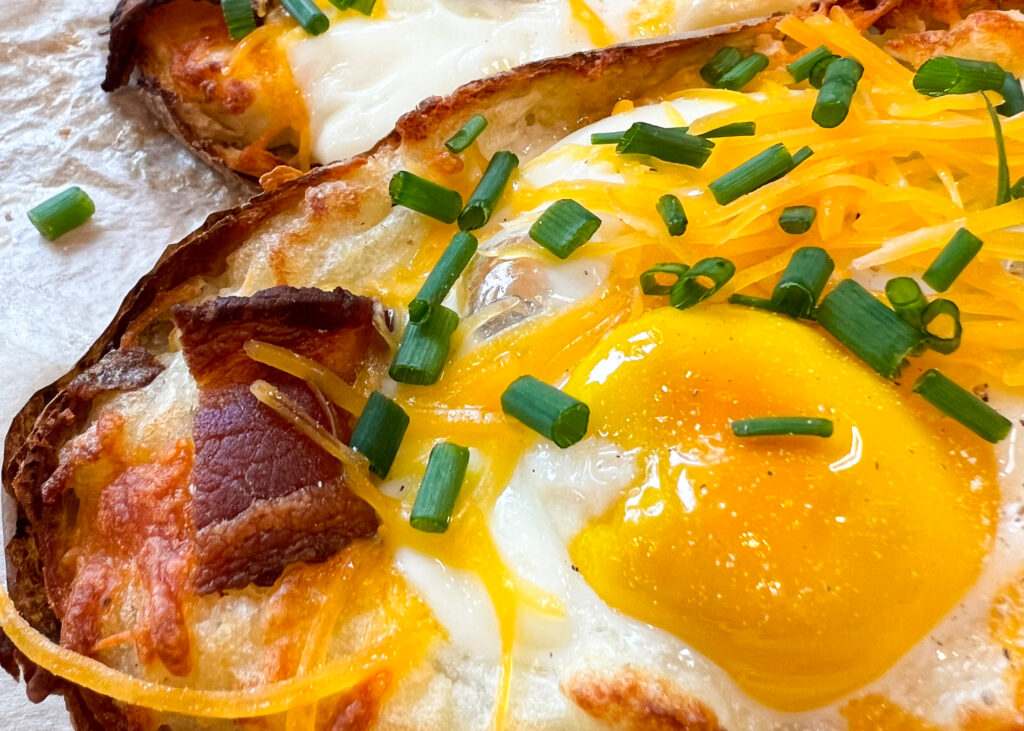 Ingredients (makes 1)
1 medium russet potato
1 tbsp butter
1 tbsp heavy cream
2 slices bacon, cooked
2 Noah's Pride eggs
¼ cup shredded cheddar cheese
salt & pepper, to taste
chives
Instructions
Wash and prick potato with a fork and place directly on the center oven rack. Bake at 400°F for 40-45 minutes or until potatoes are tender throughout.
Remove and allow to cool for 15 minutes.
Slice potato in half lengthwise and hallow out each half.
In a bowl, add butter and cream to the potato flesh and mash until smooth. Season with salt & pepper.
Spread 1 tbsp of potato mash into each potato skin and sprinkle with 1 tbsp cheese.
Layer 1 slice of bacon per skin and top each with an egg.
Return to oven and bake at 375°F for 18-24 minutes until egg whites are set.
Garnish with more cheese, salt, pepper and chives.
Egg in a Hole
The most traditional egg & toast combo, but add a little *spice.*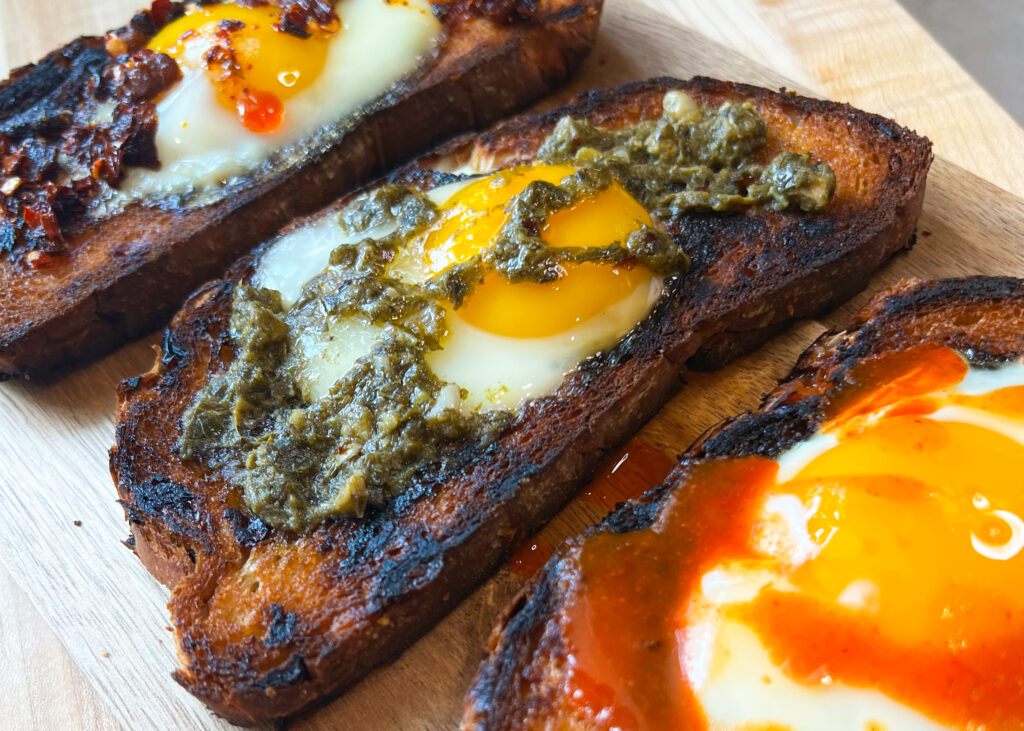 Ingredients (makes 1)
bread
butter
olive oil
Noah's Pride eggs
chili oil, pesto or hot sauce, to serve
Instructions
Cut a circle into the center of your bread, large enough for an egg.
Melt butter and olive oil over medium-high heat into a nonstick pan.
Add bread to the pan and fry until golden. Flip and crack egg into the hole, cooking until egg is white and cooked.
Drizzle with chili oil, pesto or hot sauce to serve.
Hash Brown Breakfast Pizza
Ugh you caught us, but we promise this is the last non-toast toast on the list. But, you can eat it with your hands and it was just too good not to include.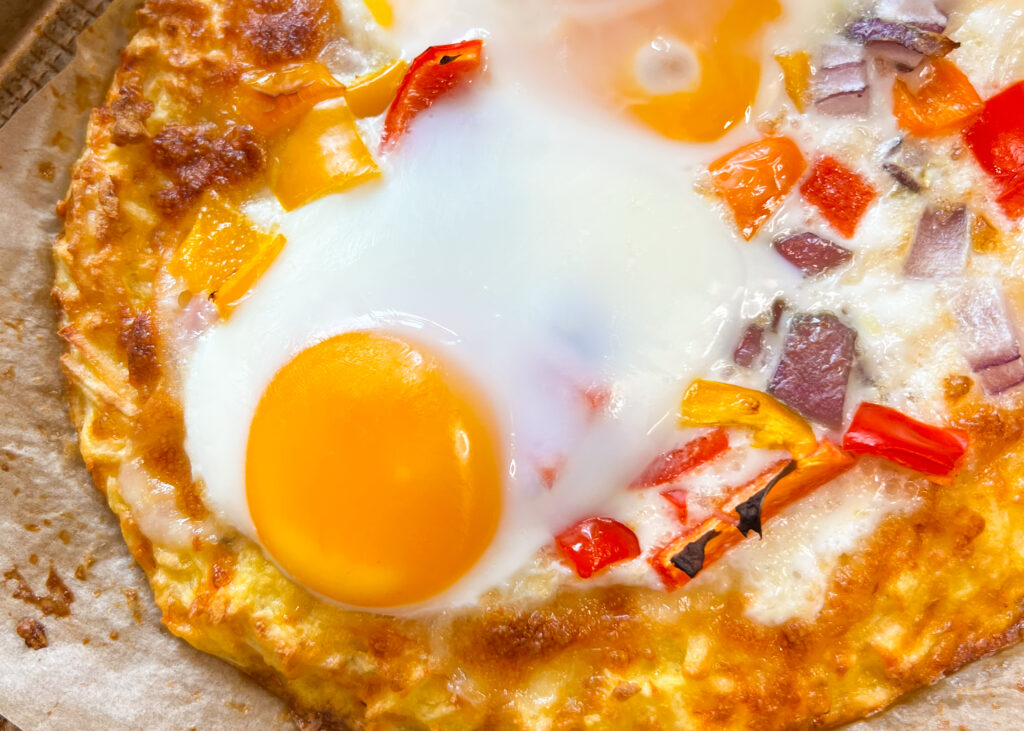 Ingredients (makes 1)
1 bag hash browns
7 Noah's Pride eggs
½ cup shredded cheddar cheese
1 cup shredded mozzarella cheese
½ cup diced bell peppers
1/8 cup diced onion
Instructions
In a large bowl, mix hash browns, 2 eggs, and cheddar cheese until combined. Pour onto a parchment lined and greased baking sheet and shape into a pizza.
Bake at 425°F for 20 minutes or until golden brown.
Remove crust from oven and top with mozzarella cheese, remaining eggs and vegetables. Bake for an additional 12-15 minutes or until eggs are set and cheese is melted.
Allow to cool for 5 minutes before slicing.
Mexican Eggs Benedict
Packed with flavor, you might need to use a knife and fork on this one.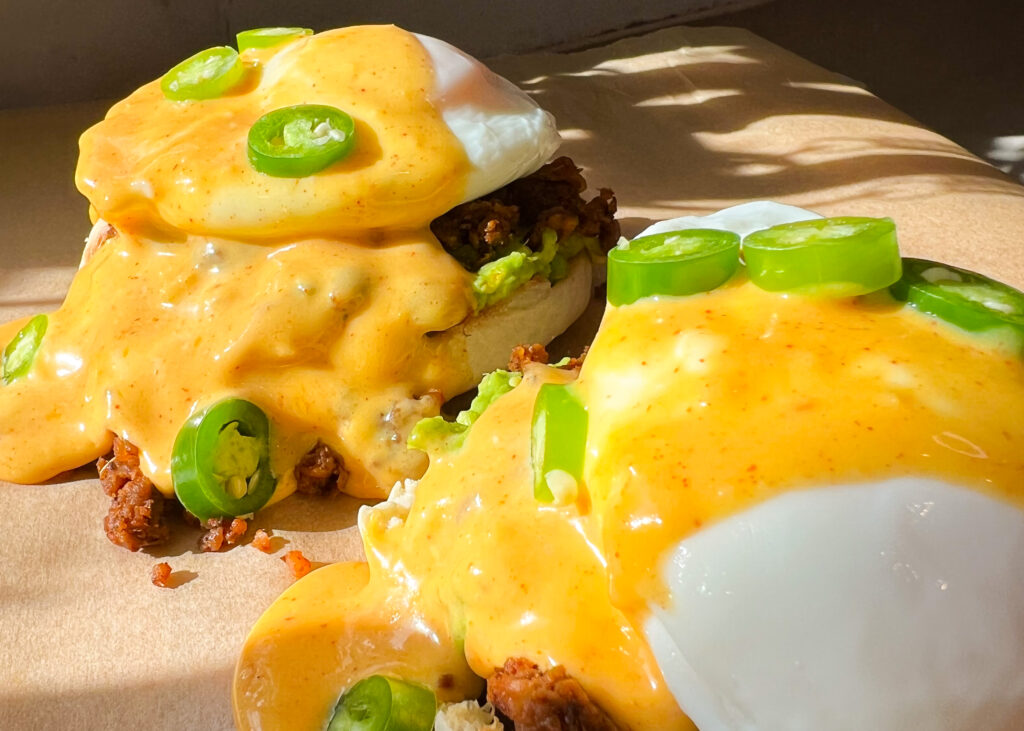 Ingredients (makes 1)
English muffins
avocado, smashed
chorizo sausage, cooked and crumbled
2 Noah's Pride eggs, poached
1 jalapeno, sliced
2 Noah's Pride egg yolks
¼ tsp salt
1 tbsp lime juice
1 tsp chopolte powder
¼ cup butter, melted
Instructions
Make the hollandaise sauce by combining egg yolks, salt, lime juice and chipotle powder and blend with an immersion blender.
Slowly add in melted butter while continuing to blend until smooth.
Plate toasted English muffins and top with smashed avocado, cooked and crumbled chorizo, poached eggs and hollandaise sauce. Garnish with sliced jalapenos.
Yes, we know that we cheated on some of these recipes and that not all of them are (technically) toasts…but hope we inspired you to jazz up your breakfast this Winter! Be sure to check out our entire blog filled with delicious recipes for even more inspiration. Tag us in your yummy creations on Facebook and Instagram @noahspride for a chance to be featured. We're always looking for new and creative ways to cook with eggs, so if you have a favorite recipe you'd like to share with us, let us know!