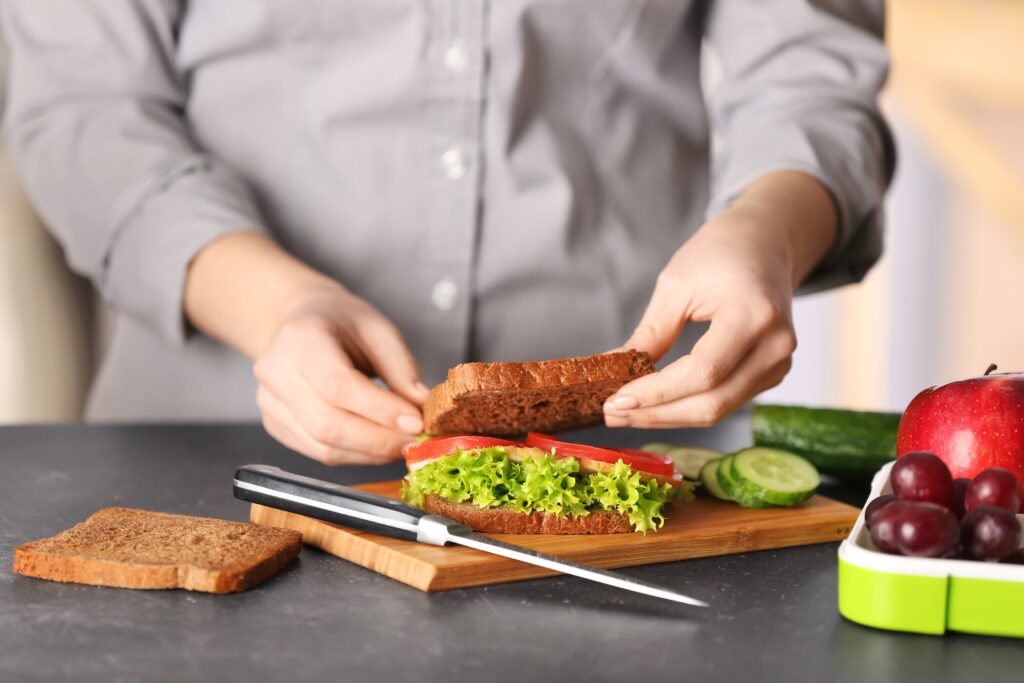 September is here, which means that Summer is quickly coming to a close, and back-to-school season is officially in full swing. While many schools are returning to in-person classes and businesses are returning to office, we're starting to get a glimpse of settling back into pre-2020 normalcy. With busy schedules all-around, it can be tempting to just push everyone out the door and skip on breakfast, but did you know that the "most important meal of the day" can actually improve memory, attention and focus for the day ahead? That's why we put together this collection of Back-to-School Breakfast Sammies!
Starting your day off with proper fuel gives your body the key nutrients to kick-start the day, and eggs specifically, are an excellent source of choline: a nutrient important for brain health. Plus, the high-quality of protein offered in eggs helps maintain and repair muscle while supporting bone health!
Need more proof? Here are three reasons from the American Egg Board on why not to skip breakfast: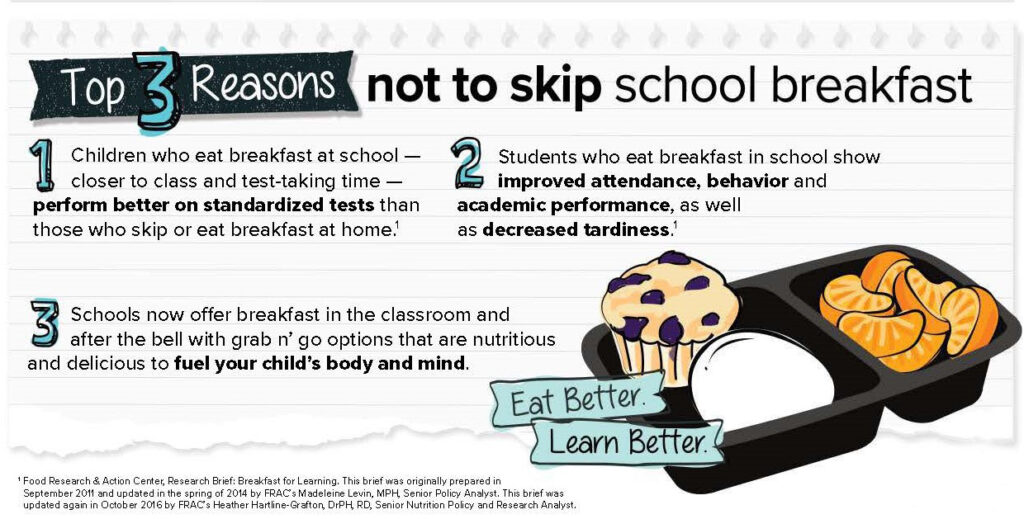 So, let's start off the 2021 school year strong, with these Back-to-School Breakfast Sammies which are fun, delicious and nutritious! The best part? None of these options are super time consuming to make, and most of them could be made ahead of time if desired! Just grab and go and conquer the day with these handheld breakfasts of champions.
The Classic Egg Sandwich (with a twist)
You can't go wrong with just a Classic Egg Sandwich, but throw on some caramelized onions, ooey-gooey melted cheese and a creamy scrambled egg and we've got ourselves something spectacular. What really makes this sandwich something special is the crisp, buttery brioche bun to hold it all together for a melt-in-your-mouth, perfect bite.
Ingredients (makes 1)
3 large Noah's Pride eggs
3 tbsp butter, divided
1 tbsp cooking oil
1 medium yellow onion, sliced
¼ cup water
2 tbsp chives, thinly sliced
2 tbsp mayonnaise
1 tbsp Sriracha
1 brioche bun, sliced
1 slice cheddar cheese
salt and pepper, taste
Instructions
Start by caramelizing your onions: Add oil and sliced onions to a skillet on medium heat. Add some salt and 1 tbsp butter and incorporate. Reduce heat to low and stir often until onions are soft and golden. Add water and continue cooking until onions are fully caramelized, keep warm.
To scramble your eggs: Add scrambled eggs to an unheated skillet with 1 tbsp of butter. Bring to medium-low heat stirring continuously to cook. Add some salt and chives and cook until egg just begins to set, do not overcook. Set aside and keep warm.
In a small bowl, mix Sriracha and mayo until well combined.
Toast your brioche bun with remaining butter until warm and crisp. Then spread the Sriracha mayo mixture on both the top and bottom buns.
Layer with your scrambled eggs, cheese and caramelized onions and enjoy!
Breakfast BLT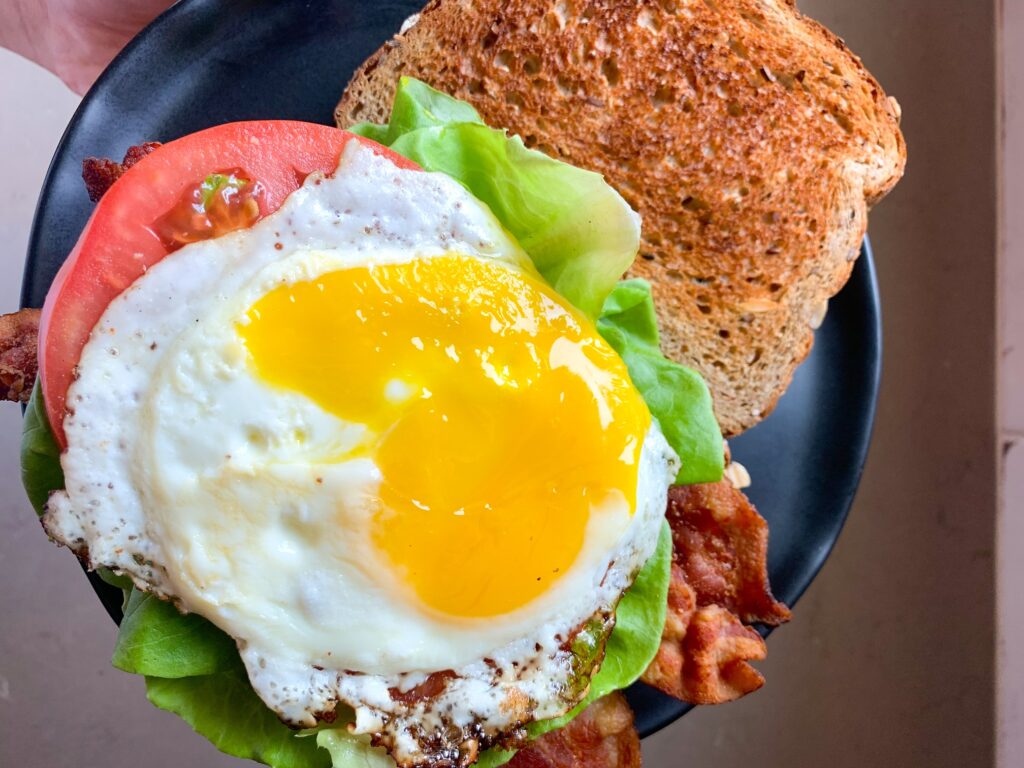 Adding a fried or hard-boiled egg to a BLT instantly takes this lunchtime staple to "first meal of the day" material. It's also a great way to get some veggies in before noon! This Breakfast BLT is so easy to make, you could [almost] do it with your eyes closed. Just fry or hard boil your eggs to your liking, assemble and enjoy!
Ingredients (makes 1)
1 large Noah's Pride egg
3 slices bacon, cooked
2 slices whole wheat bread, toasted
2 to 3 iceberg lettuce leaves
2 thin slices of tomato
1 tbsp mayonnaise
Instructions
Hard boil or fry up your Noah's Pride egg to your liking.
Assemble sandwich with your toasted bread, mayo, egg, lettuce, cooked bacon and tomatoes.
Everything Bagel Breakfast Sliders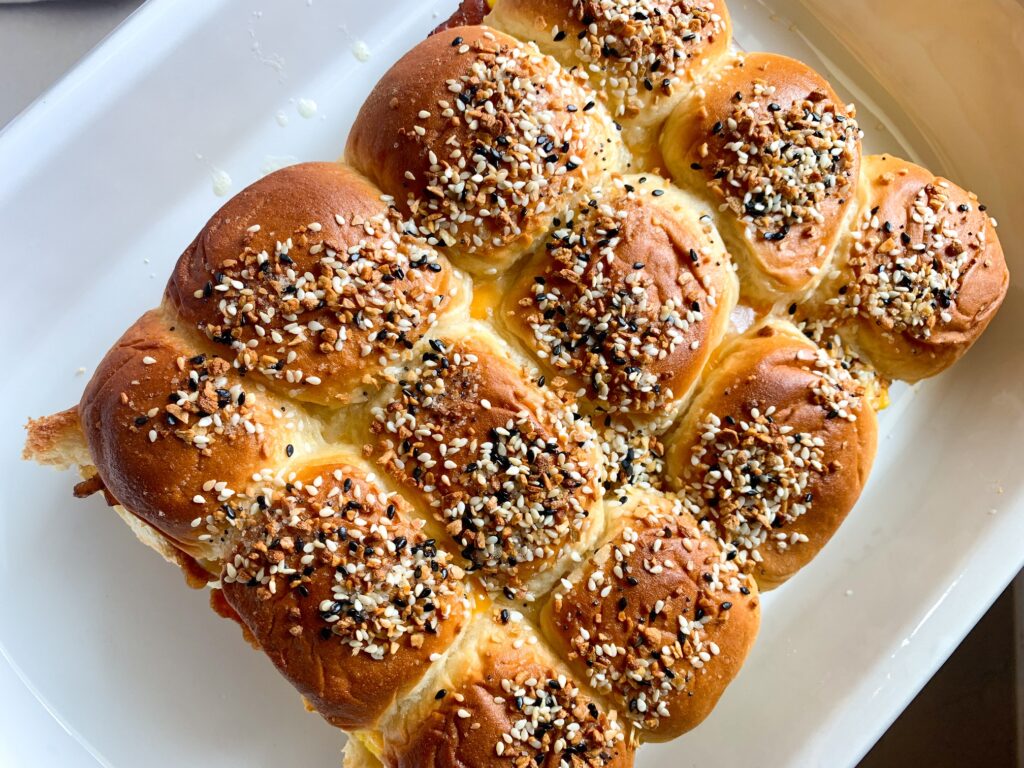 If you've got a morning crowd to get out the door, this Everything Bagel Breakfast Slider recipe is for you and makes 12 breakfast sandwiches in just a few easy steps. Plus, you know these are delicious because anything tastes better with Everything Bagel seasoning, am I right?
Ingredients (makes 12)
6 large Noah's Pride eggs, scrambled
12 pack of Hawaiian Rolls
6 slices bacon, cooked
4 tbsp butter, melted
6 slices Colby Jack cheese
3 tbsp Everything Bagel seasoning
Instructions
Scramble and cook your eggs on the stovetop to your liking, set aside.
Keeping the 12 rolls intact, carefully cut through rolls horizontally. Set the tops aside.
Place the bottoms of the rolls in a baking dish and layer the scrambled eggs, cooked bacon and cheese before adding back the tops of the rolls.
Brush the tops of the rolls with the melted butter and sprinkle with Everything Bagel seasoning.
Bake at 350°F for 5-10 minutes or until cheese has melted and the top of the rolls begin to crisp.
Slice, share and enjoy!
Southern Waffle Sandwich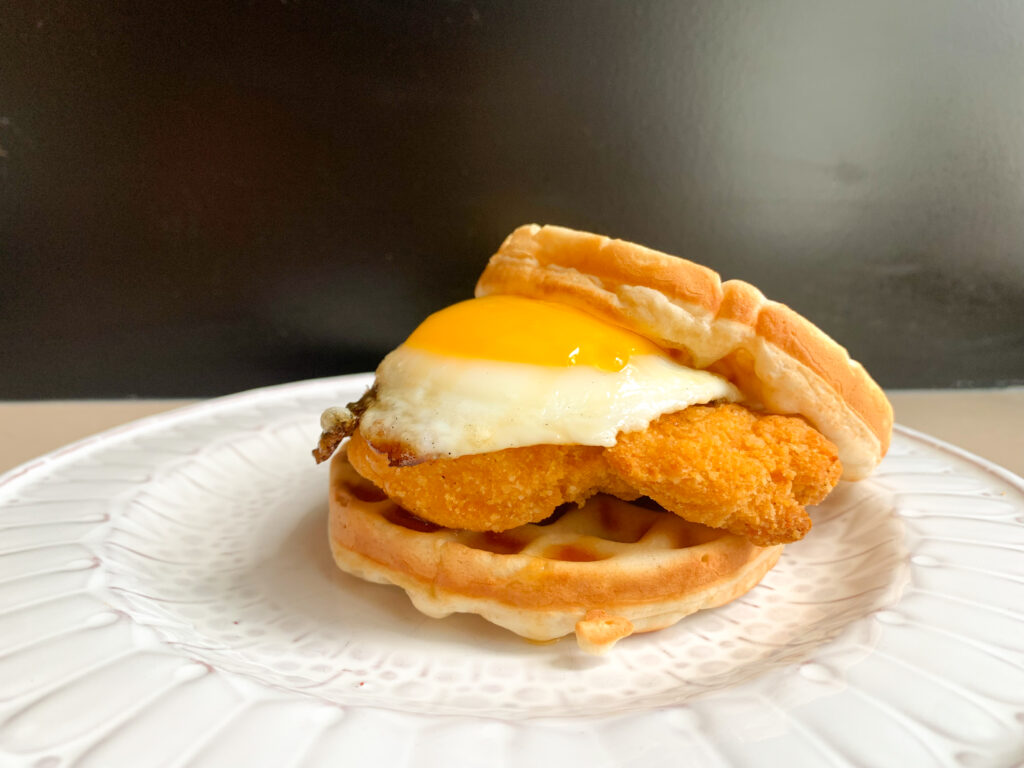 If you want to kick off your morning with all the protein, try this Southern Waffle Sandwich stuffed with chicken and an egg! You can certainly fry or bake up your breaded chicken from scratch, but we kept it easy and just baked a pre-made frozen thigh. Make it spicy by topping off with some hot honey or stick to just regular honey if your spice tolerance is low, either way this stacked sandwich will keep you full and satiated until lunch!
Ingredients (serves 1)
1 large Noah's Pride egg, fried
2 waffles, cooked
1 breaded chicken thigh, cooked
hot honey
Instructions
Cook or prepare your breaded chicken thigh per package instructions.
Sandwich cooked chicken and fried egg between two cooked waffles, drizzle with hot honey and enjoy!
Pull Apart Breakfast Sandwiches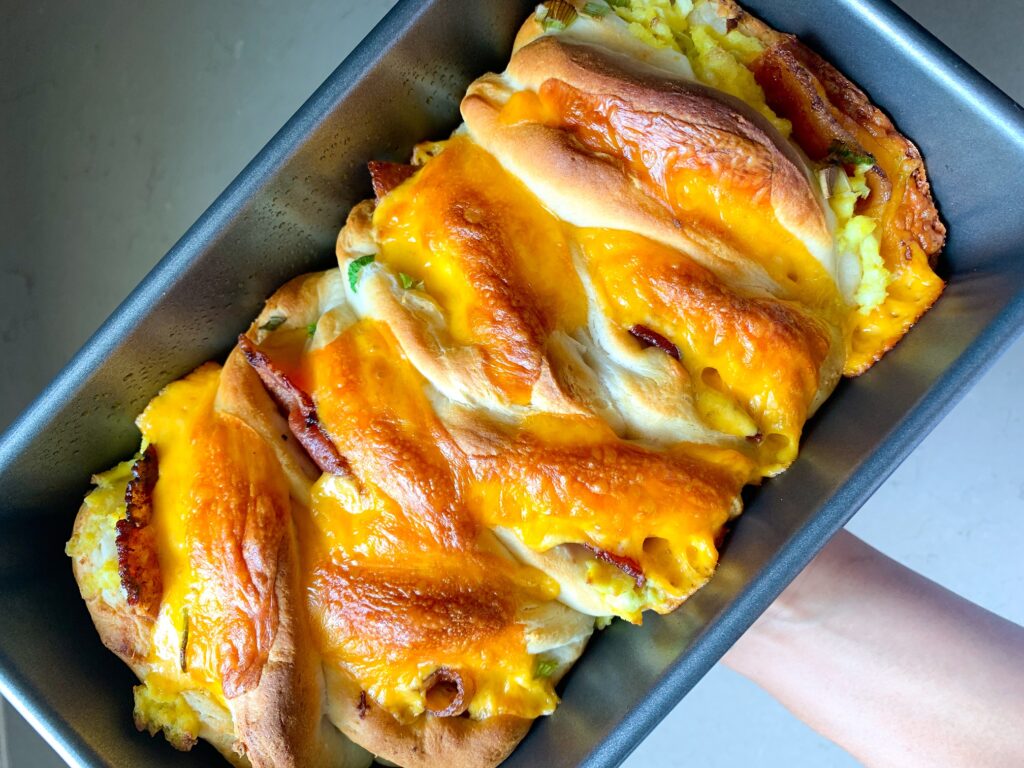 While some might consider this recipe a "pull-apart" bread, if you keep your biscuits intact, they can act more as individual Pull Apart Breakfast Sandwiches. Super easy, super delicious and the perfect way to start the day ahead.
Ingredients (makes 10)
4 large Noah's Pride eggs, scrambled
2 cans biscuit dough
8 slices bacon, cooked and crumbled
8 oz cheddar cheese, sliced
2 tbsp chopped scallions
melted butter
Instructions
Separate biscuit dough rounds and fill each portion with egg, bacon, cheese and scallions.
Butter each side of the biscuits and arrange in a buttered loaf pan.
Bake at 350°F for 25 to 30 minutes or until golden brown. Pull apart and enjoy!
Breakfast Dogs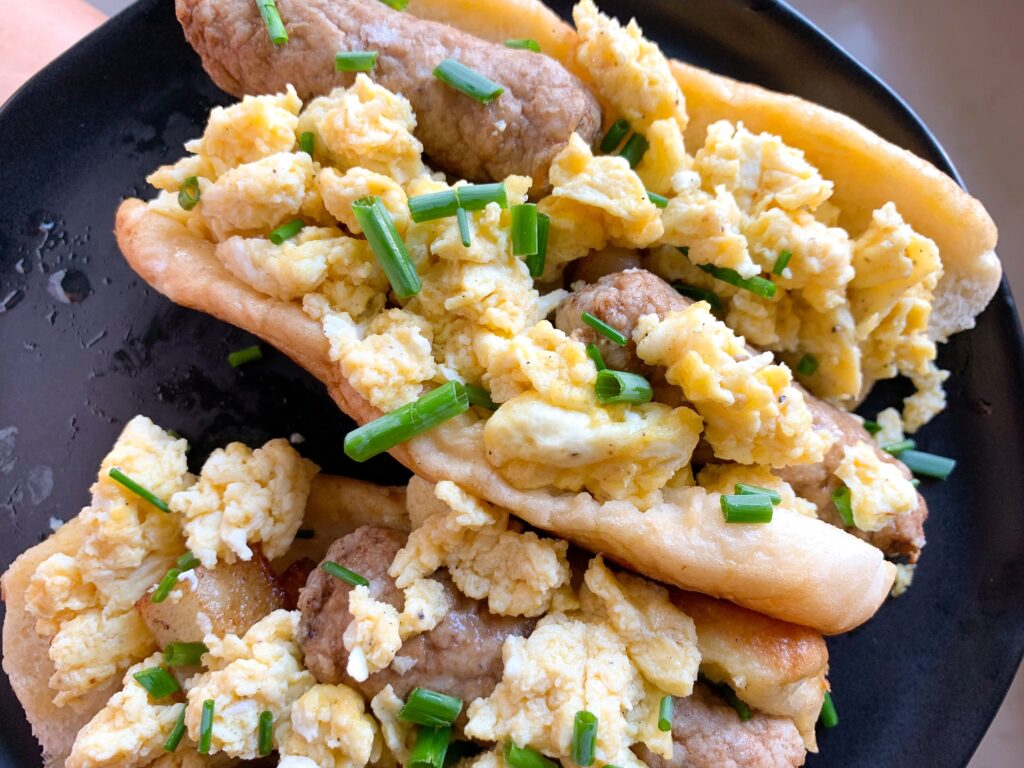 For the perfect combination of savory and sweet, these Breakfast Dogs satisfy every element. The French toast buns perfectly compliment the dog's savory fillings and are a fun way to relook at breakfast sandwiches.
Ingredients (serves 2)
6 large Noah's Pride eggs
2 hot dog buns
2 slices bacon, cooked
2 breakfast sausage links, cooked
1 russet potato, cubed
½ cup shredded cheese
½ cup heavy cream
2 tbsp butter
1 tbsp olive oil
chopped chives, for garnish
Instructions
To make the potatoes: Bring a small pot of water to a boil, add cubed potatoes, and cook for 2 minutes to soften. Add 2 tbsp butter to a skillet over medium-high heat, once butter foams, add olive oil and drained potatoes. Cook and toss for about 5 minutes of until golden brown and crispy.
To scramble the eggs: Crack 2 eggs into a small bowl and whisk, add shredded cheese, salt and pepper and mix until combined. In a medium pan, add butter and eggs, stirring continuously until set, don't overcook.
To make French toast buns: Combine 4 eggs and heavy cream in a shallow bowl. Dip each side of the buns into the mixture and fry in a skillet on either side until golden brown, set aside.
Stuff your French toast buns with bacon, potatoes, sausage and eggs. Garnish with chives and enjoy!
Mediterranean Breakfast Sandwiches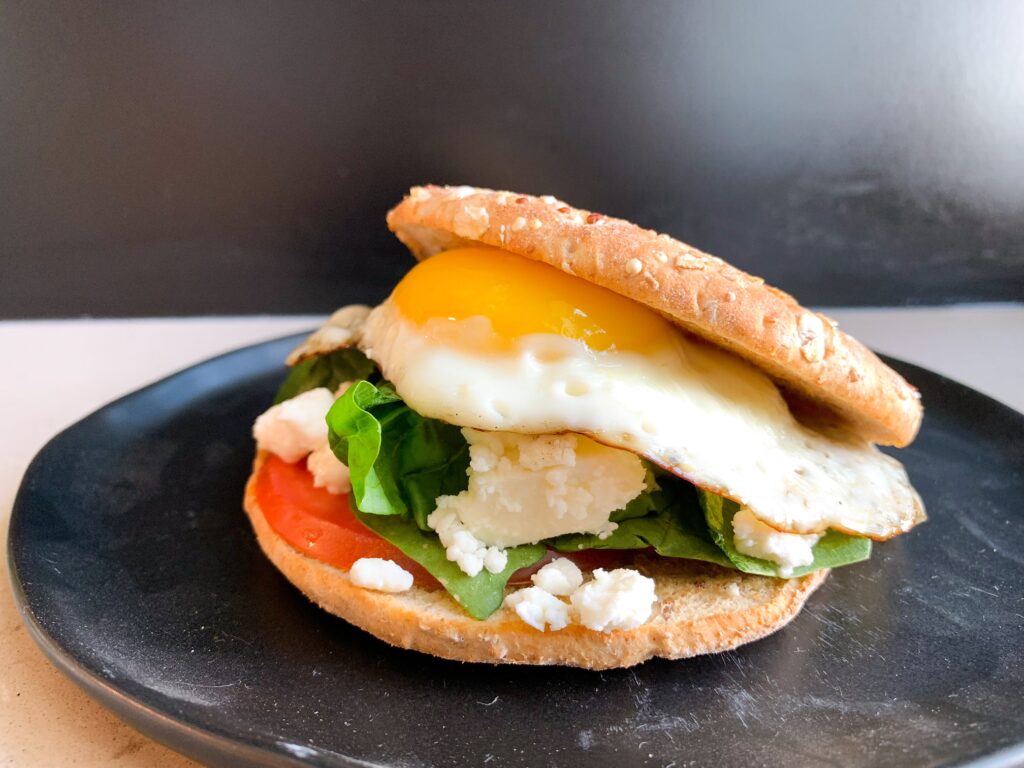 Looking for a lighter version of the breakfast sandwich? Try this refreshing Mediterranean Breakfast Sandwich stuffed with vegetables and feta between two sandwich thins.
Ingredients (serves 1)
1 large Noah's Pride egg
1 multigrain sandwich thin
1 tsp olive oil
½ tsp fresh rosemary
½ cup baby spinach
2 thin slices tomato
1 tbsp feta cheese
salt and pepper, to taste
Instructions
Split sandwich thins and brush each inner side with olive oil. Place on baking sheet and toast at 375°F for 5 minutes of until light brown and crisp.
While those toast, in a skillet on medium-high heat, warm olive oil and rosemary. Fry egg and allow to cook until eggs are set to your liking.
Stuff your toasted sandwich thin with spinach, tomato, egg and feta cheese. Season with salt and pepper and enjoy!
Egg-in-a-Hole Breakfast Bagel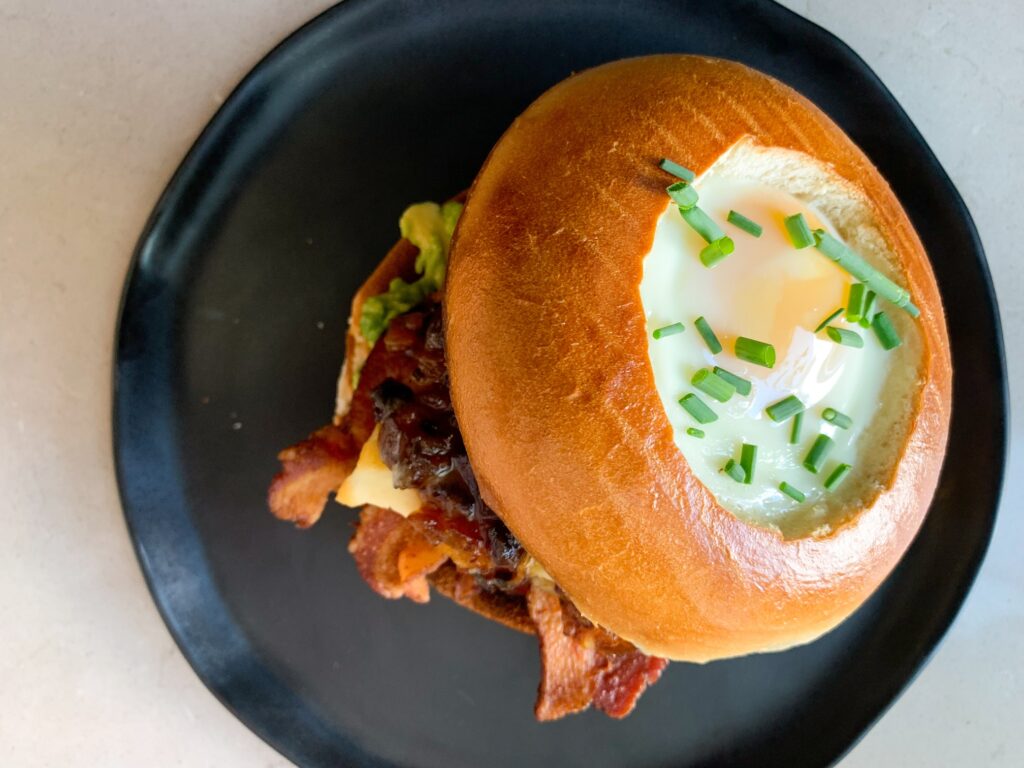 Making Egg-in-a-Hole is always fun for breakfast, but what if you transformed this fun favorite in a sandwich! Using a bagel as the vehicle works perfectly, since it already has the hole for you!
Ingredients (serves 1)
1 large Noah's Pride egg
1 bagel
Halloumi cheese
2 slices bacon, cooked
sliced avocado
1 tsp bacon jam
½ tsp butter
fresh lemon juice
olive oil
salt and pepper, to taste
fresh chives, to garnish
Instructions
Prepare your avocado by lightly smashing with a squeeze of lemon juice, drizzle of olive oil and some salt and pepper, set aside.
Slice bagel and toast the bottom slice. Using a knife, carefully enlarge the hole in the top slice so that you have plenty of room for your egg.
In a small skillet, fry up Halloumi cheese in reserved bacon grease to desired crispiness until both sides are golden, set aside.
Melt 1 tsp butter over medium heat in a pan, place top bagel in pan and crack your egg into the center. Allow to fry and set to your liking. You can also pop this under the broiler for some extra crispiness if you prefer.
Assemble your sandwich with smashed avocado, bacon, halloumi, bacon jam and top bagel with egg. Garnish with fresh chives and enjoy!
We hope these Back-to-School Breakfast Sammies inspired you to start the school year off right with nutritious and delicious breakfasts on the go. Tag us in your creations on Facebook and Instagram @noahspride. Plus, check out some additional make ahead breakfast recipes here. We're always looking for new and creative ways to cook with eggs, so if you have a favorite recipe you'd like to share with us, let us know!