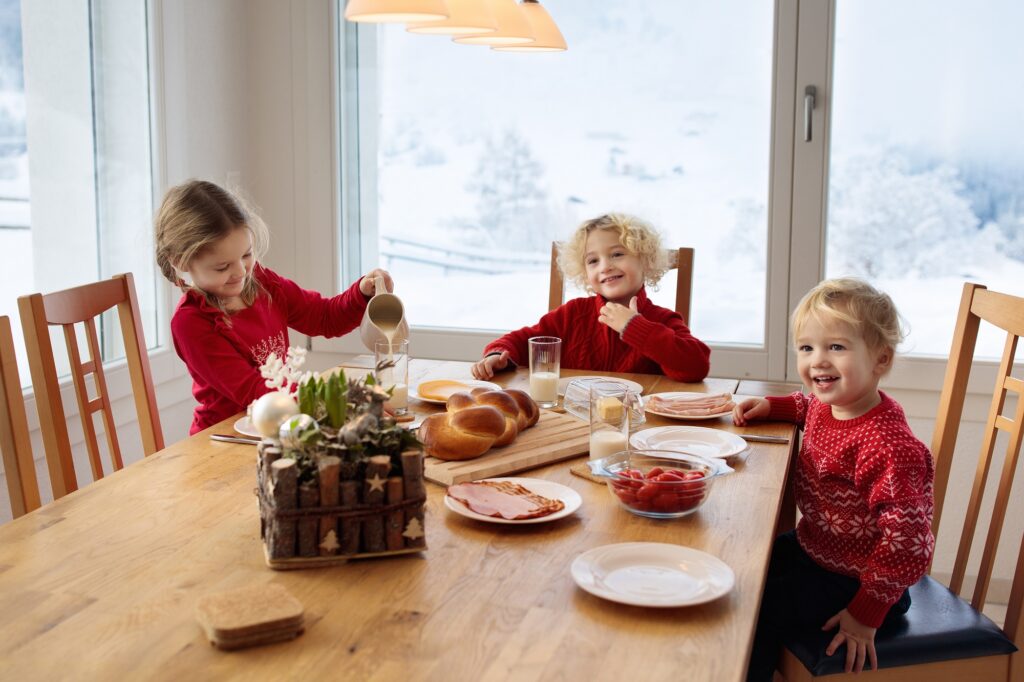 There's nothing quite like waking up on Christmas morning with presents under the tree and a day filled with family, friends and loved ones ahead. While the day is almost always filled with one, two or even three evening meals for us to look forward to throughout the day, it's important not to hold off on breakfast in fears of ending up "hangry" until the meals commence. One of our Kreider family traditions is to start the long day off with a proper breakfast complete with Noah's Pride eggs to help us get our jump start. Below, we've compiled some of our favorite ways to whip up some protein packed egg dishes that will make your Christmas morning special and delicious!
Breakfast Wreath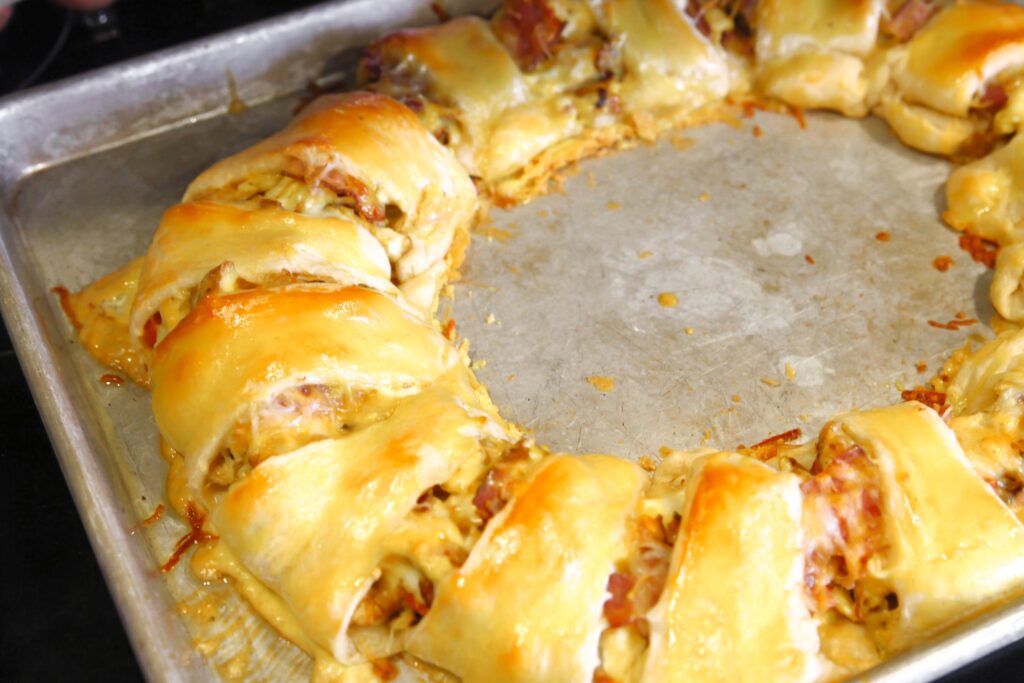 Who said wreaths are only decorative? Stuffed with eggs, meats, cheese and veggies, and wrapped up in a flaky, golden puff pastry, this breakfast wreath is perfect for larger groups. The fillings are completely customizable, so add your own spin on it with some jalapenos to spice it up or some spinach and feta for a lighter take.
Ingredients (makes 1 wreath)
9 large Noah's Pride eggs
4 large Noah's Pride egg yolks
bacon, cooked and chopped
2 – 8oz. cans crescent rolls
1 tbsp olive oil
1 sweet onion, diced
1 bell pepper, diced
1 tsp salt
½ tsp pepper
1 cup cheddar cheese, shredded
1 tsp water
salsa (for serving)
Instructions
On a baking sheet lined with parchment paper, arrange crescent dough triangles into a circle with wide ends towards the center and the points facing out, like a sun. Mold the seams together to make a solid piece of dough and refrigerate until ready to use.
Over medium-high heat, cook onion in oil until translucent, add in bell pepper and cook until tender.
Whisk eggs, salt and pepper in a separate bowl and add to veggie mixture, cooking until the eggs are set.
Remove crescent dough ring from refrigerator and arrange egg mixture over the widest part, leaving the points exposed. Sprinkle with cheese and cooked bacon.
Pull the points of the dough up and over the filling to tuck under the center circle to form the ring.
Whisk the remaining egg yolks and water and brush over the dough. Bake at 375°F for about 15 minutes or until golden brown. Cut and serve with salsa if desired.
Festive Egg in a Hole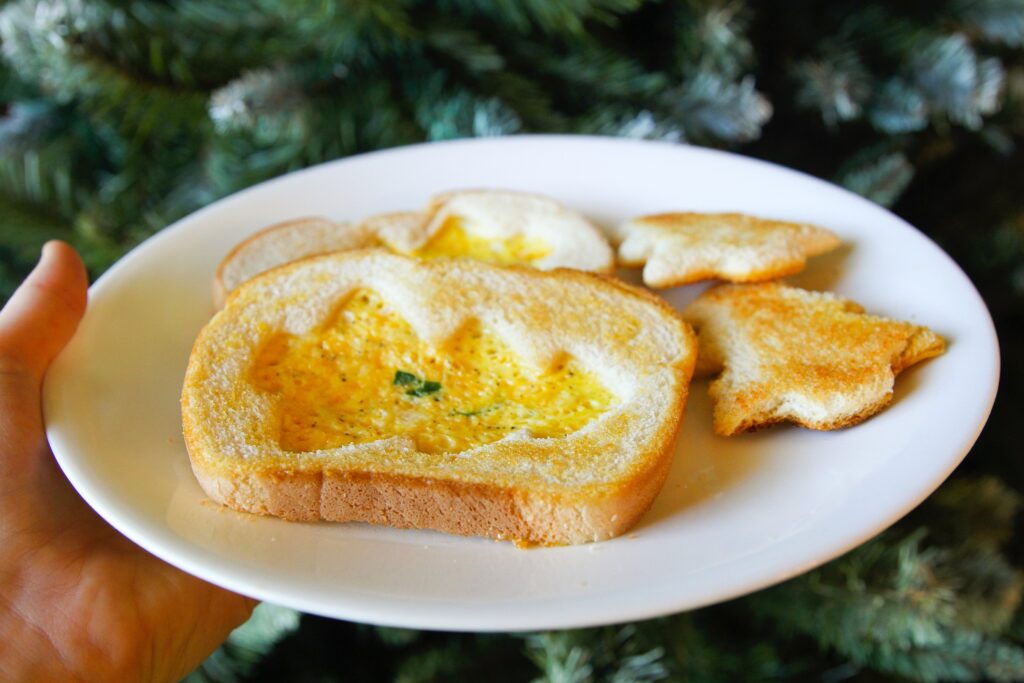 Make your egg in a hole more festive with some holiday shaped cookie cutters. You can make these in the traditional way with you egg over easy, or scramble them up and add in some mix-ins like we did! Not only are these fun to eat but they're just as fun to make so get all the kids involved for a new family breakfast tradition.
Ingredients (makes 4)
4 large Noah's Pride eggs
4 slices of bread
1 tbsp chives
1 tbsp parsley
½ cup cheddar cheese, shredded
2 tbsp milk
1 tbsp butter
salt and pepper, to taste
Instructions
Using holiday shaped cookie cutters, make your holes in each slice of bread.
Whisk together eggs, chives, parsley, cheese, milk, salt and pepper.
Melt butter over medium-high heat. Add toast and cook for 2 minutes before flipping over. Add the egg mixture inside the cutout shapes and cover.
Cook for about 4 minutes or until eggs are set.
Egg Cheddar Biscuits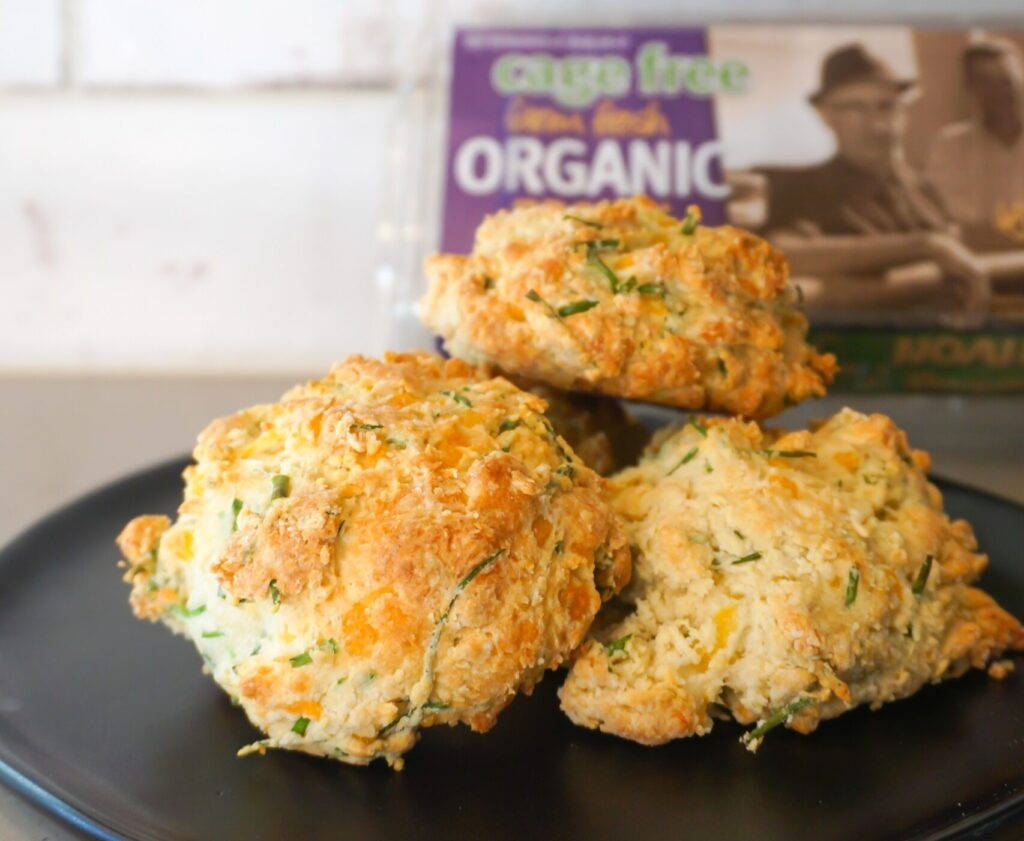 Make homemade biscuits a little healthier by filling them with a protein packed hard boiled egg. These melt-in-your-mouth biscuits won't last long once they come out of the oven! Perfect for a grab and go breakfast first thing or to make and start dinner off with one of these delectable bites.
Ingredients (makes 4)
4 large Noah's Pride eggs, soft boiled
1 cup flour
1 tbsp sugar
1 ½ tsp baking powder
½ tsp salt
½ tsp baking soda
2 tbsp unsalted butter, cold & diced
½ cup cheddar cheese, shredded
1 tbsp chives, chopped
6 oz. plain Greek yogurt
Instructions
Combine flour, sugar, salt, baking powder and baking soda in a food processor. Pulse until combined.
Add cold, cubed butter and pulse until crumbly, be careful not to overmix. Add cheese and chives and mix until combined, fold in yogurt.
Using ¼ cup of dough, shape biscuits onto a greased baking sheet, pressing a well into the center of each biscuit. Place one peeled, soft boiled egg into each well sideways and top with more dough until completely covered.
Bake for 5 minutes at 475°F and reduce heat to 400°F baking an additional 5 minutes until golden brown. Top with melted butter and extra chives for serving.
Christmas Quiche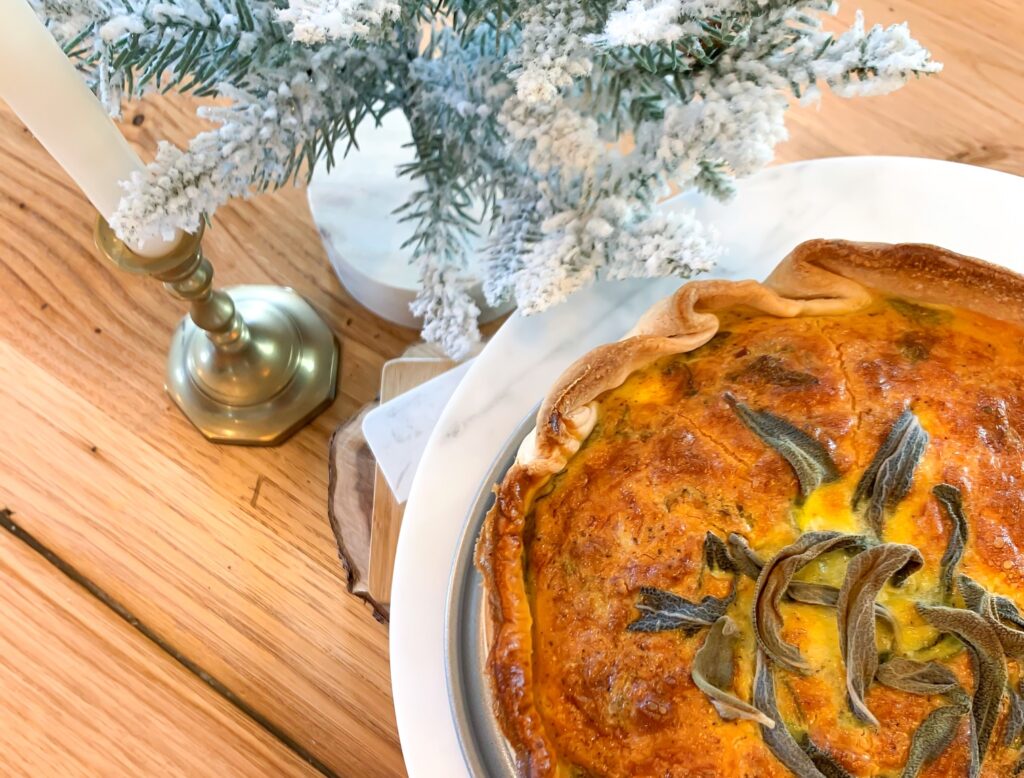 This ham and egg stuffed quiche is the perfect treat for Christmas morning. Make the night before and just pop back in the oven to reheat in the morning for a quick, easy and mess free start to the day.
Ingredients (makes 1 quiche)
5 large Noah's Pride eggs
1 pie crust
½ cup cream
½ cup cheddar cheese, shredded
1 cup ham, cooked
½ cup feta cheese
salt and pepper, to taste
fresh sage
Instructions
Beat the eggs and cream until thoroughly combined. Add in ham and cheeses and season with fresh sage, salt and pepper as desired.
Pour into the pie crust and bake at 350°F for 25 minutes or until eggs are set and crust is golden brown.
Christmas Deviled Eggs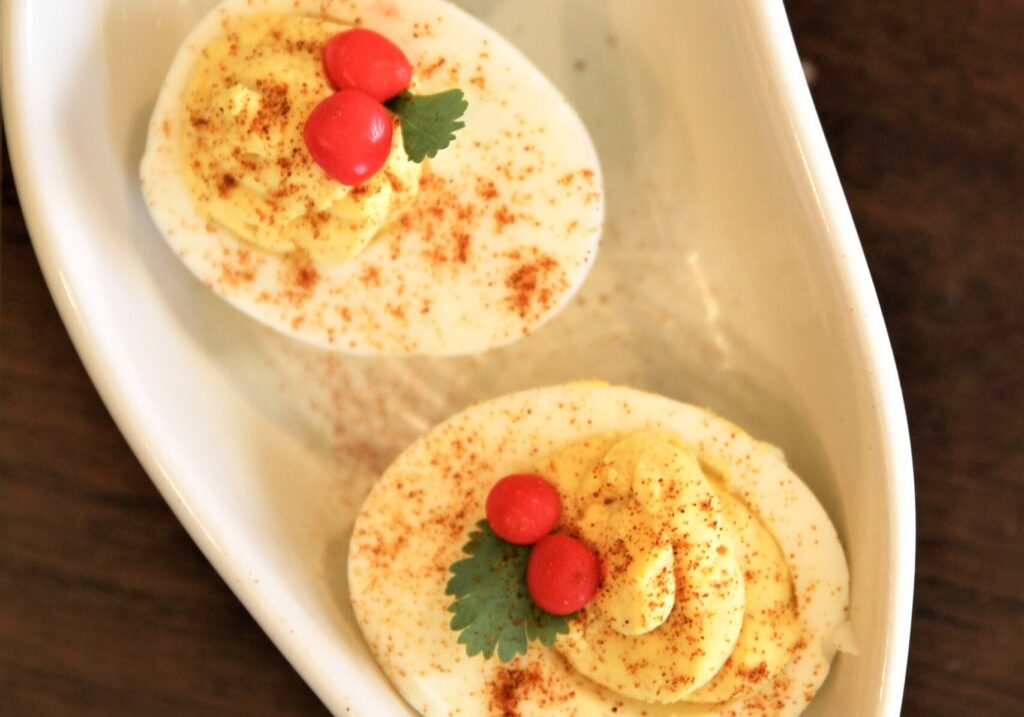 Need something to take along to one of your family festivities in the evening? These deviled eggs are both cute and festive and the perfect appetizer to hold everyone over until the main course is ready.
Ingredients (makes 12)
6 large Noah's Pride eggs, hard boiled
1 tbsp mayo
1 ½ tsp spicy brown mustard
1 tsp sour cream
24 pink peppercorns (to garnish)
12 parsley leaves (to garnish)
sprinkle of nutmeg
salt and pepper, to taste
paprika (to garnish)
Instructions
Peel and slice the hard boiled eggs lengthwise and remove yolks.
Combine mayo, sour cream, mustard, nutmeg, salt and pepper with egg yolks. Add to a piping bag and fill egg white halves with filling.
Garnish with 2 peppercorns and 1 parsley leaf per half and sprinkle with paprika if desired.
We hope you try one of these recipes yourself! We'd love to see your creations so make sure to tag us @noahspride on Facebook and Instagram. For even more Christmas recipes, check out our Kreider Farms blog here for some Christmas cookie recipes that Santa won't be able to resist!