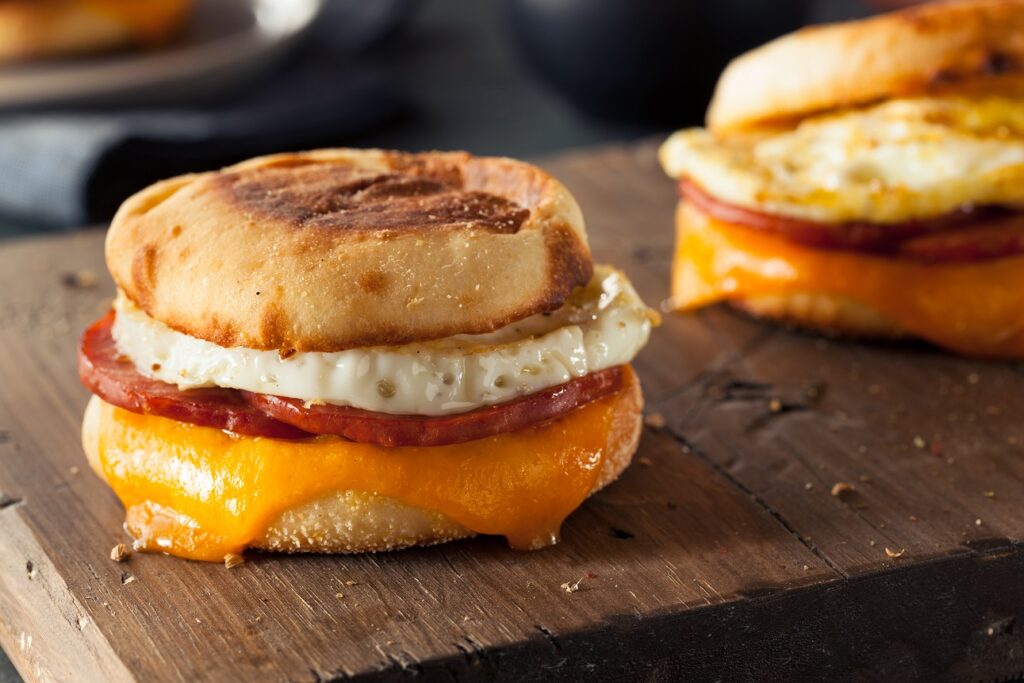 They say imitation is the best form of flattery, and while we're headed into the Halloween season built on imitation, we thought we'd give our try at some Copycat Breakfasts from your favorite morning drive-throughs. The best part about these recipes? You can easily customize them to your preferences for no extra charge! Like extra cheese? Then cheese it up baby! Go crazy for bacon? Throw on a few extra strips! So, skip the line, save some $$, and give one of these 10, yes TEN, Copycat Breakfasts a try!
McDonald's Egg McMuffin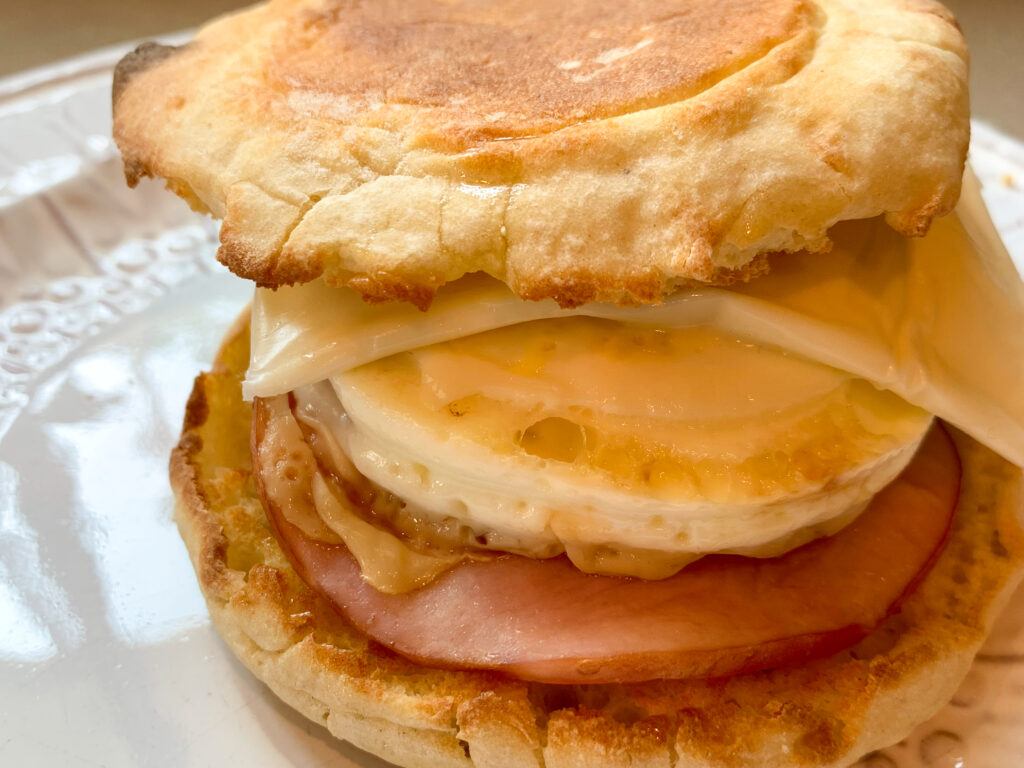 Why not start with the most iconic and classic drive-through breakfast there is right? The McDonald's Egg McMuffin is America's most loved breakfast sandwich by far. With a perfectly cooked egg, American cheese, and a slice of Canadian bacon all stacked on a crisp English muffin, you can't go wrong with this Copycat Breakfast.
Ingredients (makes 1)
1 tbsp butter, softened
1 English muffin
1 slice Canadian bacon
1 Noah's Pride egg
1/8 cup water
1 slice American cheese
Instructions
Split and toast your English muffin, butter, set aside.
In a non-stick skillet, cook your bacon on both sides in butter until the bacon just begins to brown.
Spray a quart-sized canning lid with nonstick cooking spray and place in the same skillet. Using the lid as a mold, crack your egg inside the ring and break the yolk with a fork. Add 1/8 cup water to the skillet and cover with a lid until eggs are cooked, about 2 minutes.
Gently remove egg and stack Canadian bacon, egg, and American cheese between your English muffins.
McDonald's McGriddle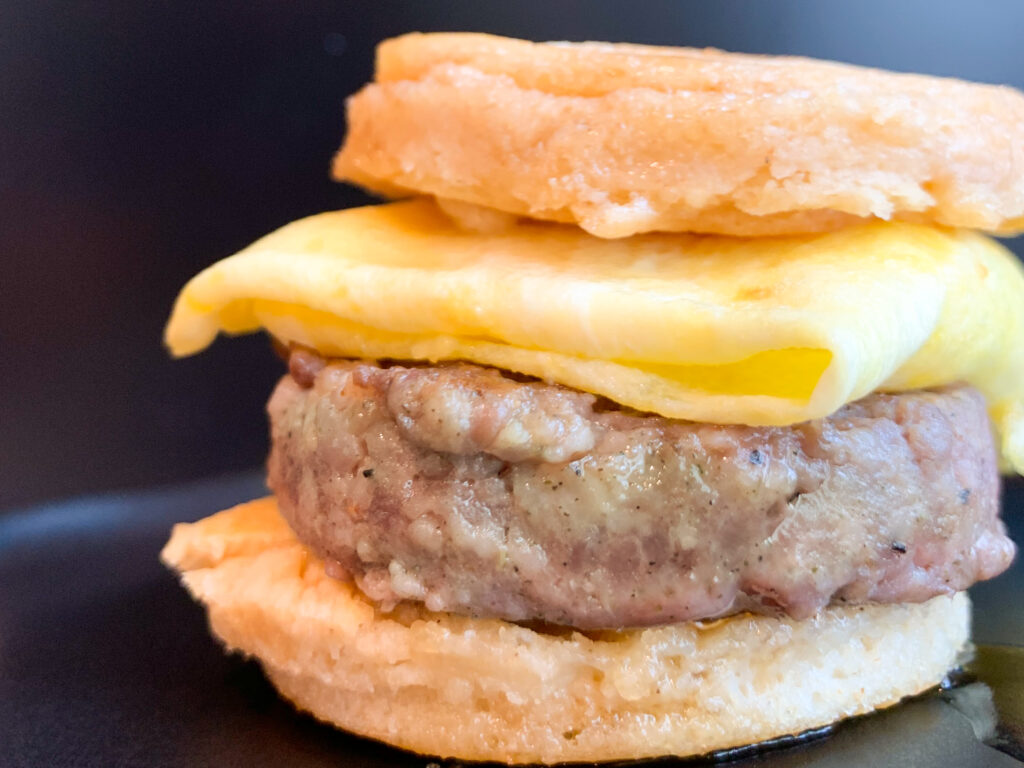 Keeping the McDonald's theme, our next Copycat Breakfast is the sweet and savory McGriddle. We kept ours classic with a sausage patty, but feel free to throw in whatever breakfast meat you prefer. Just make sure you have plenty of napkins around for this one, we see this getting messy.
Ingredients (makes 1)
¼ cup pancake mix
milk or water
1 Noah's Pride egg
1 cooked breakfast sausage patty
1 slice American cheese
maple syrup
Instructions
Mix up your pancake mix with milk or water (whichever you prefer) to a thick consistency. Add in a drizzle of maple syrup and form two small pancakes in a butter coated skillet. Cook and flip until golden brown, set aside.
Scramble your egg and pour into the same skillet with more melted butter. Swirl the pan so that the egg is coated in a thin layer and let set/cook. Once the egg is fully set and cooked, use a spatula to gently fold the egg into thirds and then into thirds again so that you have a neat, folded egg patty.
Assemble your McGriddle with a slice of cheese, cooked sausage patty and folded egg between your two pancakes. Drizzle with more maple syrup if desired and enjoy!
Taco Bell Breakfast Crunchwrap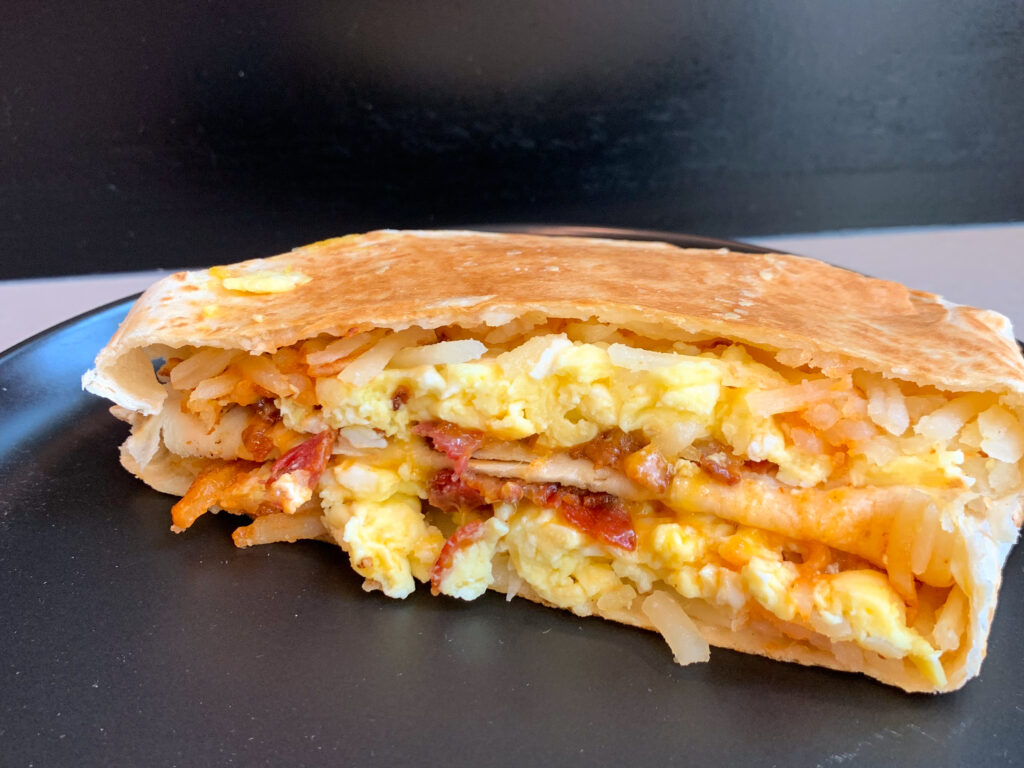 Moving onto another chain, we give this late-night stop's breakfast a try with their Breakfast Crunchwrap. Loaded with eggs, cheese, bacon and hash browns, this loaded bite is all the things you love about Taco Bell translated to breakfast.
Ingredients (makes 1)
1 large flour tortilla
1 small flour tortilla
2 Noah's Pride eggs
1 tbsp cheddar cheese, shredded
¼ cup hash browns, cooked
2 tbsp Taco Bell sauce
2 pieces bacon, cooked
Instructions
Prepare scrambled eggs and cook in a non-stick skillet over medium heat. Season with salt and pepper, set aside.
In the same skillet, lay down the large flour tortilla and fill with hashbrowns, eggs, taco bell sauce, cheese and crumbled bacon. Lay the smaller tortilla on top of all the fillings, and carefully fold the sides of the larger tortilla inward to seal.
Using a spatula, carefully flip the Crunchwrap and cook to seal the edges and brown. Slice in half and enjoy.
Taco Bell Breakfast Burrito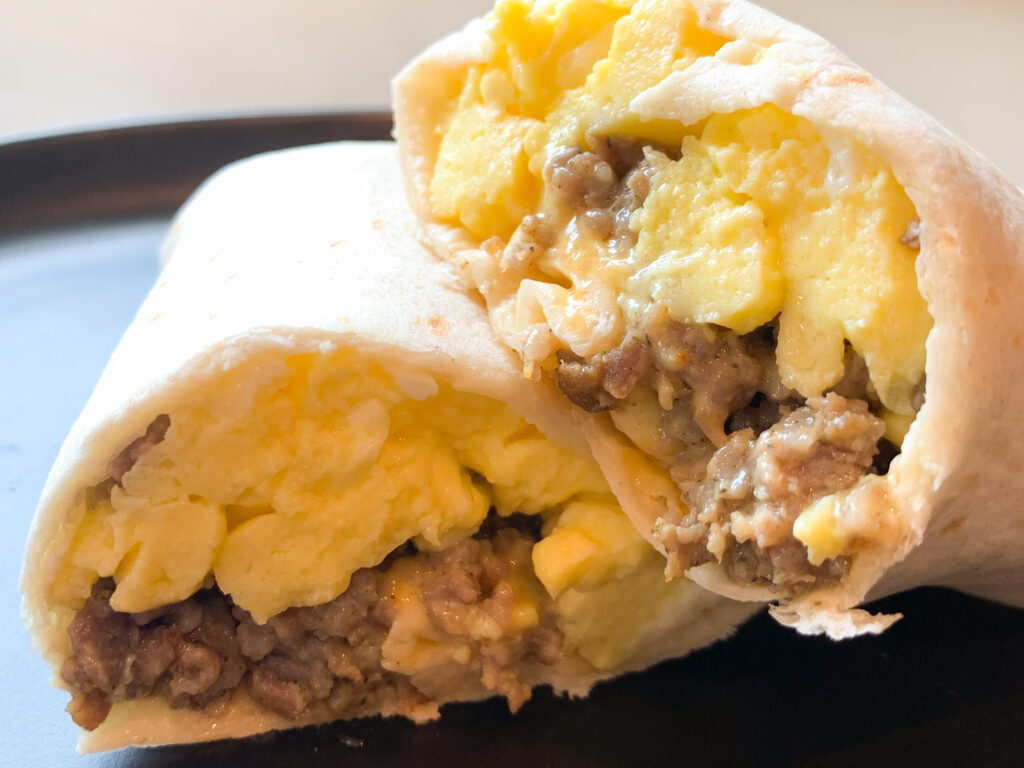 Another morning favorite from Taco Bell is their classic Breakfast Burrito. What makes this different from just your average breakfast burrito is the melty and gooey nacho cheese! Looking for a little kick? Douse with a little hot sauce before biting into this Copycat Breakfast.
Ingredients (makes 1)
1 large flour tortilla
1 Noah's Pride egg
salt and pepper, to taste
butter
nacho cheese sauce
cooked breakfast sausage
Instructions
Scramble eggs and cook sausage, set aside.
In the center of your tortilla, add breakfast sausage, scrambled eggs, and warm nacho cheese. Roll up by folding in the sides and then rolling up from the bottom.
Place the burrito, seam side down, in a skilled over medium-high heat with a little butter. Allow to brown and crisp before turning and browning the other side. Wrap up and enjoy.
Wendy's Breakfast Baconator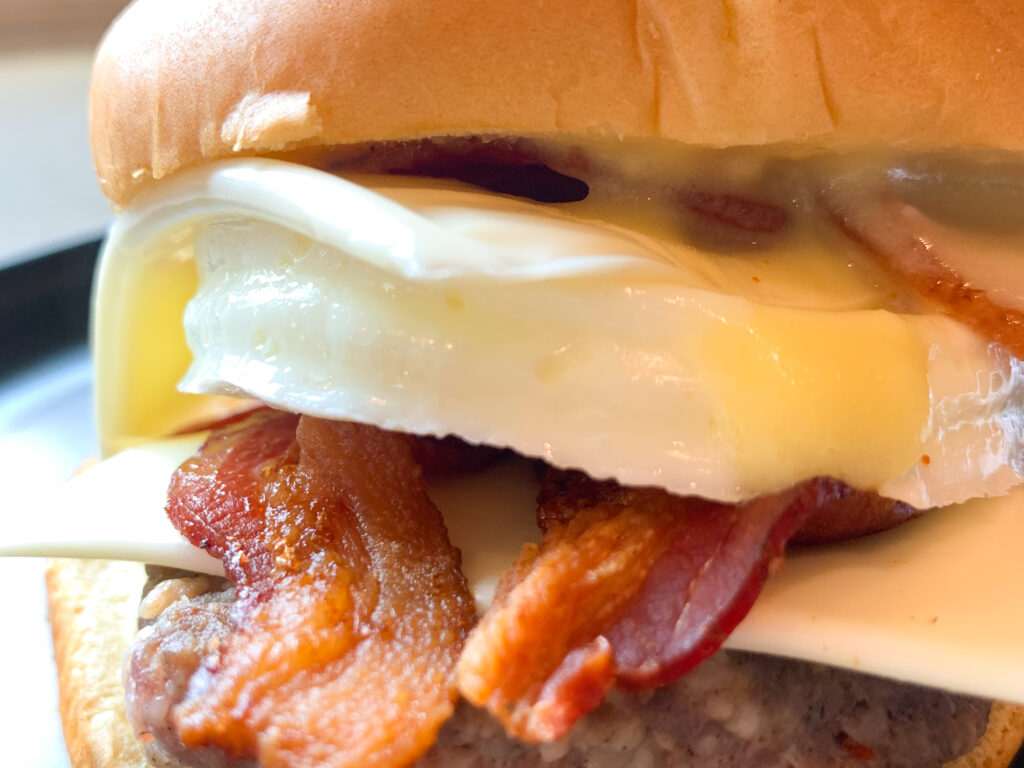 This masterpiece of a breakfast sandwich certainly won't leave you feeling hungry until lunch. The Wendy's Breakfast Baconator towers strips of bacon, a sausage patty, melty American cheese, and a perfectly cooked egg all between a buttery toasted brioche bun.
Ingredients (makes 1)
cooked breakfast sausage patty
2 slices bacon, cooked and cut in half
1 Noah's Pride egg
2 sliced American cheese
1 brioche bun
Hollandaise sauce
Instructions
Cook your sausage, bacon and egg to your preferences and set aside.
To assemble your sandwich, start with your bottom bun and stack sausage, slice of American cheese, 2 slices bacon, egg, 2nd slice of American cheese, remaining bacon and top with prepared hollandaise sauce and the top bun. Grab some napkins and bite in!
Whataburger Breakfast Burger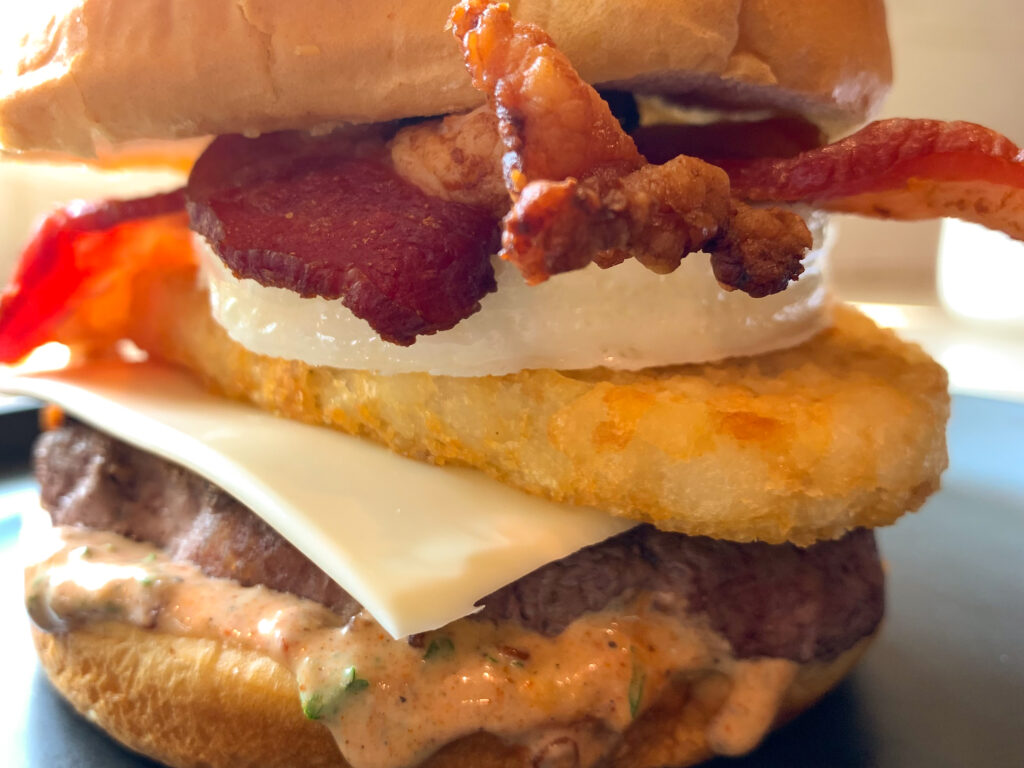 While we don't have any Whataburger's here on the east coast, this Breakfast Burger looked too good not to add to our Copycat Breakfasts lineup. This breakfast burger is certainly no joke and takes two hands to handle. However, the secret is all in the sauce, and this creamy pepper sauce is so delicious, you might want to double the batch just to keep it on hand!
Ingredients (makes 1)
For Sauce:
1 cup mayonnaise
1 tbsp dry mustard powder
1 1/3 tbsp white vinegar
1 tbsp lemon juice
2 tbsp chipotle peppers
1 ½ tbsp black pepper
½ tsp white pepper
1 tsp salt
1 tbsp paprika
1 tbsp onion powder
1 tbsp garlic powder
1 tsp parsley
For Burger:
2 slices bacon
1 hashbrown patty
1 tbsp butter
1 hamburger bun
1 hamburger patty
1 Noah's Pride egg
1 slice American cheese
Instructions
To make the sauce, combine all ingredients until smooth and creamy.
To make the burger, cook and drain your bacon, set aside. Heat 3 to 4 tbsp of oil in a skillet and carefully add hash brown patty. Fry on each side until golden brown and crispy, set aside.
In the same skillet, cook your hamburger patty to your liking and season with salt and pepper, set aside.
Add butter to the skillet and cook egg to your liking.
Assemble your burger by spreading sauce on the bottom bun before stacking burger patty, cheese, hashbrown, cooked egg, and bacon. Put more sauce on top if desired before adding the top bun and digging in!
Chick-fil-a Hash Brown Burrito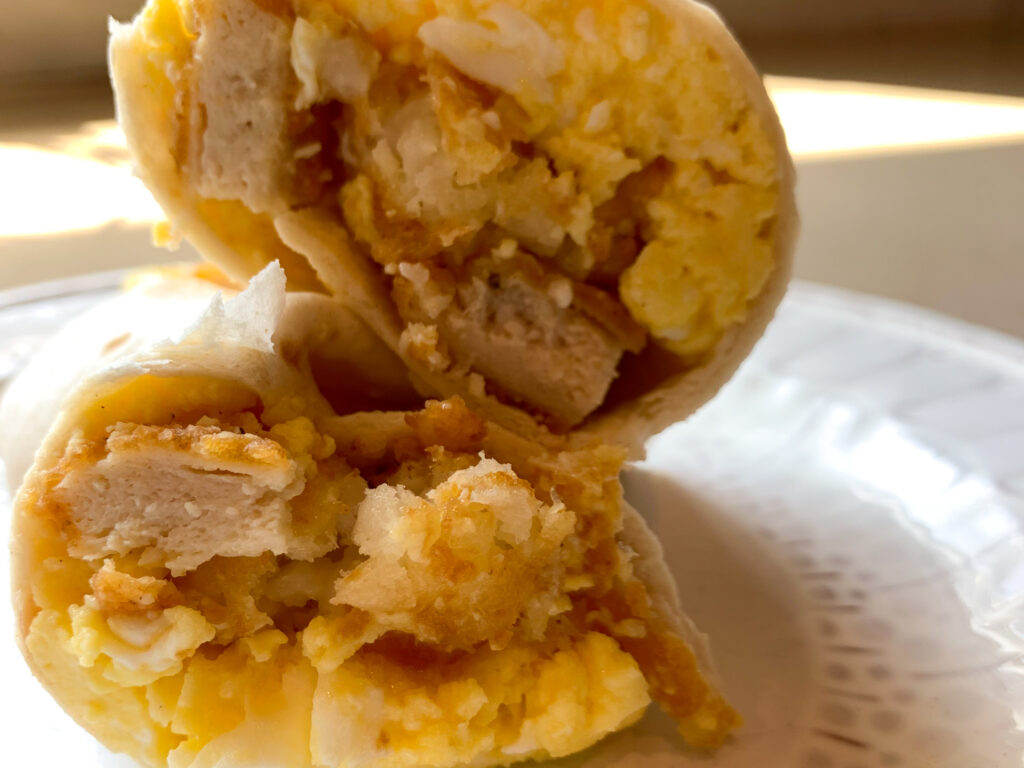 Chick-fil-a is always a no-fail drive-through stop, but what about their breakfast? We knew we had to include them in our Copycat Breakfasts lineup, so we took at stab at their Hash Brown Burrito complete with their signature chicken and scrambled eggs.
Ingredients (makes 1)
frozen tater tots
prepared fried chicken tenders
2 large Noah's Pride eggs
milk
cheddar cheese, shredded
1 flour tortilla
salsa
Instructions
Bake tater tots to package instructions and heat/prepare fried chicken tenders.
Scramble eggs with milk and cheddar cheese, cook and set aside.
Assemble your burrito by adding sliced chicken, tater tots and scrambled eggs to a tortilla. Fold the edges in and roll up. Serve with salsa.
Dunkin Donuts Egg & Ham Wake up Wrap
Dunkin is just another morning stop staple that we couldn't leave off our Copycat Breakfasts list. We tried recreating their Egg & Ham Wake up Wrap which was so simple and easy to whip up!
Ingredients (makes 1)
1 Noah's Pride egg
milk
1 slice ham
2 slices American cheese
1 flour tortilla
Instructions
Scramble your eggs with milk and pour into a butter covered skillet on medium-high heat. Tilt and swirl your pan so that the egg evenly coats the bottom and allow to cook and set.
Once almost completely cooked, add the tortilla on top of the egg and flip so that the tortilla is now on the bottom of the pan.
Add your sliced ham and American cheese to half of the egg round, and then sandwich by folding the tortilla in half. Plate and enjoy!
Starbucks Egg Bites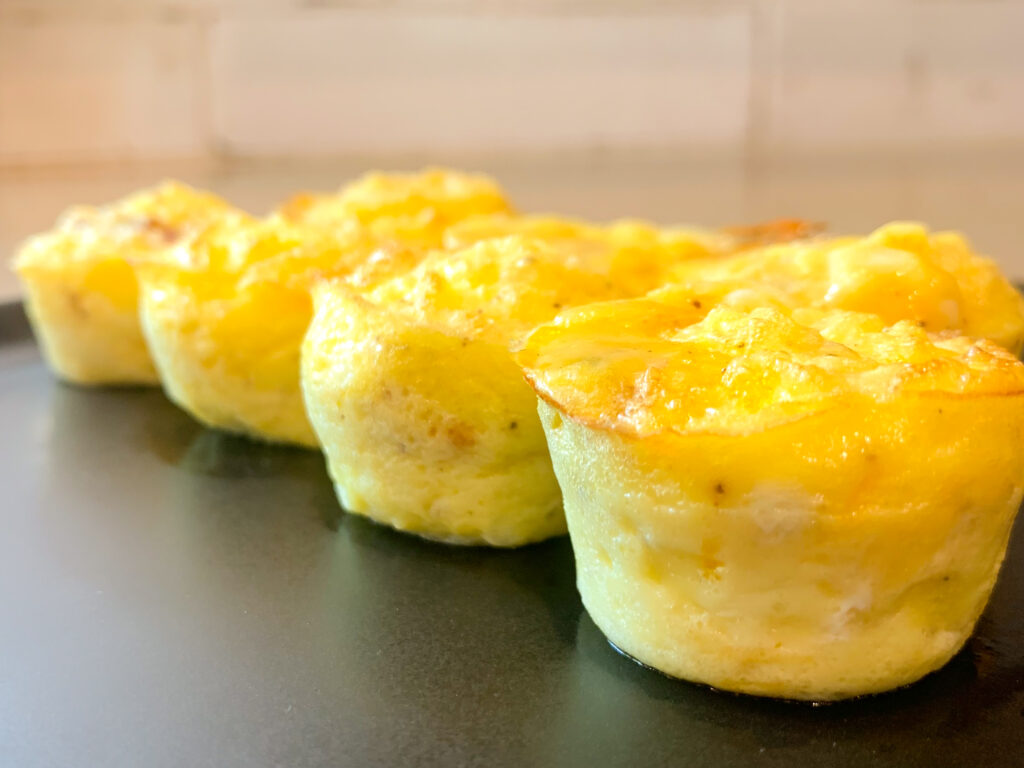 Starbucks Egg Bites are a great low-carb option for breakfast. While they're the obvious choice for a drive-through coffee, their breakfast menu is a bit underrated in our opinion. With fresh and relatively healthy options to choose from, we gave the bacon and gruyere recipe a try but just swap the mix-ins to give another variation a try.
Ingredients (makes 12)
4 Noah's Pride eggs
2 heaping spoonful's cottage cheese
salt and pepper, to taste
shredded cheese blend
bacon, precooked
Instructions
Blend eggs, cottage cheese and salt and pepper until smooth. Divide mixture into a silicone muffin tray, filling the cups halfway full.
Add in crumbled bacon and cheese or other toppings of choice.
Bake at 350° for 10 minutes or until cooked through. Allow to cool for 5 minutes before popping out and enjoying.
Starbucks Egg White Spinach Wrap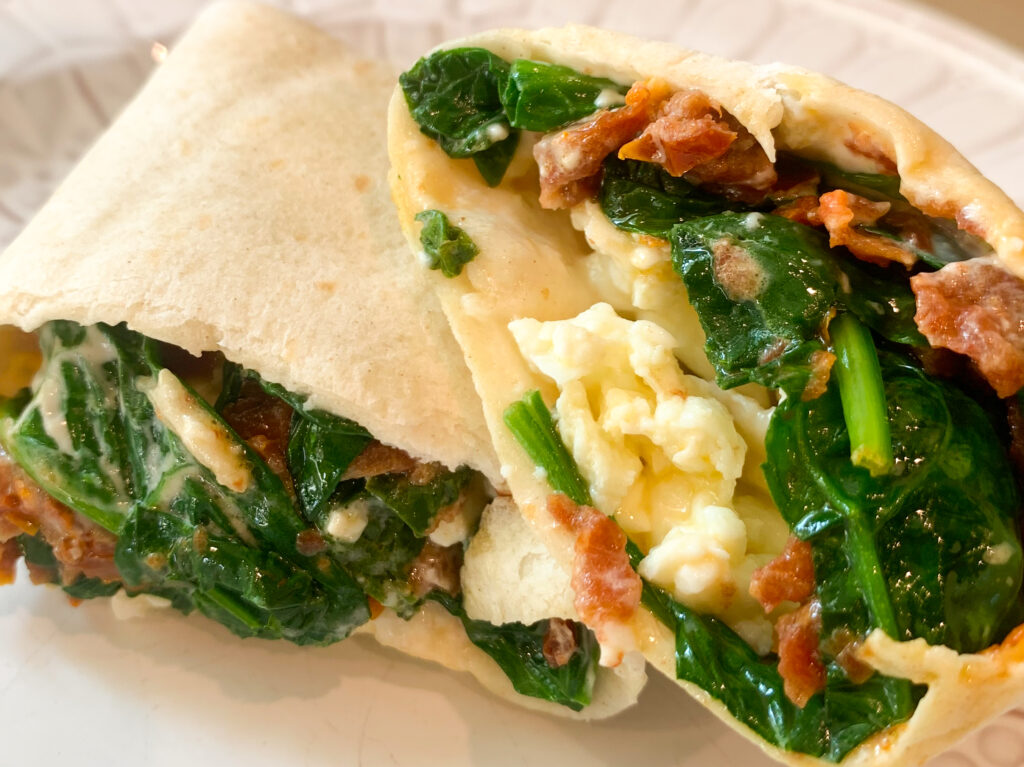 Last, but certainly not least in our Copycat Breakfasts lineup is one more from Starbucks, their Egg White Spinach Wrap. This breakfast wrap is definitely on the lighter side but filled with all the good stuff.
Ingredients (makes 1)
1 tortilla wrap
½ tsp olive oil
1 tbsp finely diced sundried tomatoes
2 cups fresh spinach
3 large egg whites
1 tbsp garden vegetable cream cheese
2 tbsp feta crumbles
Instructions
In a small skillet, heat olive oil and sun-dried tomatoes, cooking until softened. Add spinach and cover for 2-3 minutes or until spinach has wilted, set aside.
In the same pan, add egg whites and cover and cook until set.
Meanwhile, spread a thin layer of cream cheese onto your wrap and top with spinach and feta. Once your eggs are cooked, add on top of the feta.
Tightly wrap up by tucking in the sides and rolling up, then place back into the skillet seam side down. Allow to cook and crisp for a few minutes before turning over and browning the other side. Slide in half and enjoy hot!
We hope we've inspired you to give these fun and easy copycats a try instead to making a run to the drive-through. If you give these Copycat Breakfasts a try, tag us in your creations on Facebook and Instagram @noahspride. We're always looking for new and creative ways to cook with eggs, so if you have a favorite recipe you'd like to share with us, let us know!