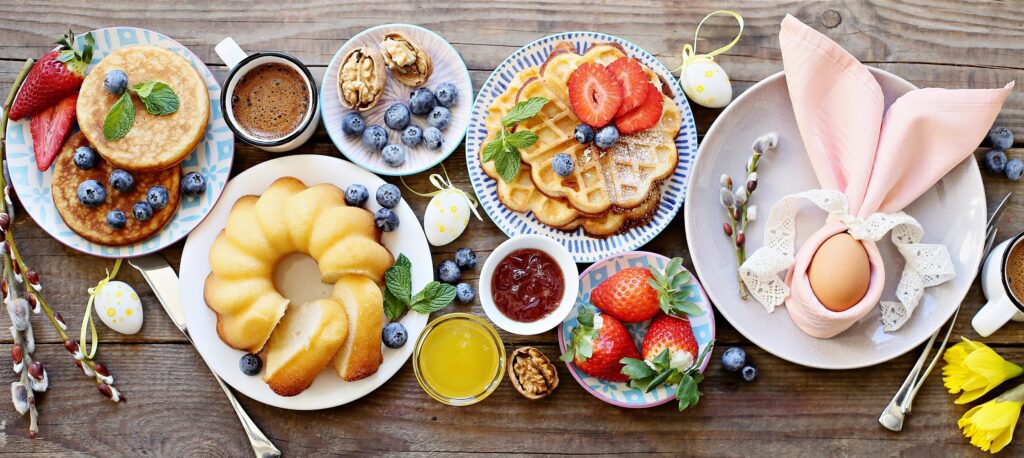 Whether you're spending this Easter with friends and family, or keeping it more low-key, it's fun to get in the spirit of things with some egg decorating and egg-inspired dishes. We've pulled a few of our favorite Easter Recipes from American Egg Board's Easter Brunch collection below (plus one extra, our personal favorite) for you to get inspired but check out all their website for even more ideas!
The Eggwich
While deviled eggs are a tried-and-true egg hor d'oeuvre (and we actually have five great recipes for them here,) mix things up this easter with these bite-sized "eggwiches." They're packed with protein and low on carbs which makes them a great keto-friendly and gluten free option for guests! Customize them with your favorite meats and cheeses or set up an eggwich station so everyone can mix and match their own!
IngrEdients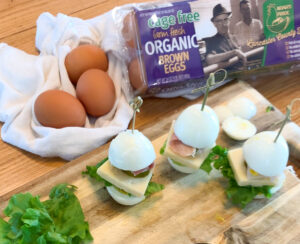 4 large Noah's Pride eggs, hard boiled
4 pieces Romaine lettuce
4 slices Ham, Salami or Prosciutto
4 sliced pickles
4 sliced Cheese
Instructions
Slice off the bottom of each egg so that it can stand upright, then slice each egg in half.
Layer remaining ingredients and sandwich between both egg halves, enjoy!
Dutch Pancake with Sunny Side up Eggs
Add a savory twist to the European classic by adding the perfectly cooked fried eggs. This dish makes for a perfect family Easter brunch dish and feeds up to four!
Ingredients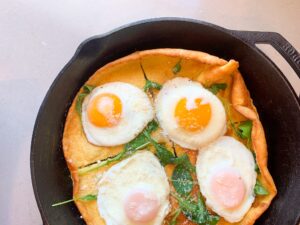 7 large Noah's Pride eggs
½ cup flour
½ cup milk
2 tbsp butter
4 tbsp canola oil
1 cup arugula
Fresh parmesan, for serving
Instructions
In a bowl, combine 3 eggs, flour and milk.
Melt butter in a 9" skillet, making sure entire skillet is coated. Pour egg batter into pan and bake at 400° F for 20-24 minutes, until pancake is fluffy.
In a non-stick skillet, head 1 tbsp oil and fry 4 remaining eggs.
Cut pancake into 4 slices and top with arugula, egg and parmesan.
Overnight French Toast
If you have family coming from out of town or a number of mouths to feed, this overnight French toast is perfect for feeding a crowd. Just prep the dish the night before and pop in the oven for a stress-free and delicious Easter brunch. Check out some more make-ahead options here and here.
Ingredients
1 loaf sourdough bread, torn to 1" pieces
8 large Noah's Pride eggs
2 ½ cups milk
½ cup sugar
½ cup brown sugar
1 tbsp vanilla extract
1 tsp cinnamon
½ tsp ground ginger
½ tsp nutmeg
½ tsp salt
3 cups fresh berries
1 tbsp powdered sugar, to serve
maple syrup, to serve
Instructions
Place bread pieces in an even layer in a 9"x13" greased baking dish.
In a bowl, combine eggs, milk, sugar, brown sugar, vanilla, cinnamon, ginger, nutmeg and salt. Pour mixture over bread, cover, and refrigerate overnight.
In the morning, bake at 350° F for 45-60 minutes until desired texture is achieved.
Top with fresh berries and sprinkle with powdered sugar and maple syrup.
Easter Bunny Cupcakes
These adorable bunny cupcakes are almost too cute to eat! We made ours the good-ole fashioned way: from scratch, but if you're in a hurry or short on time you can whip up some boxed cake mix and use store-bought icing and just follow our decorating instructions below!
Ingredients
2 large Noah's Pride eggs
¼ cup butter, room temperature
¼ cup canola oil
¾ cup sugar
½ tbsp vanilla
1 ½ cup flour
½ tbsp baking powder
pinch of salt
½ cup + 2 tbsp buttermilk
For Icing and Decoration
1 ½ cup unsalted butter, room temperature
4 ½ cups powdered sugar
5 tbsp heavy cream
1 tbsp vanilla
pinch of salt
2 cups shredded coconut, sweetened
12 large marshmallows
½ cup pink sanding sugar
24 mini chocolate chips
12 pink gumballs
Instructions
Combine butter, canola oil and sugar until creamy.
Add eggs, one at a time, mixing well after each addition. Stir in vanilla.
In a separate bowl, whisk together flour, baking powder and salt.
Add buttermilk and dry ingredients to wet mixture, alternating until just combined, careful to not over mix.
Add batter to cupcake molds and bake at 350° F for 18-22 minutes, or until golden. Let cool completely before decorating.
For Icing
Mix unsalted butter, powdered sugar, heavy cream, vanilla and salt until light and fluffy. Add more cream or powdered sugar ad necessary to reach desired consistency.
To Decorate
Ice cupcakes with the whipped white frosting, cover with shredded coconut.
Cut marshmallows in half diagonally and dip into pink sugar. Place halves into each cupcakes to make ears.
Add two mini chocolate chips for eyes and add pink gumballs for the nose.
Peanut Butter Eggs
This last recipe may not be made with eggs, but it's still one of our favorite Easter treats of all time: peanut butter eggs. Forget those store-bought, tinfoil wrapped candies, try this easy recipe to make them yourself. Think about doubling you batches for more eggs, because we promise these are so delicious they won't last for long!
Ingredients
16 oz powdered sugar
1 cup peanut butter
¼ cup butter
1 tbsp milk
1 oz chocolate
1 tbsp shortening
Instructions
Combine sugar, peanut butter, butter and milk in a bowl until a dough-like consistency is achieved.
Shape the batter into small egg shapes and place on a parchment lined baking sheet, freeze for 1 hour.
Melt chocolate and shortening in 30 second intervals, stirring well in-between, until completely melted.
Cover each egg in chocolate and decorate if desired.