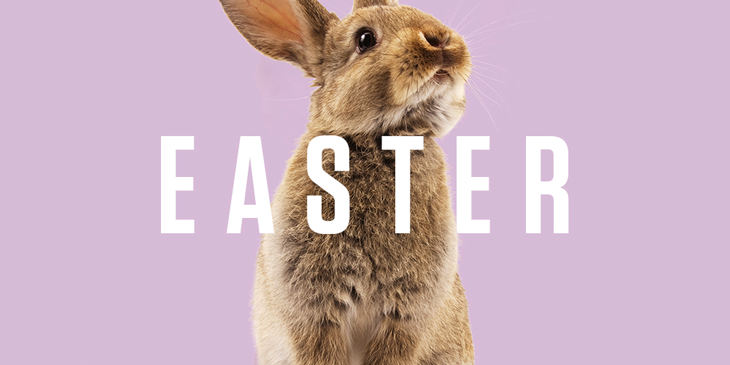 Easter is right around the corner, so we gathered up some recipes from Incredible Egg to liven up your Easter spread! Last Easter, more than 2.9 billion eggs were consumed by Americans over the holiday weekend: now that's egg-ceptionally impressive! So, make sure you give these fun recipes a try and tag @noahspride in your photos!
Hot Cross Buns
Start off your Easter brunch or dinner with these fan favorite hot cross buns! Perfectly baked and bronzed on the outside but warm and fluffy on the inside, these buns are sure to get your Easter festivities off on a good start!
Ingredients
3 large Noah's Pride eggs, divided
3 cups bread flour
1/3 cup sugar
¼ tsp. ground cloves
½ tsp. ground nutmeg
½ tsp. ground allspice
1 tsp. ground cinnamon
1 ½ tsp. salt
2 (1/4 ounce) packets instant yeast
1 Tbsp. lemon zest
1 ¼ cups Kreider Farms milk, room temperature
¼ cup butter, melted and cooled
1 cup raisins
Glaze
½ cup sugar
½ cup water
Instructions
Combine flour, sugar, cloves, nutmeg, allspice, cinnamon, salt, yeast and lemon zest in a large bowl of a stand mixer. TIP: for a hint of citrus, add in 2 Tbsp. of lemon or orange zest!
Add 2 eggs to milk and beat until mixed well. Add milk/egg mixture and butter to flour bowl. Using stand mixer's hook attachment, mix until dough is sticky; about 2 minutes, scraping flour from sides of bowl into dough. Cover bowl with plastic wrap and let rest in warm area of your kitchen for 30 minutes.
Add raisins and mix again with stand mixer's hook attachment. Cover bowl with plastic wrap and let rest in a warm area of your kitchen for 1 hour or until dough doubles in size.
Line a large baking tray with parchment paper. Divide dough into 12 balls and arrange on baking sheet about ½-inch apart. Cover with plastic wrap loosely and let rest 45 minutes or until the buns double in size.
Preheat oven to 375°F.
Mix together ½ cup flour and ½ cup water in a small bowl to make paste. Add to piping bag or plastic bag with tip cut off. Pipe a cross on each bun.
Beat one egg in a small dish and brush a small amount on top of each bun.
BAKE for 20-25 minutes or until golden brown.
For glaze
Heat sugar and water in a saucepan over medium heat. Bring to a boil, stirring to dissolve sugar, simmer for 3 minutes then remove from heat and brush a small amount on top of each bun. TIP: making an icing out of 1 cup confectionary sugar, 3 Tbsp. milk and 1 Tbsp. of lemon or orange juice and pipe on top of the cross for a citrus flare.
French Toast
Faster and easier than pancakes, the customization is endless! Add your favorite extract, grated citrus peel or liqueur to the batter for a signature flavor or play around with a variety of breads (French, Italian, cinnamon-raisin or whole-grain) to find what you like best! Try a toppings bar with syrups, spreads, fruit, nuts, or candies for even more customization!
Ingredients
8 large Noah's Pride eggs
1/3 cup Kreider Farms milk
¼ tsp. ground nutmeg
8 slices day-old bread
Instructions
Beat eggs, milk and nutmeg in shallow dish until blended. Soak one bread slice at a time in egg mixture, turning once, letting stand about 1 minute per side.
Heat lightly greased large nonstick skillet over high heat until hot.
Place as many bread slices in hot pan as will fit in single layer. Immediately reduce heat to medium and cook until golden brown and no visible liquid egg remains, 2 to 3 minutes per side. Repeat to cook remaining bread, serve immediately. TIP: need enough to feed a village? Try baking in a single layer at 500°F for 6 minutes, turning once.
Broccoli & Cheese Frittata
Spend more time with your family and less time in the kitchen with this easy, one pan frittata! Put your own spin on it by substituting your favorite meats and veggies!
Ingredients
8 Noah's Pride eggs
3 cups chopped broccoli
¼ cup water
¼ cup Kreider Farms milk
2 tsp. Dijon mustard
1 tsp. salt
1/8 tsp. pepper
¾ cup shredded cheddar cheese
1 Tbsp. chopped green onion
Instructions
Pre-heat oven to 350˚F. Combine broccoli and water in 10-inch, oven-proof nonstick skillet. Cook over medium heat until tender, stirring occasionally, about 5 minutes. Drain well.
Beat eggs, milk, mustard, salt and pepper in large bowl until blended. Add broccoli mixture, cheese and green onion; mix well.
Coat same skillet with cooking spray and heat over medium heat until hot. Pour egg mixture into skillet and cook over low to medium heat until edges are set, about 5 minutes.
Remove from burner and transfer to oven. Bake until eggs are completely set, and no visible liquid egg remains, about 10 minutes. Remove from oven and let sit for 5 minutes. TIP: try inverting the frittata onto a plate to show off the perfectly browned bottom.
Cream Puffs
And don't forget dessert! Impress your guests with these melt-in-your-mouth cream puffs made from scratch!
Ingredients
4 large Noah's Pride eggs
1 cup water
½ cup butter, cut into pieces
1 cup bread flour
1/8 tsp. salt
Powdered sugar, for garnish
Filling
3 large Noah's Pride egg yolks
3 cups Kreider Farms milk
½ cup sugar
1/3 cup cornstarch
¼ tsp. salt
¾ tsp. vanilla
Instructions
Position rack in lower third of oven; heat oven to 425°F. Heat water and butter in heavy medium saucepan over medium heat to a rolling boil. Remove from heat and immediately, add flour and salt all at once; beat vigorously until thoroughly blended. Return to medium heat. Cook, stirring vigorously, until mixture pulls away from sides of pan and forms a ball, 1 to 2 minutes.
Remove from heat. Let stand to cool slightly, stirring occasionally, 5 minutes.
Add eggs, 1 at a time, beating after each addition by hand or with mixer on medium speed, until smooth. Continue beating, if necessary, until glossy and a small quantity of dough scooped on the end of a spoon stands erect.
Drop dough by scant 1/4 cupfuls, about 2 inches apart, onto ungreased baking sheet.
Bake in lower third of 425°F oven until lightly browned, about 20 minutes. Reduce oven setting to 375°F. Continue baking until firm and golden brown, about 20 minutes longer. Immediately after baking, pierce side of each puff with tip of sharp knife. Cool on wire rack.
For filling
Beat egg yolks in medium bowl or glass measure; gradually stir in milk until blended. Mix sugar, cornstarch and salt in large heavy saucepan. Gradually stir in a small amount of milk mixture, making a smooth paste. Gradually stir in remaining milk mixture until blended.
Cook over medium-low heat, stirring constantly, until mixture thickens and comes to a boil, 20 to 25 minutes. Boil and stir 1 minute, remove from heat immediately.
Cool quickly: set pan in larger pan of ice water. Stir occasionally and gently for a few minutes to hasten cooling. Stir in vanilla, press piece of plastic wrap onto surface of pastry cream to prevent a "skin" from forming. Refrigerate until thoroughly chilled, at least 1 hour.
Just before serving, cut off 1/2 inch from top of each puff; pull out and discard any filaments of soft dough from inside. Spoon scant 1/3 cup pastry cream into each puff; replace tops. Sprinkle tops with powdered sugar. Refrigerate leftovers promptly. TIP: to make profiteroles, fill cream puffs with Kreider Farms ice cream instead and serve with chocolate sauce.
Want more delicious Easter recipes? Follow @incredibleegg on Facebook and Instagram!