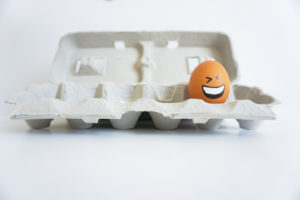 With the fun of the holidays now behind us, the reality of spending the next few months indoors has probably set in at your house, as much as it has here at the Noah's Pride Egg Family farm!
Right now we're looking for the best ways to beat (get it? Eggs…beat…egg beaters? Anyway…) our cabin fever, and we're sure you are too. These are some of our favorite, most egg-cellent ideas for surviving the snowy days of January and February!
Make Egg Carton Crafts
When you're snowed in and stuck at home, crafting can be an eggs-tremely fun way to pass the time!
Have you ever thought of turning those empty Noah's Pride egg cartons into d-egg-corative masterpieces or repurposing them into useful new things, like perfectly sized storage boxes for those Christmas ornaments you need to put away, or even an eco-friendly bird feeder?
With a little imagination, you can turn plain old egg cartons into just about anything!
Bake Eggs-travagant Treats
While we don't necessarily feel comfortable with the old saying about not being able to make an omelet – or a cake or cookies or a pie – without breaking a few eggs, it's true that being stuck inside calls for cooking and baking up some eggs-tra tasty treats!
We love a good old-fashioned chocolate cake, and with Hershey just up the road from our family farm here in Central Pennsylvania, we rely on their HERSHEY'S "Perfectly Chocolate" chocolate cake recipe every time – they're the chocolate eggs-perts after all! And the recipe can be used for cupcakes, too!
Of course, we always bake our treats with udderly delicious Kreider Farms milk, which is the freshest there is in our home area and easy to buy at Giant and other local stores! And your egg choice matters, too, (but maybe we're a little par-shell…hehehe)!
Eggs-plore the Great Outdoors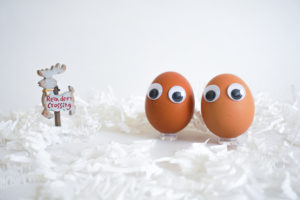 Even though it's cold and snowy outside, you can't always hide in the house! Luckily, taking winter walks and hikes can give you an eggs-traordinary new view on the world around you.
Bare trees and frozen waterways allow you to see things you may have missed in the spring, summer, and fall! Look for animal tracks in the snow or try a scavenger hunt (which is even more egg-citing when you go with a guide and a group)!
The birds will also appreciate your egg carton bird feeders now more than ever!
Enjoy a Good (Egg?) Read
Are you a good egg who likes to read books? Do you use your library card often? If you do, you know that mid-winter is a great time get cozy with a can't-put-down story, or introduce old favorites to your little ones. We Egg-lets love when Mama and Papa read to us! And we love going to library events, too!
Build egg-loos and other snow creations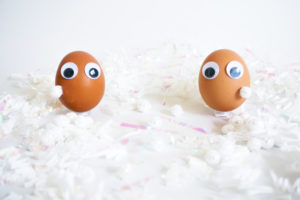 While Mama and Papa often don't like to see those big, fat snowflakes falling from the sky because it usually means school is canceled, we Egg-lets can't wait to play in the snow!
Making snowmen and having snowball fights are some of our favorites. And if there's enough snow to build egg-loos to hang out inside, that's even better! No matter what, snow days always have us scrambling to get outside and have some fun!
What are your favorite wintertime egg-tivities?
We'd love to hear from you on our Noah's Pride Instagram and Facebook pages!
At Noah's Pride, we care about our hens, and we care about your food! Pick up our eggs-tra special eggs on your next shopping trip… and save with this special offer!