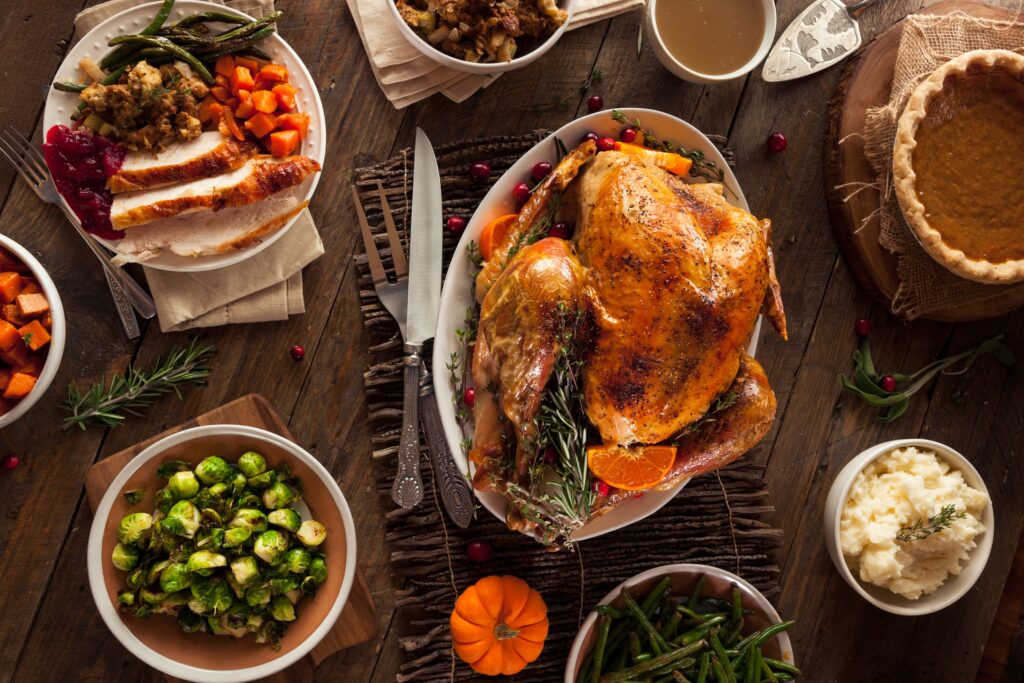 November is here and we're looking forward to the next two months filled with fun and festive holiday cheer! With the biggest day for food and football coming up at the end of the month, some people spend all month prepping and planning for the big day. And then, just like that, it comes and goes and it's onto the next one. To all the chefs out there, we know how hard you work to prepare the perfect feast for family and friends that we wanted to save you some headache and help you out with some recipes on how to use up all your Thanksgiving leftovers in the days following the big event. That's why we've put together this collection of Thanksgiving Leftovers recipes you can whip up all weekend with the good eats that you've already prepared!
Thanksgiving Leftovers Breakfast Sandwich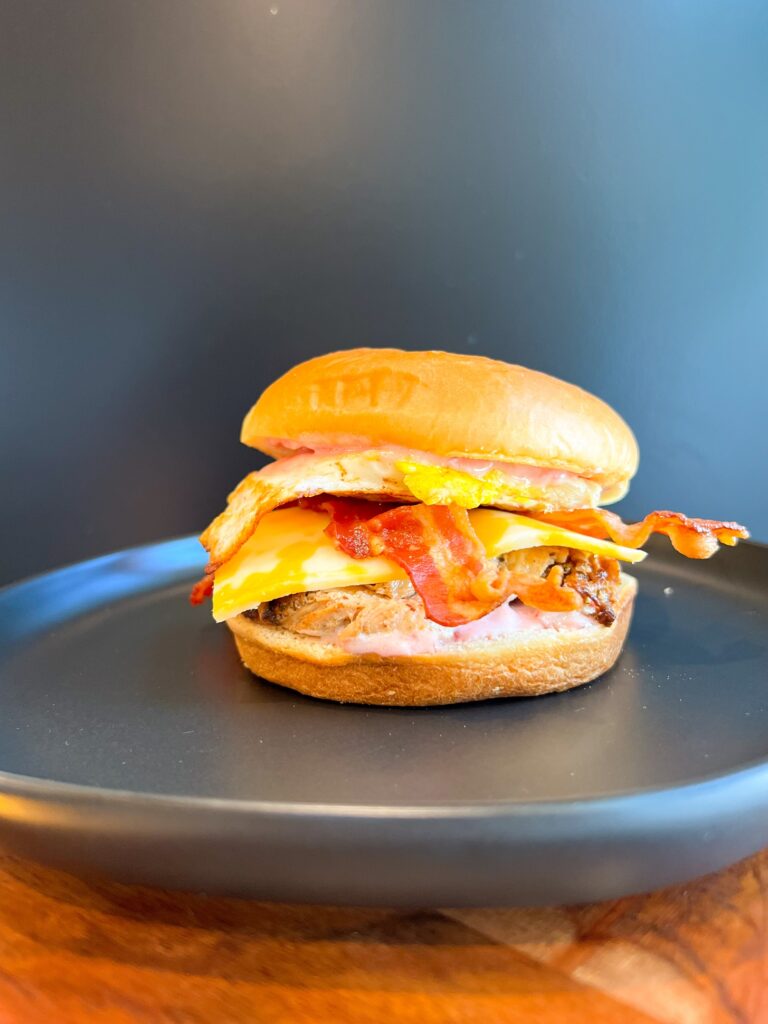 While sometimes, the mention of cold turkey can be dreaded, in this case it's delicious! Transform your Thanksgiving leftovers on Friday morning using all the stuff that you've already got in your fridge from the night before! Just throw some hot, crispy bacon in the mix with a fresh Noah's Pride egg and you'll be fueled and full to take on any Black Friday madness you may be preparing to endure.
Ingredients (makes 4)
8 strips bacon
½ cup cranberry sauce
¼ cup mayonnaise
fresh lemon juice
4 Noah's Pride eggs
leftover turkey
4 slices Monterey Jack cheese
4 leftover rolls
Instructions
Fry the bacon until crisp, remove and let drain on paper towel.
In a small bowl, combine cranberry sauce, mayo and a squeeze of lemon juice. Whisk and season with salt & pepper to taste.
Split rolls or other leftover bread in half and spread with cranberry mayo.
Fry up eggs to your liking and then stack your sandwich with turkey, cheese, bacon and egg.
Leftover Stuffing Egg Cups
Use a muffin tin for these egg cups made with leftover stuffing and feed an out-of-town family crowd in a breeze! Feel free to fry up some bacon to add in or throw in some leftover turkey pieces for some added protein as well!
Ingredients (makes 12)
leftover stuffing
12 Noah's Pride eggs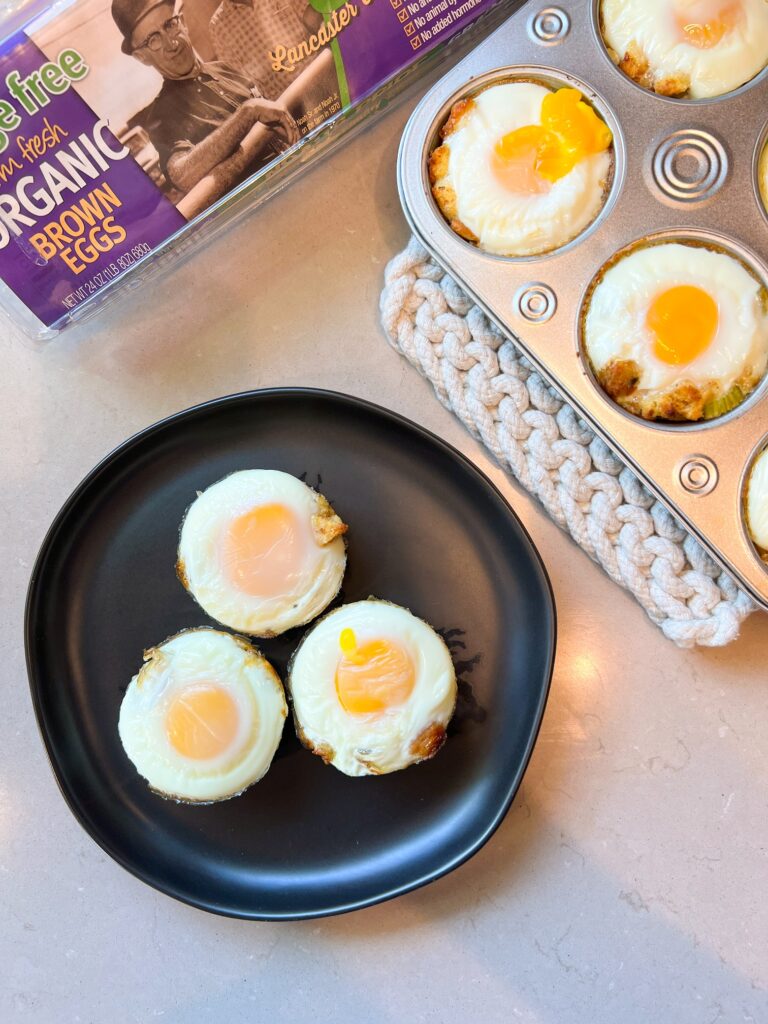 Instructions
Spray your muffin tin with non-stick cooking spray and then add a generous scoop of filling to each cup.
Using a spoon, mold the stuffing around the cup and make an indent in the middle for the egg to "nest."
Crack an egg into each cup and bake at 375°F for 10 minutes or until the egg is cooked to a medium, soft poach.
Allow to cool for a few minutes before carefully removing and enjoying.
Thanksgiving Breakfast Skillet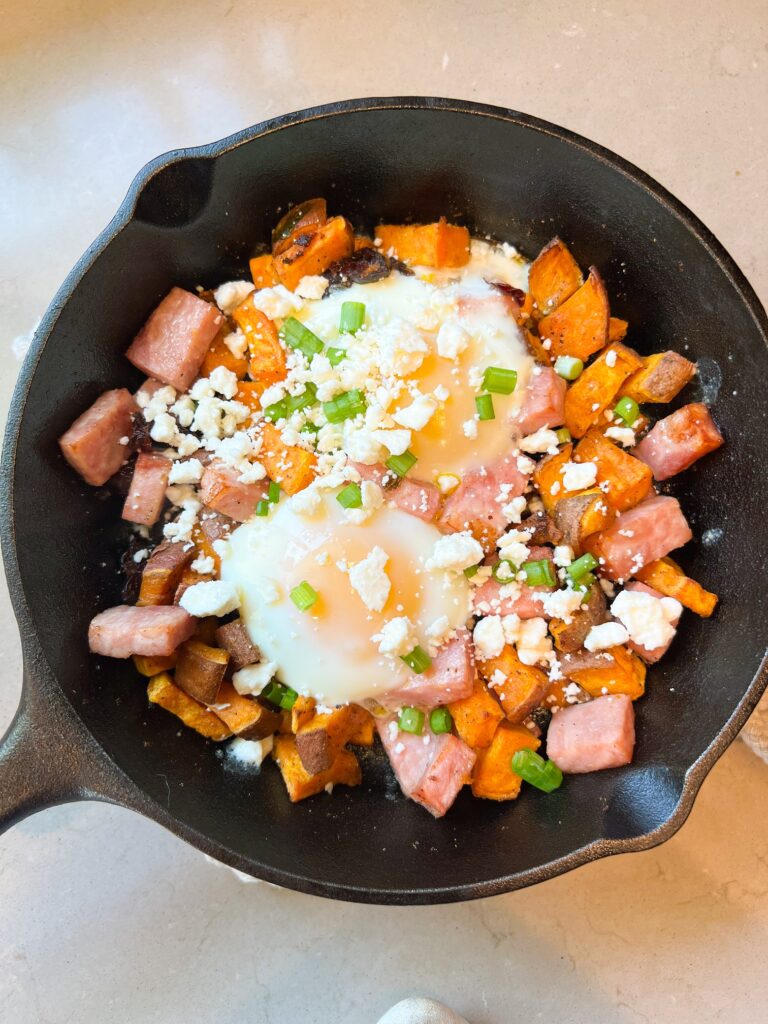 This skillet is simple to make and embodies all our favorite fall and Thanksgiving flavors. This one is so good; we might be making it up for a Saturday brunch (or two) before we even make it to Thanksgiving! If you're not a fan of sweet potatoes, you can easily substitute with a regular, russet potato for a more traditional skillet feel.
Ingredients (makes 1 skillet)
2 large sweet potatoes
¼ cup dried cranberries
cooked ham, cubed
4 Noah's Pride eggs
goat cheese
olive oil
garlic powder
chives
salt and pepper
Instructions
Dice your sweet potatoes and toss in olive oil, garlic powder, salt and pepper to taste. Roast in a cast iron skillet at 400°F in the oven.
Once about halfway cooked, toss in cranberries and return to the oven.
Meanwhile, warm up your diced ham (or bacon, if you prefer) on the stovetop.
When the potatoes are cooked, mix in your ham and crack your eggs directly on top of the sweet potatoes. Return to the oven until the eggs are cooked to your liking.
Remove and top with goat cheese and chives.
Thanksgiving Leftovers Crepes
Enjoy all your favorite Thanksgiving leftovers as the fillings in this Thanksgiving crepe! Add as many or as few leftovers as you'd like. You can even whip up the crepe batter Thanksgiving night and keep in the fridge overnight so that all you have to do is throw it all together Friday morning.
Ingredients (makes 4)
3 Noah's Pride eggs
1 ¼ cup milk
¼ tsp salt
½ tsp sugar
4 tbsp butter, melted and divided
1 cup flour
2 tbsp chopped herbs
leftover mashed potatoes
leftover stuffing
leftover turkey
gravy
cranberry sauce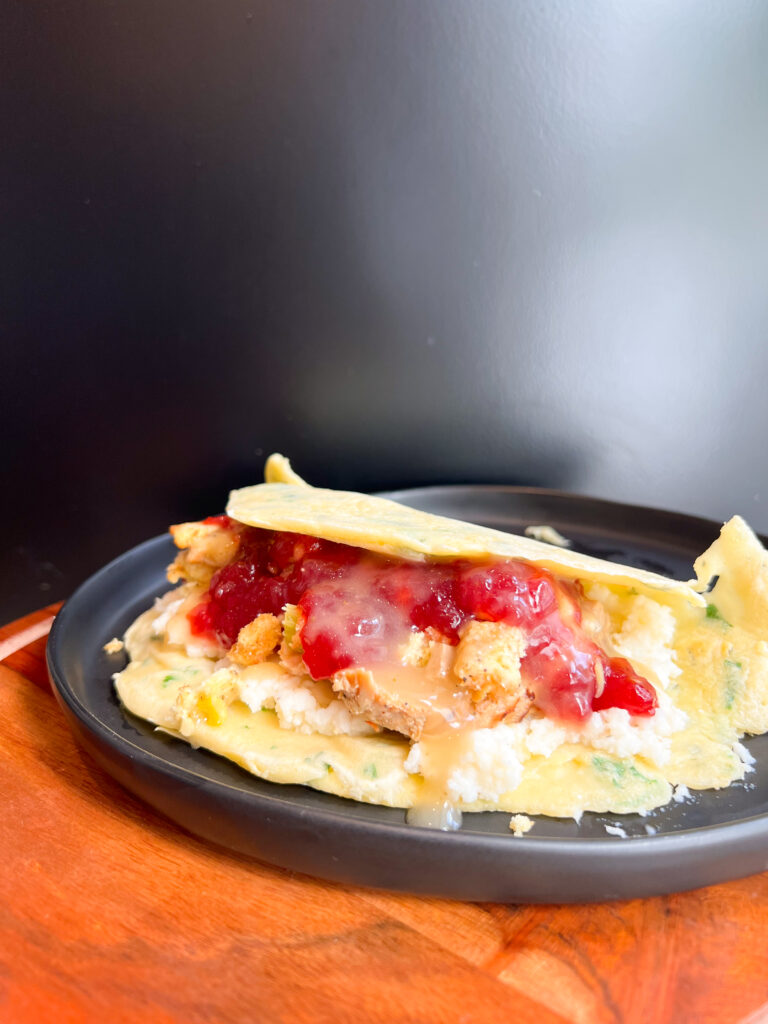 Instructions
Combine eggs, milk, salt and sugar in a medium bowl, then add in flour and 3 tbsp of butter. Cover and let rest for 20 minutes to overnight in the refrigerator. Stir in chopped herbs right before making.
When ready, head an 8" non-stick skillet over medium-high heat. Brush with remaining butter and add ¼ cup of the crepe batter, ensure the entire pan is coated.
Allow to cook for about a minute, or lightly brown, before flipping. Continue with the rest of the batter and set the cooked crepes aside.
Plate your crepe and stuff with your favorite Thanksgiving leftovers.
Thanksgiving Leftover Breakfast Casserole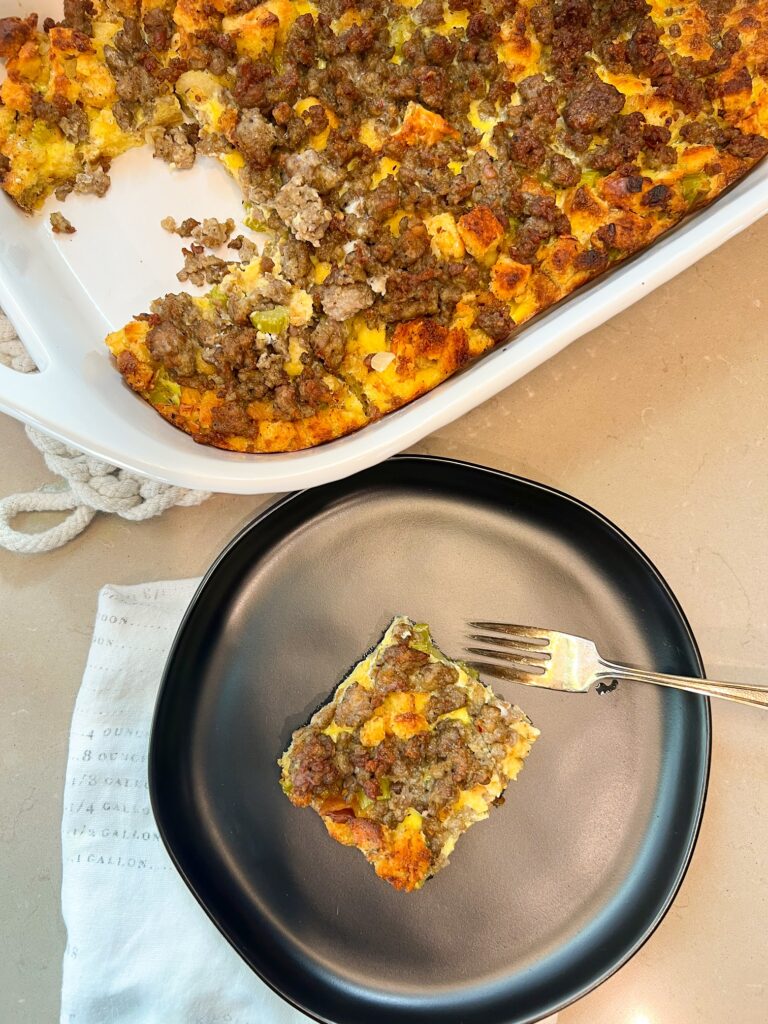 Another great option for feeding a house full of out-of-towners, this casserole is so easy, it literally just involves throwing your leftover stuffing into a baking dish, adding some fresh eggs and leaving the magic to happen in the oven. Plus, it's a great way to avoid food waste, since sometime leftover stuffing can be a little 'meh' on its own!
Ingredients (makes 1 casserole)
4 cups leftover stuffing
8 Noah's Pride eggs
¼ cup heavy cream
1 lb crumbled breakfast sausage, cooked
Instructions
Whisk together eggs and cream until well combined.
Spread cold, leftover stuffing into a greased casserole dish in an even layer and then top with cooked and crumbled sausage.
Pour over the eggs and bake at 350°F for 30-45 minutes or until the eggs are set and fully cooked.
Leftover Turkey Club
Sometimes, things end up tasting better leftover the next day, and that's how we feel about this Turkey Club. This thing is stacked to the max and can be eaten cold or toasted up in the oven for the ultimate day after Thanksgiving lunch!
Ingredients (makes 1)
3 slices sandwich bread
sliced, leftover turkey
¼ cup cranberry sauce
2 tbsp mayo
3 slices cooked bacon
2 Noahs Pride eggs, fried
red onion, sliced
¼ cup shredded cheddar cheese
2 tbsp cream cheese, softened
lettuce
Instructions
Combine mayo and cranberry sauce in a small bowl and spread on all 3 slices of bread.
Divide half of the turkey on top of the first slice of bread, and top with bacon, egg, cheese and red onion. Top with another piece of bread, cranberry side down.
Spread the other side of the bread with cream cheese and top with more turkey, lettuce, bacon, egg, cheese and red onion.
Stick toothpicks into the corners of the sandwich to help keep it together and bake at 350°F for 5 minutes or until the cheese is melted.
Thanksgiving Breakfast Burrito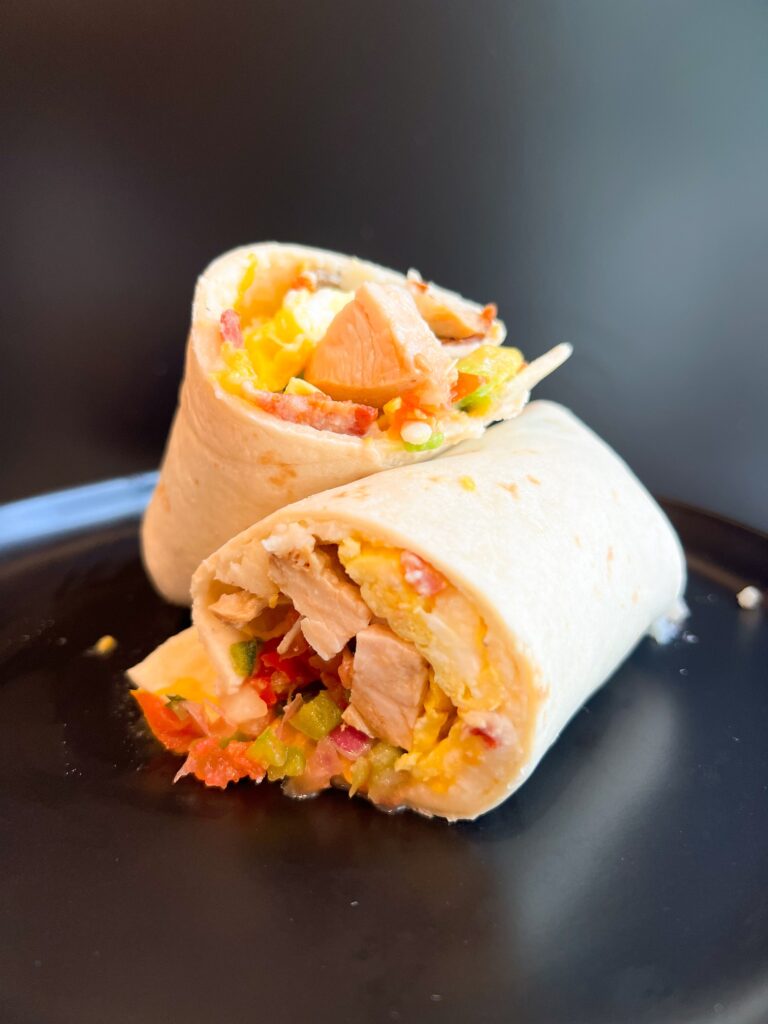 Burritos are the perfect catch-all for a variety of flavors and textures, which is why we found it an appropriate vessel to house all of our favorite Thanksgiving leftovers on Friday morning. The beauty of the burrito is that you can literally add whatever your heart desires; don't have any mashed potatoes? Add squash or sweet potatoes instead, not a fan of avocado? Skip it. Its all up to you!
Ingredients (makes 1)
2 strips bacon, cooked
3 Noah's Pride eggs
leftover turkey
leftover mashed potatoes
burrito wrap
½ cup shredded cheddar cheese
1 avocado, cubed
¼ cup salsa
Instructions
Scramble eggs over medium heat until just set, don't overcook.
Heat turkey and mashed potatoes in the microwave for 45 seconds.
On your burrito wrap, spread the mashed potatoes into an even layer. Then crumble and spread the bacon and cheese on top.
Spread your scrambled eggs in a straight line down the middle of the burrito and top that strip with turkey, avocado and salsa.
Carefully use your hands to mold the tortilla around the ingredients and gently start to fold and roll up your burrito.
If you want, place the burrito into a skillet with some butter, seam side down, for a few minutes to crisp and repeat on the other side before plating.
Leftover Stuffing Muffins
Use a mini muffin tin to make these bite-sized bites that can be dipped into cranberry sauce or gravy! However, you want to make sure that for these, your stuffing hasn't gotten too dry. If it has, just add a splash of chicken stock to rehydrate things a bit.
Ingredients (makes 24)
3 ½ cups leftover stuffing
1 cup leftover turkey
6 Noah's Pride eggs
2 tbsp milk
1 tbsp chopped parsley
1/4 tsp salt
pepper to taste
½ cup shredded cheddar cheese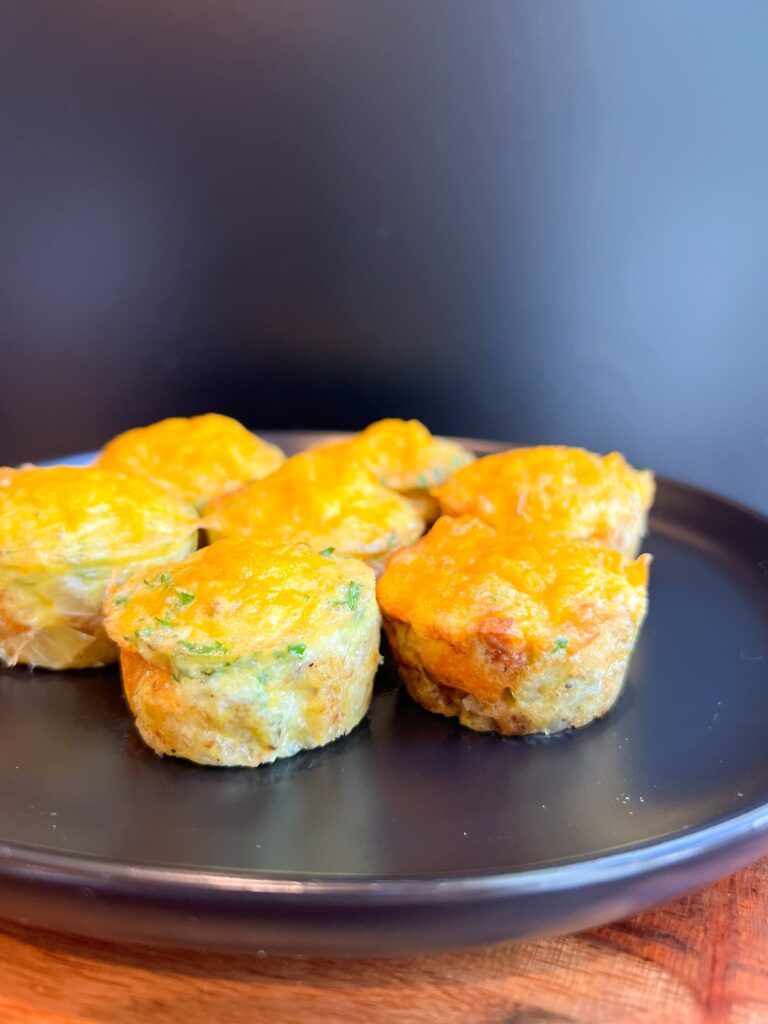 Instructions
Divide the stuffing into a greased mini muffin tin, pack down the mixture with your fingers to allow space for the eggs.
Whisk together eggs, milk, salt, pepper and parsley in a bowl. Divide into the cups filling each only a little over halfway full and top with cheese.
Bake at 375° for 25 minutes or until golden brown and crisp. Allow to cool slightly before carefully removing for the tins.
Thanksgiving Croque Madame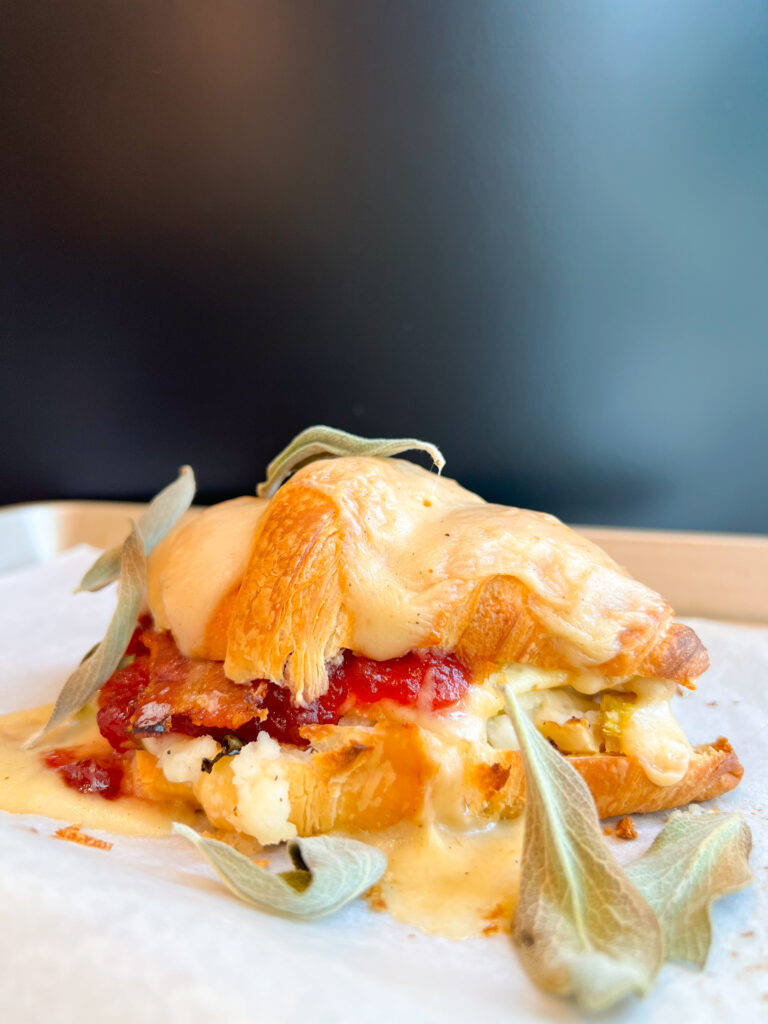 While this sandwich may be a but of a messy one (and require a knife and fork to eat) it is oh so delicious and much worth the extra napkins!
Ingredients (makes 1)
¼ cup gravy
1/8 cup milk
pinch of nutmeg
2 tbsp gruyere cheese, shredded
1/8 cup parmesan cheese, grated
1 croissant
1 tbsp Dijon mustard
2 slices crispy prosciutto
leftover turkey
leftover mashed potatoes
cranberry sauce
leftover roasted vegetable, finely chopped
1 Noah's Pride egg, fried
crispy sage
Instructions
Bring gravy and milk to a boil and add nutmeg. Remove from heat and add in cheeses, stirring until fully melted and smooth.
On a parchment lined baking sheet, slice croissant in half and spread mustard onto the bottom slice. Top with a thin layer of vegetables and mashed potatoes. Drizzle cheese sauce on top of the potatoes and stack turkey, cranberry sauce and crispy prosciutto.
Top with the other half of croissant and drizzle with more cheese sauce and more gruyere. Bake at 425°F for 3 minutes or until cheese is bubbling and evenly browned.
Top off the sandwich with a fried egg and crispy sage leaves.
We don't know about you, but these Thanksgiving Leftovers recipes have us [almost] looking more forward to Friday than Thursday this year! If you take a stab at any of these this year or have another way to utilize your Thanksgiving Leftovers, tag us in your creations on Facebook and Instagram @noahspride. We're always looking for new and creative ways to cook with eggs, so if you have a favorite recipe you'd like to share with us, let us know!