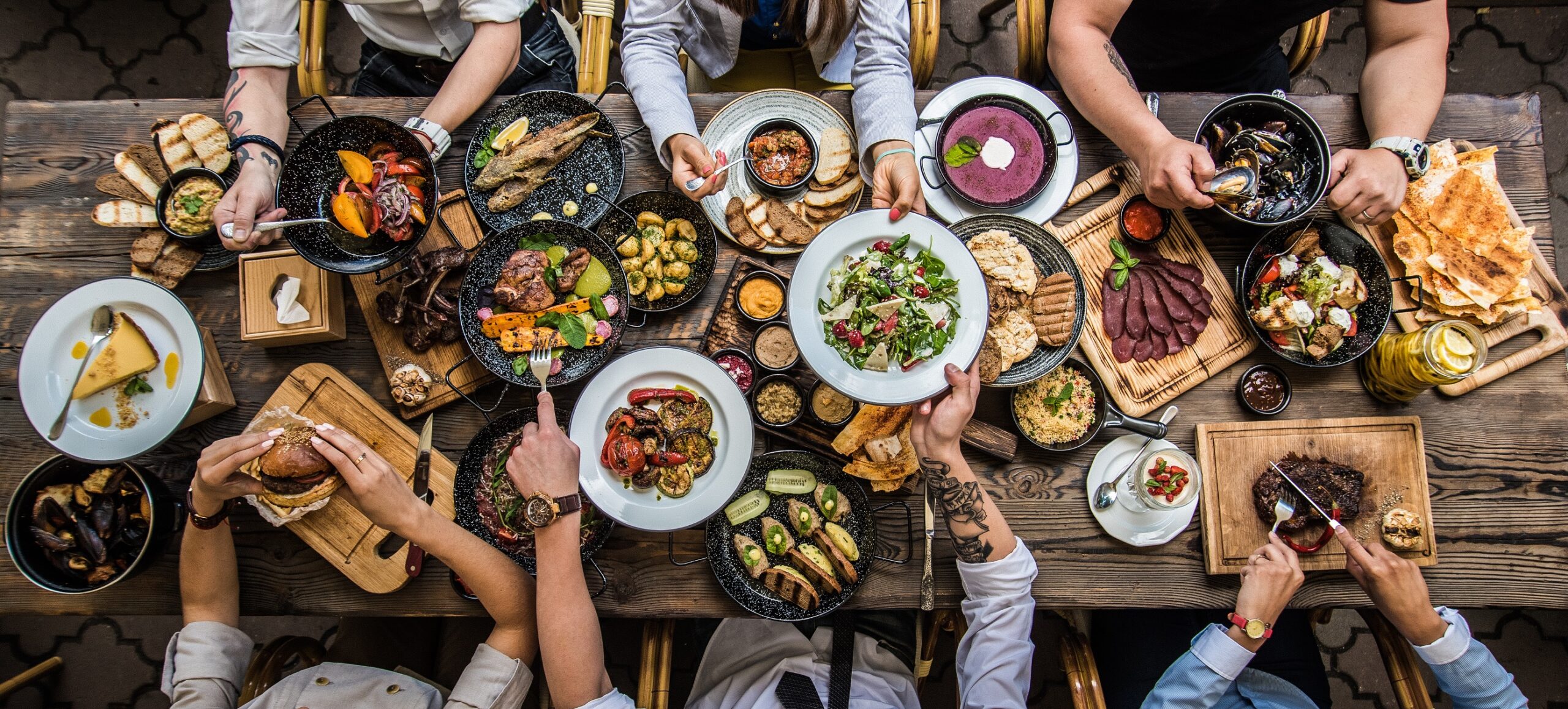 While language barriers may hinder our abilities to communicate with other cultures, there is one universal form of communication that everyone can understand regardless of where you're from: and that's the language of food. You can learn so much from a culture just by experiencing their cuisine and thanks to the explosion of international sections in grocery stores, you don't even have to leave the comfort of your own home to take your taste buds on an international adventure.
Below, we've compiled seven amazing, international recipes all focused around eggs! Try one or try them all, these egg dishes are sure to be out of this world!
North America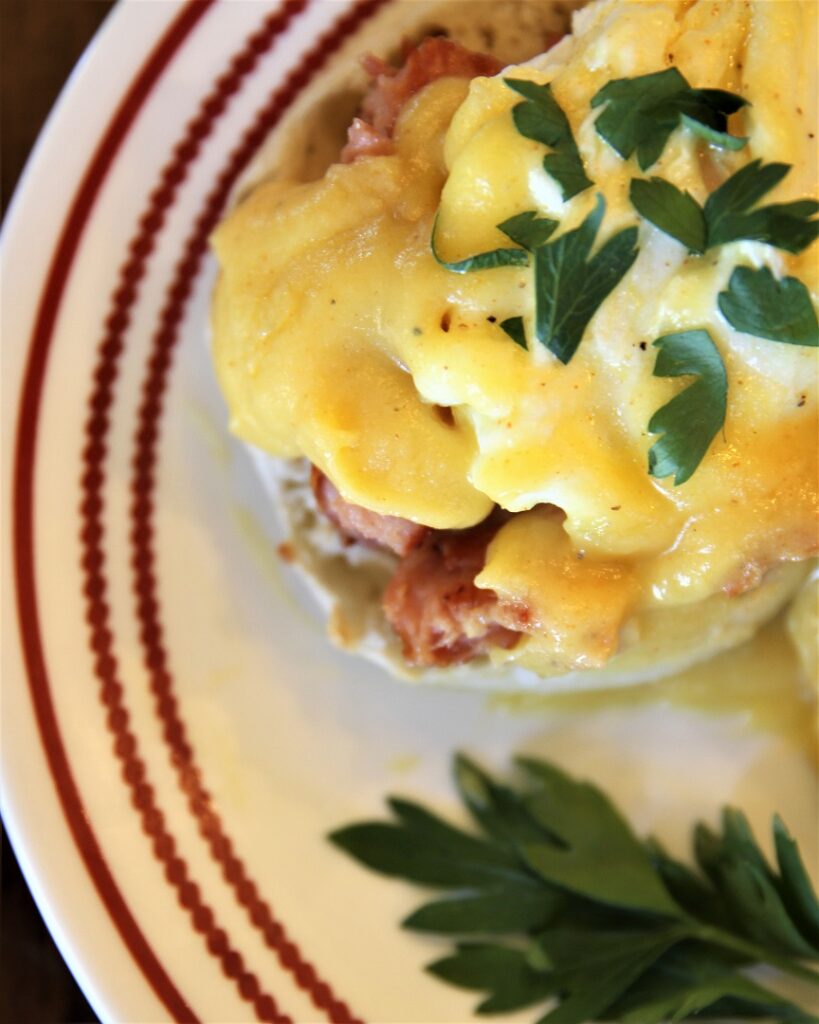 Starting close to home, we tackle the classic All-American favorite, Eggs Benedict. This dish originated in New York City in the 1890's at the restaurant Delmonico's. While there are several "claims" to who inspired the original creation, most claim that a regular at the café, had grown tired of the same old breakfast options and wanted to try something new, ordered the custom dish and the rest was history.
Ingredients (makes 4)
4 large Noah's Pride eggs
4 slices Canadian bacon, cooked
2 tsp white vinegar
2 English muffins
butter
2 TBSP chopped parsley, for garnish
For Hollandaise Sauce
3 large Noah's Pride egg yolks
10 TBSP butter, melted
1 TBSP lemon juice
dash of cayenne
Instructions
Add egg yolks and lemon juice to a blender and blend until combined and eggs lighten in color, about 20-30 seconds.
On the slowest setting, slowly add in melted butter while blending continuously until incorporated, set aside.
Poach your eggs in water with added vinegar. Find poaching tips and tricks here.
Assemble your eggs benedict with toasted muffins, bacon and poached eggs. Drizzle with Hollandaise, top with parsley and enjoy!
Next, we take a short trip across the pacific to Hawaii for the classic Loco Moco. This easy dish consists of rice, hamburger, gravy and eggs and originated in Hilo, Hawaii in 1949. The simple and inexpensive meal has become a statement across the islands and can be served for breakfast, lunch or dinner!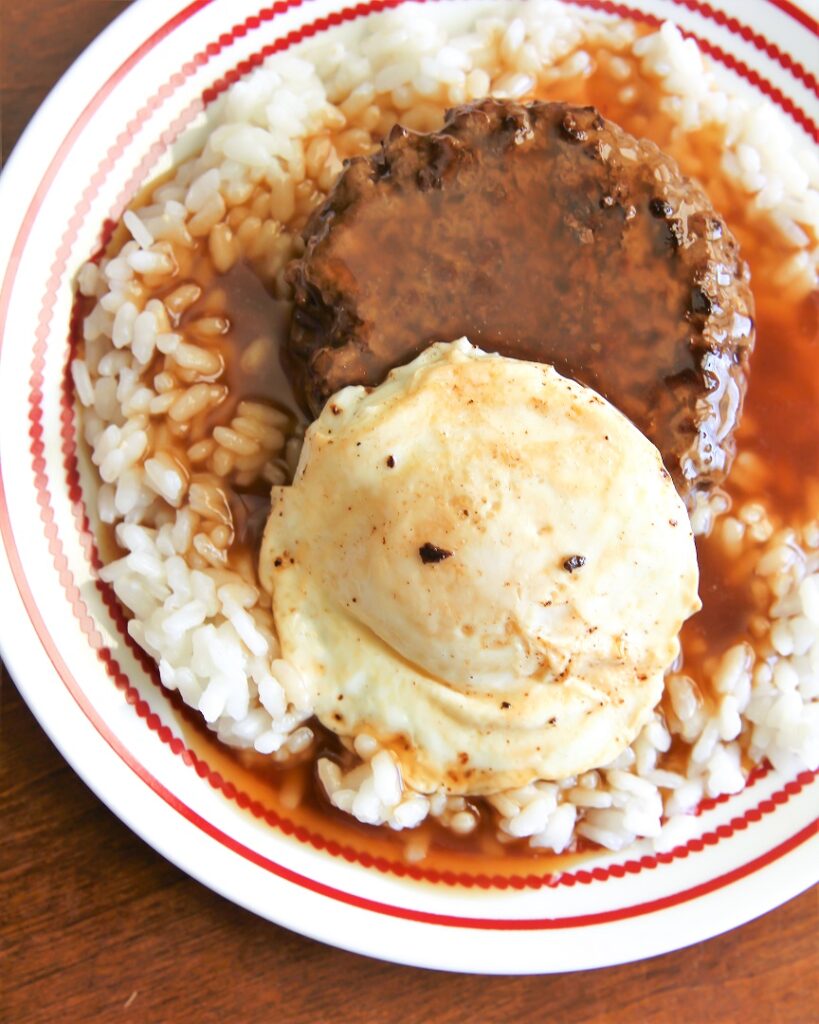 Ingredients (makes 4)
5 large Noah's Pride egg
1 medium sized onion, finely chopped
olive oil
¾ lb ground beef
1/3 cup panko breadcrumbs
2 TBSP milk
2 tsp Worcestershire sauce
1 tsp soy sauce
½ tsp nutmeg
6 mushrooms
1 ½ cup beef stock
1 TBSP cornstarch
1 TBSP water
white rice, cooked
salt and pepper, to taste
parsley, for garnish
Instructions
Sauté onion in 1 TBSP olive oil and cook on medium-high until translucent. Divide in half and set aside.
Thinly slice mushrooms, and sauté in ½ TBSP olive oil over medium heat until soft. Add in half of the sautéed onion and stir.
Add in beef stock, 1 tsp Worcestershire sauce and soy sauce and season with salt and pepper to taste.
In a separate bowl, whisk cornstarch and water until combined thoroughly. Add to gravy mixture and simmer until thickened, remove from heat and set aside.
In a large mixing bowl, combine ground beef, remaining onion, breadcrumbs, 1 egg, milk, nutmeg and salt and pepper to taste. Mix until well incorporated and divide into 4 patties, refrigerate for 30 minutes to set.
In a large pan, cook patties in ½ tsp olive oil, about 5 minutes each side.
Fry your eggs to your preference. Find fried egg tips and tricks here.
Assemble your dish with a base of rice topped with your cooked patties and drizzled with gravy mixture. Top with fried egg and parsley and enjoy!
South America
Heading south, we try put a twist on the classic with the Breakfast Empanada.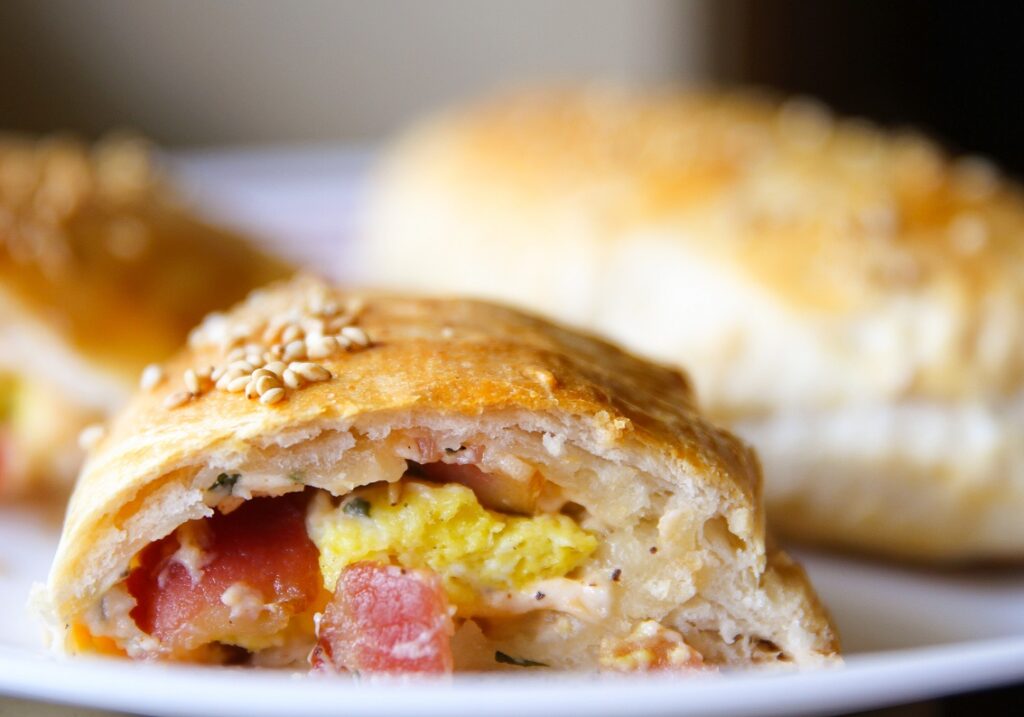 Ingredients (makes 8)
5 large Noah's Pride eggs, beaten
1 large Noah's Pride egg white, beaten
6 oz cream cheese
1 tsp parsley
2/3 cup sharp cheddar cheese, shredded
2 TBSP butter
1 can refrigerated, jumbo flakey biscuits
8 slices bacon, cooked and crumbled
salt and pepper, to taste
sesame seeds, for garnish
Instructions
Combine cream cheese, parsley, salt and pepper and mix until incorporated, add in cheese.
Scramble eggs in melted butter until fully cooked, remove from heat and set aside. Find tips and tricks for the perfect scrambled eggs here.
Flatten out biscuits into approximately 5-inch circles and spread with cream cheese mixture leaving a small boarder around the edges.
Top evenly with eggs and bacon and fold dough in half, pinching edges to seal. You can also use a fork to pinch down the edges to secure.
Place 2 inches apart on greased baking sheet, brush with eggwhites and sprinkle with sesame seeds.
Bake at 375°F for 15 minutes or until golden brown. Serve and enjoy!
Africa
Whether you call it North African Eggs or Shakshuka, this tomato-based breakfast is a recipe to hold onto.  The homemade thick sauce combined with eggs and soaked up with bread is oh so good.  The history of this dish is unknown, as many countries lay claim to it.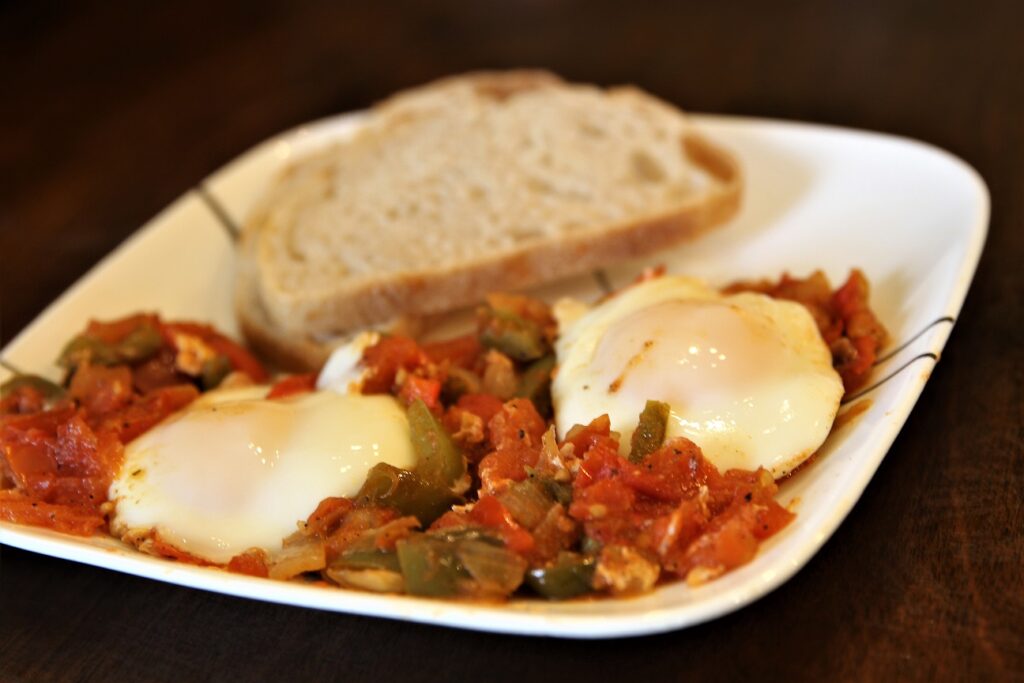 Ingredients (makes 4)
4 Noah's Pride eggs
olive oil
1 medium sized onion, diced
1 red pepper, diced
2 garlic cloves, sliced
1 red chili, chopped
1 tsp cumin seeds
5 ripe tomatoes, roughly chopped
salt and pepper, to taste
chopped coriander leaves, to garnish
chopped spring onion, to garnish
toasted bread
Instructions
Sauté onion in oil over medium heat until soft. Add peppers and steam for 5 minutes. Add garlic and chili and fry until tender, about 1 to 2 minutes.
Add cumin and fry for 1 minute before adding tomatoes. Season with salt and pepper and cook for 10 to 15 minutes or until tomatoes become soft, stir until you reach the consistency of a tick sauce.
Create 4 "wells" in the mixture and creak an egg into each. Over and cook over medium until the egg white is set but the yolk remains slightly runny, approximately 5 to 6 minutes.
Serve dish with toast and sprinkle with coriander leaves and spring onion if desired!
Europe
Didn't get to make that summer trip you Europe you had planned? Let this next dish called Kaiserschmarrn from Austria take you there in spirit! Sometimes called scrambled pancakes, it is traditionally served with powdered sugar and apple sauce, making it a perfect dish for dessert!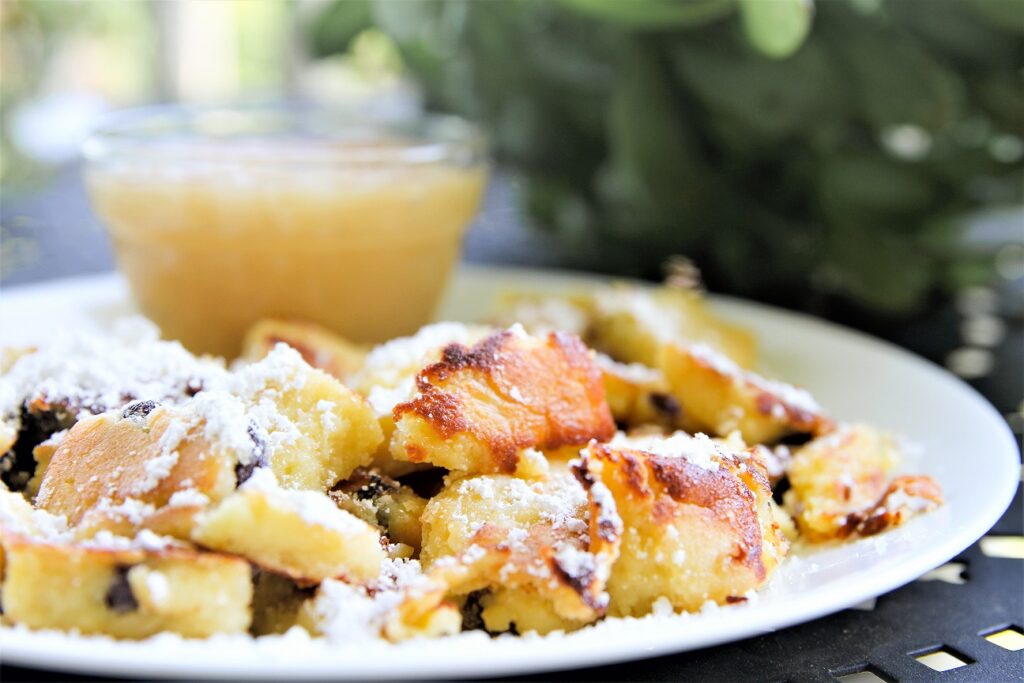 Ingredients (makes 4)
1/3 cup raisins
3 TBSP rum
3 large Noah's Pride eggs, divided
unsalted butter
1 tsp vanilla extract
salt
1 cup all-purpose flour
1 cup milk
2 tsp granulated sugar
2 TBSP powdered sugar, to garnish
1 cup applesauce, for serving
Instructions
In a small bowl, soak raisins in rum for several hours until rum is fully absorbed.
Separate eggs and set aside yolks for later.
In a mixing bowl, whisk egg whites until stiff peaks form and set aside. In a separate bowl, combine egg yolks, 3 TBSP melted butter, vanilla, granulated sugar and a pinch of salt until well incorporated. Slowly add flour and milk alternately until combined fully.
Carefully fold the egg whites into the batter until no lumps remain.
Heat 1 tsp butter over medium heat and pour batter into pan. After the bottom has set, approximately 3 minutes, add drained, rum raisins into pancake. Let cook until golden brown on the bottom.
Carefully divide the pancake into quarters and flip, adding more butter as needed.
Once fully cooked through and golden brown, tear the pancake into bite sized pieces and toss in 2 TBSP melted butter and sugar until sugar caramelizes. Sprinkle with powdered sugar and serve with applesauce on the side.
Asia
Egg Drop Soup is a Chinese dish that is super simple and has great flavor and is one of the most common soups served in American Chinese cuisine. Consisting of mainly chicken broth and wispy scrambled eggs, it's a feel good soup that's great for an settling an upset stomach.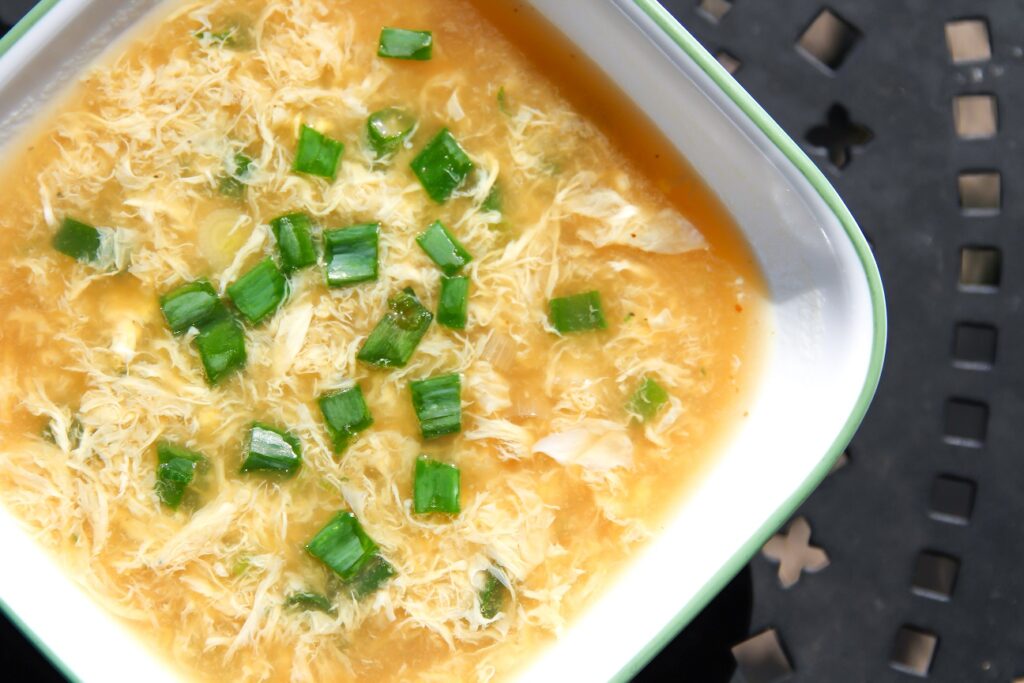 Ingredients (makes 4)
4 large Noah's Pride eggs
4 cups chicken stock
1 TBSP plus 1 tsp cornstarch, divided
soy sauce
scallions, for garnish
Instructions
In a large kettle, bring stock to a boil over medium-high heat, then turn down to a simmer for 15 minutes. Season with soy sauce and salt to taste.
Combine eggs and 1 tsp cornstarch in a small bowl and whisk until well combined, set aside.
In a separate bowl, combine remaining 1 TBSP cornstarch with ¼ cup broth and stir until dissolved. Pout this mixture back into the pot of broth and let simmer.
Slowly drizzle the egg mixture into the broth through a fork, letting it drain through the tines to create the wispy strands of egg. Stir the broth gently then let simmer, undisturbed, until eggs are cooked. Serve and top with scallions if desired.
Australia
This recipe from Australia will concoct the biggest and messiest burger you will ever eat.  They call this one "Burger With The Lot," or the "Aussie Burger," and it is stacked high with a white roll, burger patty, cheese, tomatoes, lettuce, fried onions, bacon, egg, pineapple and red beets. While you can eat it with your hands, you may want to opt for some utensils to take on this mouthful!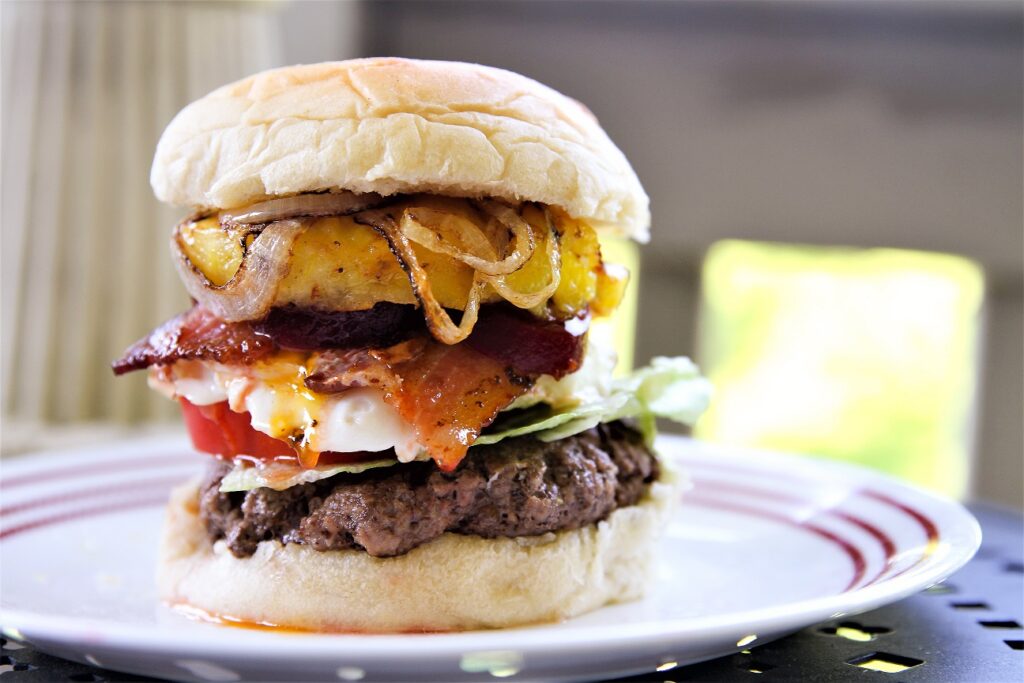 Ingredients (makes 4)
¼ cup ketchup
¼ cup mayonnaise
1 tsp hot sauce
4 large Noah's Pride eggs, fried
bacon, cooked
4 hamburger patties
sharp cheddar cheese, sliced
1 sweet onion, sliced into rings
4 pineapple rings, patted dry
¾ cup pickled beets, drained and sliced
sliced tomato
lettuce
hamburger buns
Instructions
In a small bowl, mix ketchup, mayonnaise and hot sauce, set aside.
Grill hamburger patties on medium-high heat until cooked to your preference. Remove from heat and let rest 2 to 3 minutes.
Assemble your burger by layers the lettuce, tomato, pineapple, beets and onion topped with the burger patty. Add cheese, bacon and fried egg and top with chili mayo mixture and enjoy!
We hope you join us in our international world tour for our taste buds and try one of these recipes yourself! We'd love to see your creations so make sure to tag us @noahspride on Facebook and Instagram!