If you tried any of the meringue recipes in
our last blog post
, you may have been wondering what to do with the egg yolks that were left over. We've got 9
egg-citing
egg yolk recipes in today's post so that none of those yolks ever go to waste. And don't forget to share your meringue photos with us on social media!
One reason we love recipes using egg yolks is that yolks make food taste egg-stra decadent and delicious. Have you ever wondered what makes frozen custard or crème brûlée so scrumptious? It's the egg yolks!
The high protein and fat content in egg yolks adds body and richness to baked goods and savory recipes, making them the perfect addition to just about any meal.
Egg Yolk Dessert Recipes
Life is short, so why not start with dessert? If you've got a sweet-tooth and some leftover egg yolks, you'll want to start here with our ideas for desserts using leftover egg yolks.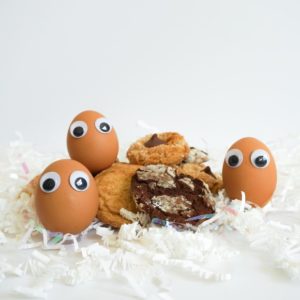 Crème Brûlée Recipe
Crème Brûlée is one of Mama Meggan's favorite treats, and it just happens to be an impressive way to use up some leftover egg yolks. The silky-smooth texture and burnt-sugar crunch make for an exquisite pairing with a big wow factor. This recipe for crème brûlée is easy, and loaded with tips for achieving the perfect custard.
Salted Caramel Custard Ice Cream Recipe
Have you ever wondered what makes frozen custard different from ice cream? Frozen custard is simply ice cream made with egg yolks. Adding egg yolks to an ice cream recipe is the easiest thing you can do turn an ordinary bowl of ice cream into a smooth, rich dessert experience. Try this recipe for salted caramel ice cream and share it with your friends to an unforgettable treat.
Lemon Curd
This lemon curd recipe is both easy and versatile. It's delicious on scones, as a filling for a cake or cupcakes, in lemon bars, or simply eaten by the spoonful. Learn how to make this one recipe using leftover egg yolks and you'll have an entire repertoire of desserts at your fingertips.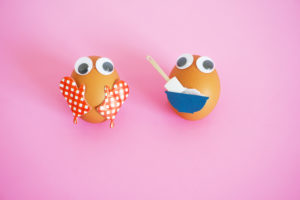 Savory Egg Yolk Recipes
Egg yolk recipes are not just for dessert! One of our favorite ways to use leftover egg yolks is in pasta dishes where they create rich and creamy sauces, noodles that your family can get egg-cited about!
Homemade Mac & Cheese Recipe
Who doesn't love a great mac and cheese recipe? This one calls for one extra large egg yolk, but if aren't using the extra-large variety, just use two regular yolks. It also calls for three different cheeses, including goat cheese, which will give it an irresistible creaminess. If you're not a fan of goat cheese, use an equal amount of cream cheese instead!
Amish Egg Noodle Recipe
In a nod to our own Lancaster County heritage, we just had to include this recipe for Amish Egg Noodles using three egg yolks, which can be enjoyed in any part of the world! Homemade egg noodles might sound intimidating, but they are actually amazingly simple. The hardest part is rolling out the dough, but we think you'll find it's well worth the effort once you've tasted the result.
Linguini with Carbonara Recipe
Linguini with Carbonara is a simple, yet impressive pasta recipe that will leave you feeling eggs-tremely satisfied. This Italian classic uses four egg yolks, which give the dish its signature creaminess. And, we love this particular recipe because it incorporates tiny, homemade meatballs – an added flourish that other recipes don't have. Last but not least, it gives us a chance to use some farm fresh Kreider Farms heavy cream!
Breakfast Egg Yolk Recipes
While we've shown that leftover egg yolks can be used in a variety of sweet and savory dishes, breakfast is one of the first things many people think about when they are considering recipes for leftover egg yolks. Try one of these egg-cellent recipes for a special breakfast or brunch that will wow you and your guests.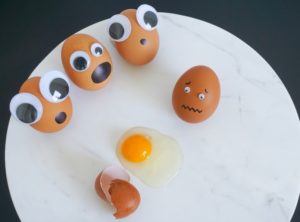 Classic Eggs Benedict Recipe
Egg yolks are the star of Hollandaise sauce. And Hollandaise sauce is the star of a well-eggs-ecuted Eggs Benedict. But Hollandaise can be a bit tricky to master and therefore it is intimidating for a lot of folks. Try this classic Eggs Benedict recipe that uses a blender to make the Hollandaise!
Crepe Recipe
Crepes are quite possibly the easiest thing you can do with your leftover egg yolks. They're made from a super simple batter and the filling variations are practically endless. Try these Vanilla Crepes with fresh fruit and whipped cream to create a quick and classy breakfast or brunch.
Eggs Benedict Bake with Béarnaise Sauce Recipe
If you love Eggs Benedict but want something a little easier for a crown, try this Eggs Benedict Bake recipe that uses a Béarnaise sauce instead of Hollandaise.
Saving Egg Yolks for Later
Do you need to store leftover egg yolks for use at a later time? Here are some tips for making sure your leftover egg yolks are good to use when you're ready.
In the fridge: if you want to use your leftover egg yolks within 1-4 days, sprinkle a little bit of water on them to prevent them from drying out and then store them in an airtight container in the fridge, but not in the door of the fridge. Use them within 4 days.
In the freezer: To successfully store leftover egg yolks in the freezer, you'll want to take a few minutes to prepare them properly. Otherwise, they will thicken to the point that you cannot use them in a recipe once thawed. First beat the yolks until they are smooth. For about 4 yolks, add 1/8 teaspoon salt if you plan to use them in a savory dish, or 1 ½ teaspoons sugar if you plan to use them in a sweet dish. Whisk them again and then pour them into an airtight freezer container. Make sure you label the container with the number of yolks and the additive (salt or sugar). To use them again, thaw in the fridge overnight or under cold running water in the container, then use them right away.
Did you make an egg yolk recipe? We'd love to see your culinary creations! Share with us on
Facebook
or tag us on
Instagram
!
At Noah's Pride, we care about our hens, and we care about your food! Pick up our eggs-tra special eggs on your next shopping trip… and save with this special offer!