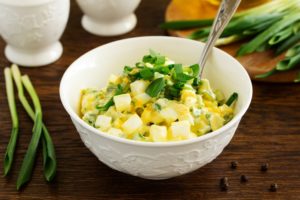 Whether you love it or hate it, there's no denying that egg salad is a staple summer cookout favorite. Especially if you're from Lancaster County—or anywhere in central PA for that matter—you know that egg salad goes hand in hand with other mayonnaise covered dishes at picnics, like Amish potato or macaroni salad. And if your family is anything like ours, you've had your fair share of egg salads over the years.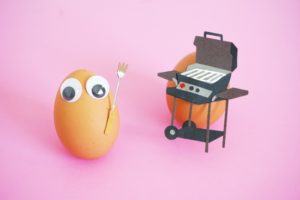 Here at Noah's Pride, we're extremely dedicated to our Lancaster County farming heritage. We take pride in knowing our free range, organic eggs go right from our family farm to your family cookout. There are many recipes that we've tried over the years, but we've realized that the best egg salad recipe is always the one you share. Here are a few of our favorites!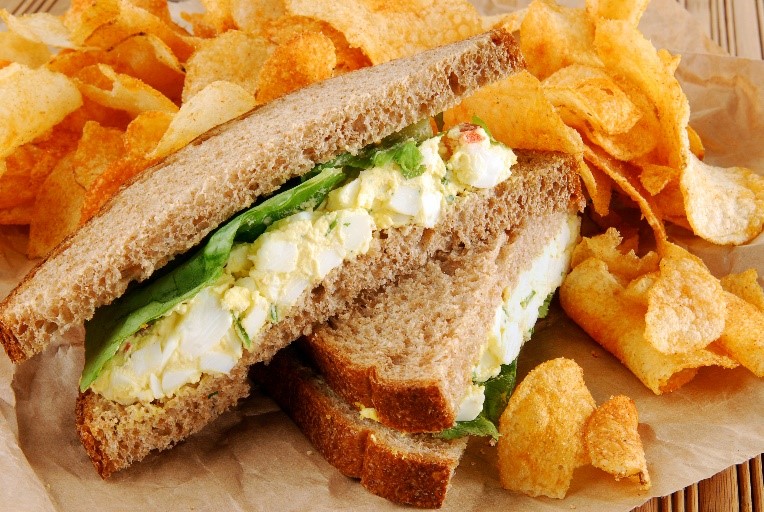 Classic Egg Salad Sandwich Recipe
Whether you're looking to make finger sandwiches for a picnic, or just looking for an afternoon snack, there's not much else that can hit the spot like a classic egg salad sandwich. While there are likely hundreds of recipes for an egg salad sandwich, we like to keep the egg as the star of the show. Here's one of our favorite simple egg salad sandwich recipes.
Ingredients
6 Hard-Boiled Eggs
1 Tbsp. Lemon Juice
¼ Cup Mayonnaise
1 Tbsp. Yellow Mustard
¼ Tsp. Salt
¼ Tsp. Pepper
½ Cup Finely Chopped Celery
¼ Cup Thinly Sliced Green Onions
8 Slices Wheat Bread
4 Lettuce Leaves
Instructions
Peel your hard-boiled eggs and coarsely chop them. Mix the lemon juice, mayonnaise, mustard, salt, and pepper together into a bowl. Add your eggs, celery, and green onion to the bowl and mix well. Cover and refrigerate to let the flavors blend. Once chilled, serve on wheat bread with lettuce leaves. This recipe yields 4 servings.
Bonus: This recipe also tastes great when stuffed into cherry tomatoes for a picnic appetizer!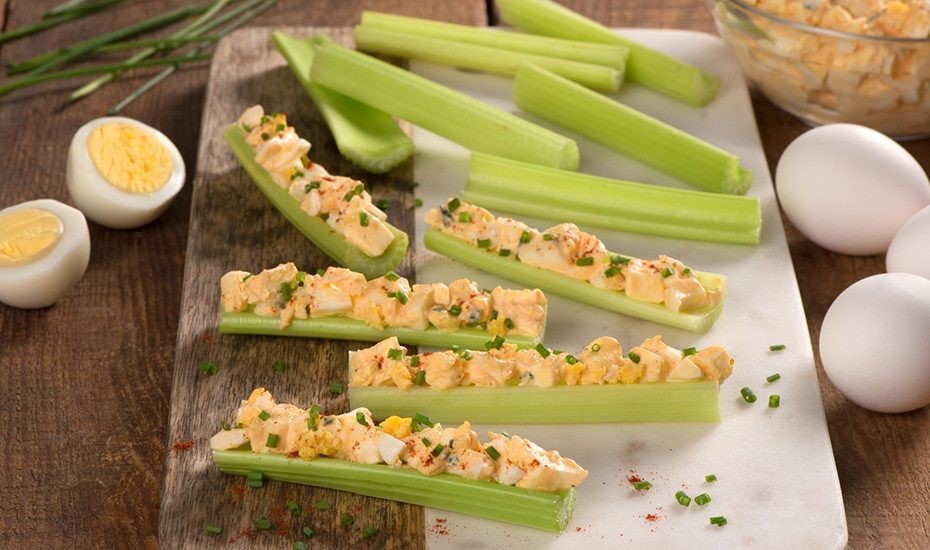 Buffalo Egg Salad Recipe
Need a little more kick to your egg salad? This buffalo egg salad recipe adds just a little egg-stra flavor to your eggs. It's great served on celery, sandwiches, or just eaten plain!
Ingredients
8 Hard-Boiled Eggs
3 Tbsp. Mayonnaise
2 Tbsp. Chopped Fresh Chives (divided)
1 Tbsp. Lemon Juice
1 Tbsp. Buffalo Style Hot Sauce
¾ Tsp. Paprika (divided)
¼ Tsp. Salt
¼ Tsp. Pepper
Instructions
Peel your hard-boiled eggs and coarsely chop them. Mix the mayonnaise, 1 tablespoon of chives, lemon juice, hot sauce, ½ teaspoon of paprika, salt, and pepper in a bowl. Add in your eggs to the mix. Cover and refrigerate to let the flavors blend. Once chilled, serve on celery or bread. Sprinkle remaining paprika and chives over the top. This recipe yields 6 servings.
Bonus: Add crumbled blue cheese to the top to really give this a kick and to balance out that hot sauce!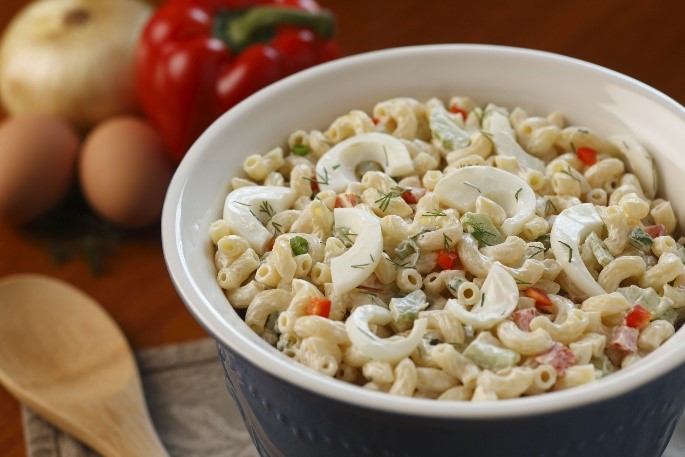 Macaroni Egg Salad Recipe
Macaroni salad is a staple at central Pennsylvania cookouts, so why not combine it with egg salad? We got this macaroni egg salad recipe from Taste of Home and love how it combines two of our favorite summer picnic treats! We hope you enjoy it just as much as we did.
Ingredients
1 Cup Uncooked Elbow Macaroni
¼ Cup Mayonnaise
1 Tsp. Sugar
1 Tsp. Cider Vinegar
½ Tsp. Salt
Dash of Pepper
½ Tsp. Prepared Mustard
1 Celery Rib (chopped)
2 Tbsp. Chopped Onion
1 Hard-Boiled Egg (chopped)
Instructions
Cook the macaroni according to the instructions on the package. Drain and rinse the pasta in cold water. In a separate bowl, combine the mayonnaise, sugar, vinegar, salt, pepper, and mustard. Stir in the celery and onion. Fold in the macaroni and egg, and then refrigerate until chilled. This recipe yields 2 servings.
Bonus: We recommend adding some chopped red or green bell pepper to this to make it a more classic Amish macaroni salad.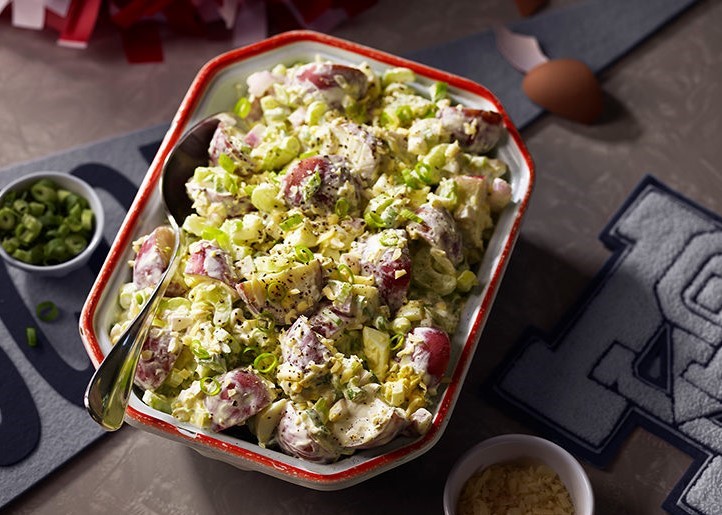 Potato Egg Salad Recipe
There are plenty of variations on potato salad, each recipe bringing its own unique twist. But if it isn't obvious yet, we love our eggs here at Noah's Pride. So while we may be a little biased about adding eggs to everything, you'll be sure to love this tossed egg potato salad recipe.
Ingredients
For Salad
3 Large Hard-Boiled Eggs (chopped)
2 lbs. Yellow Potatoes (peeled)
1 Tbsp. Salt (divided)
2 Celery Stalks (finely chopped)
½ Cup Red Onion (finely chopped)
¼ Cup Fresh Cilantro (finely chopped)
1 Canned Large Jalapeno in Brine (chopped, reserve brine for dressing)
2 Green Onions (chopped)
½ Cup Panela Cheese (crumbled)
For Dressing
1 Cup Mexican Cream (or sour cream)
1 Small Avocado (chopped)
1 Tbsp. Apple Cider Vinegar
4 Tbsp. Canned Jalapeno Brine
2 Green Onions (chopped)
2 Tsp. Salt
Instructions
Place the potatoes in a large saucepan with enough water to boil. Cook over medium heat until boiling, add ½ tablespoon of salt, and boil until potatoes are fork tender (approx. 18 to 20 minutes). Drain and set them aside to cool. When cooled, cut into ¾-inch cubes. Place potato, eggs, celery, red onion, cilantro, jalapeno, green onion, and remaining salt in a large bowl.
Make the dressing by combing all of the dressing ingredients into a container and mixing until smooth. A blender will make this easier. Pour the dressing over the salad mixture and stir to combine ingredients. Refrigerate at least 2 hours before serving, and top with cheese and green onions before serving. This recipe yields 7 cups.
Bonus: If you want to make this an entrée for dinner, try adding in chopped chicken. You can also add in roasted corn and chopped red pepper for a Mexican twist.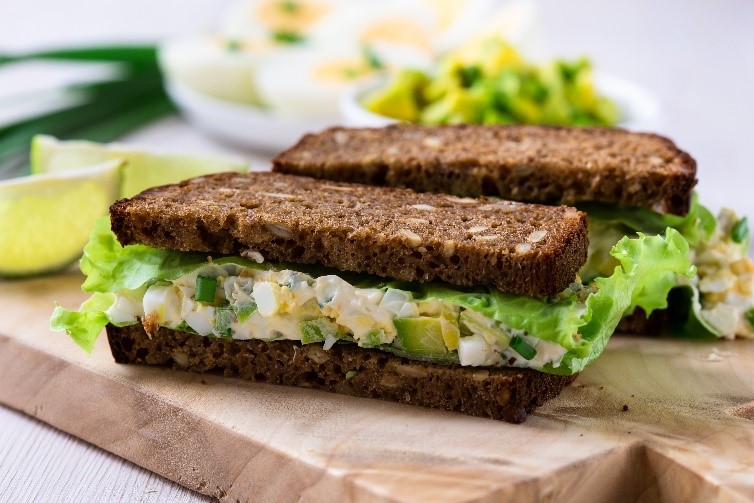 Avocado Egg Salad Recipe
Egg salad is already delicious and creamy, but adding in avocado can take your salad to a whole new level. It's simple, customizable, and is a huge crowd pleaser. Here's one of our favorite avocado egg salad recipes for you to enjoy.
Ingredients
6 Hard-Boiled Eggs
1 Cup Tomato (chopped)
½ Cup Red Onion (chopped)
2 Avocados (chopped)
¼ cup Parsley (chopped)
2 Tbsp. Mayonnaise
2 Tbsp. Sour Cream
2 Tbsp. Fresh Lemon Juice
⅓ Hot Pepper Sauce
Pinch of Salt
Instructions
Slice the centers from the eggs so you have six individual slices and chop the remaining eggs. Mix the chopped egg, tomato, onion, avocado, and parsley into a large bowl and toss gently. In a separate bowl, whisk together the mayonnaise, sour cream, lemon juice, hot sauce, and salt. Pour the dressing over the egg mixture and stir gently. Refrigerate for 1 hour before serving and topping with egg slices.
Bonus: Serve over fresh spinach for an added green crunch.
If you plan on making any of these egg recipes, you're going to want to make sure you use the highest quality eggs possible. At Noah's Pride, we think family farming still matters. Every time you buy any of our egg products, you're getting a special kind of heritage and dedication to egg farming that you can't get anywhere else.
You can receive $1 off one dozen of Noah's Pride Eggs by printing out one of our coupons to make sure your egg salad recipes are as egg-cellent as they can be. You can also give us a call at (888) 665-4415 or contact us online if you have any additional questions about our eggs!